Hillarium
Wikisimpsons - The Simpsons Wiki
| | |
| --- | --- |
| | The contents of this article or section are considered to be non-canon and therefore may not have actually happened or existed. |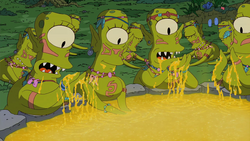 Hillarium is a chemical that makes everything a lot funnier, found on Rigel VII, produced by the Rigellian queen.
History
[
edit
]
CEO Krusty the Clown wanted the Hillarium to make Nazi crowds laugh at his jokes. He sent out Bart and Milhouse to get it, in avatar bodies. Bart was successful in finding it and Milhouse immediately called the humans, although Bart had since fallen in love with a female Rigellian, Kamala, getting her pregnant. A war broke out between the two which resulted in the Rigellians winning. Kamala stated that they would have just given the humans the Hillarium if they asked.
The Rigellians use it to help pregnant females through birthing.
Behind the Laughter
[
edit
]
Hillarium is a parody of unobtanium, a mineral in the 2009 film Avatar.
Appearances
[
edit
]
---