Star Wars
Wikisimpsons - The Simpsons Wiki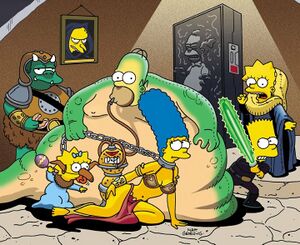 Star Wars is a science fiction franchise originally developed from the 1977 film Star Wars directed by George Lucas. It has been referenced numerous times on The Simpsons.
References to Star Wars in The Simpsons

[

edit

]
Episodes
[
edit
]
Picture
Season
Episode number
Episode name
Reference
1
5
"Bart the General"
Among Bart's list of "cool wars" are the U.S. War of Independence, World War II and Star Wars.
2
16
"Treehouse of Horror"
As Lisa snoops around the ship, the ship and music bring to mind the halls of the Death Star, and Luke Skywalker's theme from Star Wars: A New Hope.
30
"Old Money"
Darth Vader (or an actor playing him) is one of the people waiting in line to ask Abraham Simpson for money.
34
"Three Men and a Comic Book"
A lightsaber was in the lost and found at the "Close Encounter of the Comic Book Kind" Convention.
3
47
"I Married Marge"
Homer and Marge leave a film theater in 1980 after a showing of The Empire Strikes Back. Homer notes: "Who would have known that Darth Vader is Luke Skywalker's father?", annoying the crowd behind him, still waiting in line to see the film. He later calls Marge as pretty as Princess Leia and as smart as Yoda.
4
63
"Lisa the Beauty Queen"
The man that makes Lisa's caricature has on display a caricature of Darth Vader in a bathing suit and surfing.
When Lisa tries different hair styles, one of the hairdos she tries is Princess Leia's.
71
"Marge vs. the Monorail"
After Leonard Nimoy (Mr. Spock from Star Trek) speaks at the maiden voyage of the monorail, Mayor Quimby says "May the Force be with you", confusing Star Trek with Star Wars.
66
"Marge Gets a Job"
Mr. Burns is sometimes introduced while the "Imperial March" music, associated with Star Wars villain Darth Vader, plays in the background.
6
121
"A Star Is Burns"
105
"Lisa's Rival"
Ralph Wiggum wins a diorama contest by simply putting some packaged Star Wars action figures, including Chewbacca, Luke and Obi-Wan, into a box. Principal Skinner turns out to be a big Star Wars fan - naming "Chewy" his favorite - and declares Ralph the winner.
125
"'Round Springfield"
Darth Vader is one of the characters appearing in the sky to talk to Lisa. (The other two are Mufasa from The Lion King and James Earl Jones saying: "This is CNN". The voices of Darth Vader, Mufasa and the CNN voiceover were originally all done by actor Jones. He has guest-starred on the show three times; however, on this occasion the voices are provided by Harry Shearer.)
126
"The Springfield Connection"
Homer and Marge are attending a concert and the song played is the Main Theme from all six Star Wars episodes. Homer dislikes the performance and states: "John Williams must be rolling in his grave". In reality, Williams (composer of the music in Star Wars) is still alive.
8
157
"Burns, Baby Burns"
A Darth Vader-like mask is seen in the Springfield Costume Shop
163
"The Springfield Files"
Chewbacca is one of the aliens in the police line-up. He is later seen singing "Good Morning Starshine" with the rest of Springfield.
9
193
"The Last Temptation of Krust"
Java the Hut is a reference to Jabba the Hutt.
196
"This Little Wiggy"
The logo on the "Mars" part of the Knowledgeum uses the same font as in the Star Wars logo.
10
206
"Bart the Mother"
One of the prizes available to be won in the arcade is an X-Wing toy.




212
"Mayored to the Mob"
There are multiple references to Star Wars in the episode:

Mark Hamill (who plays Luke Skywalker in the film series) guest-stars as himself. He speaks at the Bi-Mon-Sci-Fi-Con and later stars as Nathan Detroit in a local production of the musical Guys and Dolls. To his dismay, Hamill is forced to play the part as Luke Skywalker and sing a song called "Luke, Be a Jedi", a parody of "Luck be a Lady Tonight".

In an advertisement for the Bi-Mon-Sci-Fi-Con, C-3PO and R2-D2 are described as "the gay robots from Star Wars" and shown in a tag-team wrestling match with two Cylons from Battlestar Galactica.

One of the attendees at the 'Con is costumed as a Rebel soldier (from The Empire Strikes Back) riding a Tauntaun.

When Homer fights Louie, Hamill advises him to "Use the forks!", a pun on the tagline "Use the Force" from the Star Wars films.
213
"Viva Ned Flanders"
Comic Book Guy has a bumper sticker which says "My other car is the Millenium Falcon", given to him by a Harrison Ford look-alike.
11
229
"Guess Who's Coming to Criticize Dinner?"
The famous Hildebrandt Brothers Star Wars poster of Princess Leia, Luke and his outstretched lightsaber is seen at Planet Springfield.
230
"Treehouse of Horror X"
The Collector asks Lucy Lawless to call him Obi-Wan. He then battles her using Darth Maul's lightsaber after taking it out of its box.
231
"E-I-E-I-(Annoyed Grunt)"
Among the other films playing at the Springfield Googolplex Theatres is My Dinner with Jar Jar, a pun on the film My Dinner with André and a reference to Jar Jar Binks.
247
"It's a Mad, Mad, Mad, Mad Marge"
Patty says to Lisa, "the bitterness is strong in this one", a reference to the line "the Force is strong in this one".
12
259
"Worst Episode Ever"
Gloria Prince shows Comic Book Guy a box containing Star Wars memorabilia, including a handwritten script for Star Wars by George Lucas, Princess Leia's anti-jiggle breast tape, and a film reel labeled "Alternate ending: Luke's Father is Chewbacca". Comic Book Guy, exploiting the fact that Martha is ignorant of the items' worth, offers five dollars, but Bart and Milhouse warn her that he's ripping her off.
13
270
"Treehouse of Horror XII"
Yoda performs the wedding ceremony when the Leprechaun and the Gypsy get married.
276
"Brawl in the Family"
When the family are forced to stay indoors because of acid rain, they play Monopoly, and one of the versions of the game they own is Star Wars Monopoly.
279
"Half-Decent Proposal"
Comic Book Guy's bedroom is bristling with Star Wars items, including a picture of Yoda, signed portraits of Mark Hamill in both Star Wars: A New Hope and Return of the Jedi outfits, Star Wars bedding, Chewbacca pajamas, and a Jar Jar Binks doll which he clutches in bed and tells "Oh Jar Jar, everyone hates you but me."
286
"Gump Roast"
Julius Hibbert is arrested for wearing a Darth Vader costume, thus violating a local ordinance against impersonating movie characters. Also, the Imperial March plays when Mr. Burns is introduced on stage during the roast of Homer Simpson.
291
"Poppa's Got a Brand New Badge"
Homer says: "I've trick or treated at many of your homes. Last year I was Jar Jar Binks."
14
306
"C.E. D'oh"
While Homer tries to figure out how to take over the Springfield Nuclear Power Plant, he starts marking down all the hazards as Lenny and Carl begin fighting with radioactive Plutonium rods, using them like lightsabers (complete with sound effects). Lenny proclaims, "The Phantom Menace sucked more!" While Carl argues, "Attack of the Clones sucked more!"
15
314
"Treehouse of Horror XIV"
In the "Frinkenstein" segment, Comic Book Guy tells Jonathan Frink, Sr. that he can keep his butt, but he wants him to return his Jabba the Butt tattoo.
In the "Stop the World, I Want to Goof Off" segment, Comic Book Guy chases after Bart and Milhouse, and later Martin, with a lightsaber.
317
"The Regina Monologues"
In Bart's fantasy, he fantasizes about R2-D2 playing the bass.
328
"Co-Dependent's Day"
330
"My Big Fat Geek Wedding"
The Simpsons family tries to stop Comic Book Guy's Klingon wedding (in this case a Star Trek reference) with Edna Krabappel at a Sci-Fi convention, where we can see three fans wearing Star Wars costumes: Chewbacca, C-3PO and Darth Vader. Also, R2-D2 and C-3PO figures are seen. People wearing Boba Fett and Gamorrean costumes are also seen.
331
"Catch 'Em If You Can"
At Lackluster Video, Homer asked the Squeaky-voiced teen to look up the movie Chocolate Star Wars, which Homer was then told didn't exist.
16
340
"Fat Man and Little Boy"
One of the items in Goose's Gags and Gifts is a model of an Imperial Star Destroyer (hanging from the ceiling, seen just to the right of Homer's head).
17
360
"Treehouse of Horror XVI"
Apu is dressed as R2-D2.
Don Payne is credited as "Darth Pain".
366
"Homer's Paternity Coot"
Ralph says that he is C3-D2, referencing both C-3PO and R2-D2.
370
"Bart Has Two Mommies"
Marge makes a Darth Vader mask and claims to be "Star Wars".
18
381
"Please Homer, Don't Hammer 'Em"
Bart and Principal Skinner have a fight, parodying the lighsaber duels in Star Wars. Bart's weapon is a peanut on a stick and Skinner's is a shrimp on a stick (taking advantage of each other's allergies). As they duel, the music playing is "Duel of the Fates", a recurring song used in the Star Wars prequel trilogy.
In The Android's Dungeon & Baseball Card Shop, Comic Book Guy has busts of Yoda and Chewbacca, a Cosmic Wars poster and statues of Luke Skywalker and R2-D2.
389
"Revenge Is a Dish Best Served Three Times"
The episode is dedicated to everyone who died in the Star Wars films.

Darth Maul
Greedo
Uncle Owen
Storm Trooper Number 5
Jango Fett
General Grievous (DROID)
Storm Trooper Number 22
Dak
Obi Wan (Ben) Kenobi
Whoever Jimmy Smits Played
Hutt, Jabba the
Sy Snoodles
Unfortunately, Not Jar-Jar Binks
Everyone On Both Death Stars When They Blew up

390
"Little Big Girl"
The Springfield Multicultural Center has a picture of Darth Vader's helmet on the wall.
491
"Homerazzi"
Homer has a cologne bottle called Scent of a Wookiee. Additionally, it says it is from the Star Wars collection. The bottle features Chewbacca on it.
20
421
"Sex, Pies and Idiot Scrapes"
In the couch gag, the Simpsons get frozen into Carbonite, and Boba Fett carries them away.
426
"Homer and Lisa Exchange Cross Words"
One clue in a crossword that Lisa did was "Obi-Wan Kenobi, for one".
429
"Lisa the Drama Queen"
When Nelson sees Lisa playing with Juliet Hobbes, he says that girls are so lame and starts to play with his headless Darth Vader, who misses his girlfriend, armless Malibu Stacy wrapped in hockey tape. After that he makes the two of them kiss.
430
"Take My Life, Please"
When Homer ran for school president in high school, he made a poster saying that he had support from Jaws and Star Wars.
21
441
"Homer the Whopper"
Things seen in the window of Mylar Baggins Comic Book Shop include the helmets of Boba Fett and Darth Vader. The shop employee has a picture of a Jawa from Star Wars on his shirt.
A film poster is seen for Star Wars Episode VII: The Apology. In real life, there is an Episode VII, but is called The Force Awakens.
448
"Rednecks and Broomsticks"
A hillbilly says to Moe that he suppose he thinks all space is Star Wars.
451
"Once Upon a Time in Springfield"
Ralph Wiggum, dressed as Princess Leia for "Inspirational Woman Day" states "I'm a Star Wars".
22
477
"The Blue and the Gray"
Homer tells Marge that he is a wingman, just like Wedge Antilles in Star Wars.
478
"Angry Dad: The Movie"
Ben Stiller, dressed as Iron Man, and Jack Black, dressed as Hulk, were having a fight with lightsabers as part an act.
The character in The Adventures of Parody Man has a Darth Vader helmet on.
23
490
"Replaceable You"
Santa's Little Helper wears a Darth Vader mask and Homer refers to him as "Lord Vader".
491
"The Food Wife"
At E4, Blocko Cosmic Wars appears, with Blocko versions of Darth Maul and Yoda.
On The Android's Luncheon's main page features several references, including:
495
"Holidays of Future Passed"
In her room on the Ultranet, Zia Simpson has a poster of Empress Zimzam, who bears a strong resemblance to Padmé Amidala in The Phantom Menace.
497
"The D'oh-cial Network"
Blocko Cosmic Wars appears again. The set Chubba the Shedd's Dust Palace is a parody of Jabba the Hutt's Sand Palace.
501
"Exit Through the Kwik-E-Mart"
On the news, Chief Wiggum says that whoever vandalised Springfield has made themself into a combination of Robin Hood, Luke Skywalker and every rapper ever.
503
"Them, Robot"
Mr. Burns says "you are so not the heartless automatons I was looking for", a reference to Obi-Wan Kenobi's line "These aren't the droids you're looking for" from the Star Wars movie Star Wars Episode IV: A New Hope.
505
"A Totally Fun Thing Bart Will Never Do Again"
"Sith training with certified Sith Lord" is seen on the Fun Schedule.
507
"Ned 'n Edna's Blend Agenda"
Marge asks why Homer would believe some random person on the internet, and he says "because his avatar is Darth Maul, the second coolest Darth".
508
"Lisa Goes Gaga"
During the song "Monster" that Lady Gaga sings, she looks in a mirror and looks like a Jawa from Star Wars. The word "Jawa" was said at the same time in the song.
24
511
"Adventures in Baby-Getting"
Comic Book Guy mentions that the sinkhole is larger than the Sarlacc Pit which swallowed Boba Fett but is smaller than the Geonosis Battle Arena where Jango Fett was beheaded by Mace Windu, all references to Star Wars.
515
"The Day the Earth Stood Cool"
Terrence says that his pet armadillo is Mexican Chuey, not Star Wars Chewie. Homer then says that Star Wars Chewie is a man in a suit so he is not scary.
520
"Love Is a Many-Splintered Thing"
A caricature of Bart as Yoda is seen with the caption "Leave Me Why Did She?"
522
"Gorgeous Grampa"
During the song "High to Be Loathed", Mr. Burns mentions Darth Vader, and makes his shadow, among lots of other villains.
25
539
"Steal This Episode"
The text in Cosmic Wars Episode VII: A New Take says that due to a rift in the space-time continuum, episodes I, II and III never happened. This is a reference to many fans of Star Wars disliking the prequel trilogy. The film is also a reference to the unreleased seventh Star Wars film.
540
"Married to the Blob"
Cosmic Wars: The Crucifixion of Jim Jam Bonks is an audio book and a reference to how many fans hated Jar Jar Binks, featuring the character Jim-Jam Bonks.
548
"Days of Future Future"
When the bullies are attempting to mug Lisa and Milhouse, Jimbo pulls out a miniature red lightsaber.
Empress Zimzam is seen on Bart's Little Black eBook.
Jim Jam Cereal, featuring Jar Jar Binks parody Jim-Jam Bonks is seen.


549
"What to Expect When Bart's Expecting"
An unnamed man is seen dressed up as a Sith and Gil is dressed as Lando Calrissian.
550
"Brick Like Me"
Bart's giant LEGO robot uses "lightsaber barf", complete with lightsaber sound effects.
26
561
"I Won't Be Home for Christmas"
Comic Book Guy and Kumiko watch Cosmic Wars: Holiday Special. In it are parodies of C-3PO and R2-D2 (C-3PO parody unnamed and R3), who work in a soup kitchen. A parody of Darth Vader thencuts a turkey (with a lightsaber) for his family.
562
"The Man Who Came to Be Dinner"
Cosmic Wars was mentioned to have been bought out by Dizz-Nee, a reference to Star Wars being bought out by Disney. Several attractions were at Dizz-Nee Land, including Jim-Jam Bonk's Wild Ride and Jabba the Tiki Hut. Yoda also made an appearance.
Homer uses a device similar to a lightsaber to chop off his hand and uses another setting to restore his hand. He then uses this device on Marge's hair and gives her a hand in her hair instead.
564
"The Musk Who Fell to Earth"
Elon Musk gives Bart a fully functioning lightsaber, which he uses to destroy a tree.
565
"Walking Big & Tall"
In the list of names Homer tells his friends they can't call him is Opies Want Canoli, referring to Obi-Wan Kenobi.
27
579
"Treehouse of Horror XXVI"
At the premiere of 'Zilla, Comic Book Guy says he didn't buy the ticket to see the film, he wanted to save a seat for the next Star Wars film.
28
609
"The Great Phatsby: Part Two"
Smithers comes out of a horse's corpse ala Luke Skywalker and continues forth trying to bring home some ice for Burns.
29
620
"Springfield Splendor"
There is a statue of Krusty in carbonite in The Android's Dungeon & Baseball Card Shop.
At Bi-Mon-Sci-Fi-Con, there is an advert for a Cosmic Wars panel at 2PM in Hall J.
623
"Grampy Can Ya Hear Me"
After Bart and Lisa break into the school, Bart steals a package of Chewbacco nicotine gum from Miss Hoover's desk. In addition to being a portmanteau of "chew" and tobacco", the gum's name could be construed as a pun on Chewbacca.
626
"Mr. Lisa's Opus"
In the song "Those Were the Days", Homer and Marge sing the lyrics "And we had real heroes then, Like Jar Jar Binks and Qui-Gon Jinn."
638
"Throw Grampa from the Dane"
Bart mentioned that Disney created Star Wars.
30
649
"'Tis the 30th Season"
In the Couch gag, Marge, Lisa, Maggie and Bart are upside down on the ceiling. When wampa-Homer comes to attack them, Bart uses the force to grab the light saber and cut its hand. This scene is a reference to the scene in Star Wars Episode V: The Empire Strikes Back, where Luke Skywalker, to save himself from the wampa, grabs the light saber with the force and cuts its hand with it, just like Bart.
At the church, on the way back to Springfield, the wind caused by them passing by removes the letters from the marquee, making it "New Star Wars". People then run into the church, only to be disappointed.
652
"I'm Dancing as Fat as I Can"
In Hello Krusty, Bart and Milhouse see a display of toys from Solo: A Star Wars Story and scream.
654
"101 Mitigations"
Lisa says that Comic Book Guy's favorite thing is Star Wars, and he hates Star Wars.
Milhouse calls Comic Book Guy "Blobba the Hutt", a reference to Jabba the Hutt.
Comic Book Guy has mugs of Cosmic Wars characters Jim-Jam Bonks, a Yoda parody and a C-3PO parody.
At the Comic Con, someone is dressed as a person riding a Tauntaun.
657
"Bart vs. Itchy & Scratchy"
At the Springfield Convention Center, at Krusty Kon, a statue of Krusty in carbonite is shown, a reference to Han Solo being encased in carbonite.
Bart mentions Boba Fett. Homer and Bart then have an argument about Boba Fett. Lisa then asked why every discussion about feminism turns into an argument about Star Wars.
31
663
"The Winter of Our Monetized Content"
Comic Book Guy mentions the movies and hating every one of them after the second.
670
"Thanksgiving of Horror"
The Kitchen A.I. Marge calls her makeshift robot R2-Me2, a reference to R2-D2.
671
"Todd, Todd, Why Hast Thou Forsaken Me?"
Lisa mentions that Buddha loves yoga and Yoda.
675
"Frinkcoin"
One of the billboards that Eddie puts up says "Stop the Next Six Star Wars".
677
"Screenless"
Marge mentions Star Wars movies, and Maggie signs no more, then Marge mentions Baby Yoda, and Maggie signs that she was once America's baby.
683
"The Hateful Eight-Year-Olds"
Comic Book Guy says "Your Mos Eisley fracas has utterly harshed my Arrakeen spice buzz.", referencing both Star Wars and Dune.
32
691
"Three Dreams Denied"

At Comicalooza there's a Baby Yoda changing station.
One of the events at Comicalooza is pre-complain about the next Star Wars.
A cosplayer is seen dressed as Darth Vader.
A cosplayer is dressed as Boba Fett on a job interview.
Cosplayers are seen dressed as Jedi.
Comic Book Guy mentions the Galactic Senate when talking to Ralph.

695
"The Dad-Feelings Limited"
In Comic Book Guy's apartment is:
699
"Do PizzaBots Dream of Electric Guitars?"
Bart and Lisa wheel Wakkety Yak out on three purple BB-8s.
The Shipper said that C-3PO and Chewbacca are definitely a couple.
33
712
"A Serious Flanders (Part 1)"
Comic Book Guy has a cardboard standee of The Mandalorian which is destroyed by Colette.
715
"Mothers and Other Strangers"
Bart mentions Star Wars Day saying "May the fourth be with you".
726
"Marge the Meanie"
A statue of Krusty frozen in carbonite is seen in The Android's Dungeon.
BooBoo Fett is a parody of The Book of Boba Fett and features Yogi Bear, Boo-Boo Bear and Ranger Smith.
34
731
"Lisa the Boy Scout"
Female Ashley threatened to delete Baby Yoda from Disney.
740
"My Life as a Vlog"
Among the things seen in Comic Book Guy's room are an X-wing fighter. Comic Book Guy also mentions tauntauns.
741
"The Many Saints of Springfield"
Comic Book Guy's closed sign has a picture of him frozen in carbonite.
745
"Pin Gal"
When Homer and Jacques start fighting, "Duel of the Fates" by John Williams plays.
Specials
[
edit
]
Picture
Comic issue
Story name
Reference
Simpsons Illustrated #8
Cabin Fervor
The name of The Itchy & Scratchy Show cartoon "Scar Wars" is a reference to Star Wars.
Simpsons Comics #4
It's in the Cards
Mr. Burns employs Stormtrooper guards.
Simpsons Comics #12
Survival of the Fattest!
A Stormtrooper is seen in the desert.
Simpsons Comics #20
The Artist Formerly Known as Bart
When Marge hears a noise in the night and tries to wake up Homer, he sleepily says, "Did it sound as if millions of voices cried out in terror and were suddenly silenced?", echoing Obi-Wan Kenobi's line in Star Wars when he senses the destruction of Alderaan.
Simpsons Comics #31
Radioactive Homer
Helen and Reverend Lovejoy dress up as Leia and Luke for the Masquerade Ball.
Simpsons Comics #34
Burnsie on Board
During the "C. Montgomery Burns International Games," a Hoth Cold Assault Stormtrooper (Snowtrooper) can be seen participating in a sled-dog race.
Simpsons Comics #35
More Bongos That Time Forgot
The description of Milhouse Reluctant Robot Rassler 4000 A.D. mentions Han Solo, calling him a reluctant hero.
Simpsons Comics #36
The Geek Shall Inherit the Earth
Doug makes a space adventure movie with Troy McClure. He tells McClure that he wants to make The Empire Strikes Back look like Return of the Jedi.
Simpsons Comics #39
Sense and Censorability
When Comic Book Guy gives his opening statement, he mentions bacta tanks and rancors.
Simpsons Comics #44
The Prime of Miss Lisa Simpson
Ralph tells Lisa that she is like Yoda, only prettier.
Simpsons Comics #45
Hamburger's Little Helper
While flying a jet plane and saving Kent Brockman and Arnie Pie, Santa's Little Helper wears Luke's X-Wing Fighter helmet.
Simpsons Comics #52
Worst Christmas Ever!
Comic Book Guy lists a number of Christmas carols he plans to sing with his filking group. Among them is "Wookiee in a Winter Wonderland".
Simpsons Comics #57
How the Vest Was Won!
When Bart thinks of which of his enemies could be planning revenge, he considers Jar Jar Binks as a possibility.
Simpsons Comics #73
Day of the Nerd
Professor Frink invents the Mononizer, which compiles trilogies into a single film/book. He uses it on the original Star Wars trilogy, which he shows to Kent Brockman.
Simpsons Comics #75
...The Permanent Record Room!
Willie says "As wee Yoda would say, 'Empty or full. There is no almost," when Milhouse complains of his lungs being almost full of chalk dust.
A nerd asks Jimbo, "Who was the first Captain of the U.S.S. Enterprise?" Jimbo answers, "I don't know. Luke Skywalker?"
Simpsons Comics #76
Bard Boiled
A poster for Star Wars is seen in Mark Hamill's office.
Simpsons Comics #81
Lisa Simpson's Book Club
Homer's tale The Little Engine that Couldn't Care Less begins with "Once upon a time in a train yard in a Galaxy far, far away ... ," echoing the famous opening crawl from the Star Wars films.
Simpsons Comics #91
3000's Company
A Star Wars poster hangs among others in the sanctuary Comic Book Guy creates underneath Mr. Burns' mansion.
Simpsons Comics #109
Now Museum, Now You Don't!
Nelson Muntz and George Lucas both attend a screening of Something Wicked This Way Burns, a documentary detailing how the Burns family were a negative influence in the United States. When Nelson says he's trying to make a bootleg of the film, Lucas chides him: "As a filmmaker, I really wish you wouldn't do that!" Nelson counters by saying, "As a film watcher, your last two movies sucked, Lucas, so shut up before I pound ya!", referring to The Phantom Menace and Attack of the Clones.
Simpsons Comics #111
Know It All in the Family
Bart says that being a girl is the dark side. He then says "Girly leads to tea parties, tea parties lead to ballet recitals, ballet recitals lead to cooties, and cooties lead to suffering", a reference to the quote "Fear is the path to the dark side. Fear leads to anger. Anger leads to hate. Hate leads to suffering." by Yoda. Later, one of the space pirates Bart beats up in a story has a lightsaber-like sword.
Simpsons Comics #118
The "X" Men
When Skinner says he is embarrassed to be at the recently heartbroken support group, Comic Book Guy says "Do no worry yourself, young padawan" a reference to the name used for young Jedi in Star Wars.
Comic Book Guy asks his dates about Star Trek, The Flash and Jabba the Hutt.
When Skinner points out Agnes is his mother Comic Book Guy says "One day, I will say these Words! I Am Your Father!" in which Skinner replies "Nooooo!", a reference to the scene in The Empire Strikes Back.
Simpsons Comics #133
A Brand New Burns, Part Two!
George Lucas was at the sweatshop, and he said "I have a bad feeling about this". Later, when Lucas got out, he strangled his double because it was his double that made Jar Jar Binks.
Simpsons Comics #137
The Last Fat Man
When Homer was on a diet because he was too overweight, he imagined Chewbacca shouting at him, along with other people.
Simpsons Comics #188
Lisa Simpson's Toot Suite
Comic Book Guy came into King Toot's, and after discovering they did not have a Vulcan lute, he asked if they had a Chidinkalu horn from the film Return of the Jedi. Lisa told him they didn't have one.
Simpsons Comics #199
The Bids Are All Right
Comic Book Guy offers Homer a photo of Greedo with an autographed by Brent Spiner for his watch he found from the World War II. Homer declined the offer.
Simpsons Comics #214
N/A
(Front cover)
Comic Book Guy dresses up as the Death Star on the cover.
Worst Con Ever!
Comic Book Guy has a Tonton in Paris comic for sale in his booth at the Bi-Mon-Sci-Fi-Con. The issue he's selling has a Tauntaun on the cover.
Simpsons Comics #218
Spaced Out!
Yoda asks Lisa if she tried using the Force when she didn't understand the control panel.
Simpsons Comics #228
Bad on the Outside
The story parodies the scene in The Empire Strikes Back where Han Solo cuts open a Tauntaun to use the warmth of its innards to save Luke from freezing to death. The story's title echoes Han's line, "And I thought they smelled bad on the outside!"
Simpsons Comics #241
Radioactive Woman: The Movie
One of the people protesting the reboot holds up a sign saying "My other sign is a Millennium Falcon".

The kid who was supposed to be the love interest has quit and became a Wookie in the new Star Wars movie.

Bart Simpson #1
Grrrl-Whirl
Comic Book Guy tells Bart that it is a comic book store, not the Mos Eisley Cantina.


Bart Simpson #12
Bart Fink and the Mighty Mississip
Bart rewrites the script for Lisa's play based on the works of Mark Twain. The performance includes a scene where Bart escapes from the Empire. In a later scene, lightsabers are used in a battle.
Bart Simpson #15
Invasion of the Baby Snatchers
Maggie is shown infused with a machine in the same way that Han Solo was frozen in carbonite.
Bart Simpson #34
Willie and the Weasels
Willie revealed his biggest disappointment was when the version of Star Wars with him as Chewbacca was cut.
Bart Simpson #40
Easy Writer
People are seen dressed as camouflage stormtroopers. Comic Book Guy calls Milhouse a "young padawan".
Bart Simpson #82
Springfield Babies
A photographer that took a picture of Comic Book Guy when he was a baby said that he would have many unused toys still in their original packaging, and also many arguments about someone named "Greedo" and whether or not he shot first.
The Simpsons Winter Wingding #1
Springfield's Letters to Santa
In Comic Book Guy's letter to Santa Claus, one of the things he wants is an original 1978 Star Wars Patrol Dewback action figure.
The Simpsons Winter Wingding #4
Off the Grid
Homer denounces Burns' company as evil for raising energy prices during winter. When Bart points out that Homer works for Burns, Homer counters by saying that he's "just an innocent stormtrooper on the Death Star". Bart in turn counters by saying, "Even the innocent ones croaked when the Death Star exploded."
Bart Simpson's Treehouse of Horror #9
Ring Around the Simpsons
Bart calls Gandalf the Grey Yoda.
Bart asks Gandalf the Grey if a lightsaber can destroy the ring.
Bart Simpson's Treehouse of Horror #13
Gnaws
Professor Frink uses a lightsaber to cut open a "suspect" shark, similar to Han Solo's cutting open a Tauntaun in The Empire Strikes Back. Just before Frink makes the cut, he says, "I guess we're about to find out if they smell worse on the inside", referencing Han's line, "And I thought they smelled bad on the outside!", spoken after he cut the Tauntaun open.
Prop, Prop, Whiz, Whiz!
When Homer touched Comic Book Guy's laser sword he ended up in a Star Wars movie, where he fought Obi-Wan Kenobi before burning and becoming Darth Vader. When Homer came back to Springfield he told Bart that he is his father.
The Simpsons' Treehouse of Horror #17
Marge of the Dead
Bart is dressed as Darth Sidious, Lisa as Princess Leia, Homer as Jabba the Hutt, Marge as an Aayla Secura/Ahsoka Tano combination (Aayla's appearance and Ahsoka's clothing) and Maggie as Yoda
The Simpsons Treehouse of Horror Hoodoo Voodoo Brouhaha
Comic Book Guy's Best Costumes Ever - Part 1
Comic Book Guy dresses up as Darth Maul at Battlestar Galacticon 2002.
Comic Book Guy's Best Costumes Ever - Part 4
Comic Book Guy dresses up as Jabba the Hutt at Lucas-Con 1994.
Comic Book Guy: The Comic Book 2
The Death of Comic Book Guy! (Part Two)
When the geeks and nerds of Springfield take up sides against each other following the shutdown of the Internet, one of the nerds is dressed up as Darth Vader and wielding a lightsaber.
Grampa Simpson's Unbelievable Adventures #1
Grampa Simpson's Great Sandwich Caper!
In Grampa's story, he finds a locked treasure chest but has no lock picking tools, so he shoots the lock with a raygun, saying, "Lock picks and tools are no match for a good blaster at your side!" This echoes Han Solo's derisive line about the Force and lightsabers in Star Wars: A New Hope, "Hokey religions and ancient weapons are no match for a good blaster at your side."
Chief Wiggum's Felonious Funnies 1
Future Cop!
In his dream of being a cop in the future, Chief Wiggum and his partner eat at a restaurant called Do or Donut, a pun on Yoda's catchphrase "Do or do not". Also, the restaurant has on its roof a statue of Yoda levitating a giant donut.
Grampa Simpson's Guide to Aging
Seems Like Old Crimes!
Early Bird holds up a Star Wars book saying that he got an idea from it. The book had a picture of Admiral Ackbar saying "it's a trap!" on the cover.
Picture
Game
Reference
The Simpsons: Tapped Out
Comic Book Guy says "If great taste had a Galactic Senate, surely its Sith Overlord would be named Senator FlavorMax".
Lisa says to Comic Book Guy "I keep telling you, I don't know any restaurant that serves baby back tauntaun."
Milhouse says "The kind of hate only found in Magnetos, Emperors Palpatine and little girls!"
Patty calls Homer "Boba-Fat", a reference to Boba Fett.
Homer says to Akira "What are you trying to say, Yoda?"
In the Superheroes update, Comic Book Guy, dressed as The Collector, mentions his Boba Fett belt buckle.
During the Terwilligers content update, Comic Book Guy says he has enough clones to form his own Cosmic Wars storm trooper platoon. He then admonishes the clones, "Our first mission is to believe these are not the drobots we're looking for", a reference to the Star Wars catchphrase, "These aren't the droids you're looking for."
In the Winter 2016 update, one of the 80s hits The Parson sang was "God: Your Personal Yoda".
| Account | Date | Tweet |
| --- | --- | --- |
| ComicBookGuy | July 21, 2011 | I'm here at #ComicCon! Look for me -- I'll be the overweight 40-ish man in an Imperial Storm Trooper costume. #FOXSDCC |
| ComicBookGuy | July 22, 2011 | I hereby engage in #FF-ery: Beloved heroes @HamillHimself @WilliamShatner @TheRealAdamWest and of course, @LuigisFamousMeatballSubs #FOXSDCC |
| ComicBookGuy | July 23, 2011 | Did anyone find my lost Boba Fett helmet at #ComicCon last night? It smelled of Pringles and sweat if that helps narrow it down. #FOXSDCC |
| ComicBookGuy | July 23, 2011 | Don't look at me like I am speaking nonsense. I am speaking Rodian. #FOXSDCC |
| ComicBookGuy | July 23, 2011 | I just pitched a serious remake of SpaceBalls to George Lucas. #FOXSDCC |
| ComicBookGuy | July 23, 2011 | Good Comicon pick-up line: "Will you be the Nien Nunb to my Lando." #FOXSDCC |
| ComicBookGuy | August 2, 2011 | The Bantha fur I ordered online arrived today. And it was fake! What has the world come to? |
| ComicBookGuy | August 18, 2011 | I saw an amazing Jabba the Hutt costume in a store window today -- then realized I was looking into a mirror. A real wake-up call. |
| ComicBookGuy | October 31, 2011 | Dear fat man wearing a Princess Leia slave bikini: I admire your courage, if not your thigh boobs. |
| ComicBookGuy | December 24, 2011 | Discuss: does Star Wars have Xmas, and if so, in how many parsecs must Santa do the Kessel run to deliver all his presents? |
| ComicBookGuy | December 26, 2011 | Decided to name my child Luke Skywalker. Now the hard part, finding, talking to and mating with potential mother. |
| ComicBookGuy | May 5, 2012 | I'm co-celebrating Cinco de Mayo and Tatooine National Bantha Day. |
| ComicBookGuy | May 25, 2012 | Star Wars is 35 today! Thank you, George, for giving me a magical childhood & an adulthood of saying you ruined my childhood. |
| ComicBookGuy | July 14, 2012 | Happy bday, Harrison Ford! May you live long enough to make an Indiana Jones movie where Indy goes to the first ComicCon! #SDCC #FOXSDCC |
| ComicBookGuy | July 15, 2012 | Argh! This train out of San Diego is "Standing Room Only", which for me means "Sweating Like An Ugnaught Only". #SDCC #FOXSDCC |
| ComicBookGuy | October 31, 2012 | I'm certainly the only person at this party wearing a Darth Vader costume with Mickey Mouse ears glued to-- OH NOOOOOOOO!!!! |
| ComicBookGuy | July 20, 2013 | The Masquerade is starting soon and I can't find my Ahsoka Tano lekku extensions ANYWHERE! #SDCC #FOXSDCC |
| ComicBookGuy | July 21, 2013 | It's unfathomable that J.J. Abrams wouldn't read ONE WORD of the Star Wars Ep VII pre-review I shoved thru a limo window at him! #SDCC |
| ComicBookGuy | July 27, 2014 | A nice young man just invited me to an exclusive screening of footage from Star Wars Episode VII! #SDCC #FOXSDCC |
| ComicBookGuy | July 27, 2014 | The special Star Wars screening room is just down this alley behind a biker bar. So excited! #SDCC #FOXSDCC |
| ComicBookGuy | July 27, 2014 | The "screening" was just an alley where I was robbed & beaten. But still: FIRSTIES! #SDCC #FOXSDCC |
Merchandise
[
edit
]
Trailers
[
edit
]
Common cast and crew
[
edit
]
| Picture | Name | Role in Star Wars | Role on The Simpsons |
| --- | --- | --- | --- |
| | J. J. Abrams | Voiced D-O in The Rise of Skywalker. | Voiced himself in "Do PizzaBots Dream of Electric Guitars?". |
| | Gregg Berger | Voiced a citizen, a rebel, and a Kalani in two episodes of Clone Wars. | Credited as guest starring in "How Munched Is That Birdie in the Window?" and was thanked in the credits of The Simpsons Movie. |
| | Jack Black | Played Captain Bombardier in The Mandalorian episode "Chapter 22: Guns for Hire". | Voiced Milo in the season 19 episode "Husbands and Knives". |
| | Susan Blu | Casting for The Clone Wars episode "Blue Shadow Virus". | Voiced Yellow Weasel in "Bart the General" and Ralph in "Moaning Lisa". |
| | Bill Burr | Played Migs Mayfeld in The Mandalorian. | Voiced Boston fan 1 in "The Town". |
| | Jim Cummings | Voiced Hondo Ohnaka and others in The Clone Wars | Voiced Duncan in "Saddlesore Galactica". |
| | Ben Daniels | Played General Antoc Merrick in Rogue One: A Star Wars Story. | Voiced an Irish priest in "Treehouse of Horror XXVIII". |
| | Adam Driver | Played Kylo Ren in the Star Wars sequel trilogy. | Voiced Adam Sackler in the season 27 episode "Every Man's Dream". |
| | Chris Edgerly | Voiced Eeth Koth in "Grievous Intrigue" and a Felucian farmer in "Kinect Star Wars". | Various roles since 2010 |
| | Flea | Played Vect Nokru in Obi-Wan Kenobi. | Voiced himself in the season 4 episode "Krusty Gets Kancelled". |
| | Mark Hamill | Starred as Luke Skywalker | Voiced himself and Leavelle in "Mayored to the Mob". |
| | Werner Herzog | Played "The Client" in The Mandalorian. | Voiced Walter Hotenhoffer in "The Scorpion's Tale" and "Crystal Blue-Haired Persuasion", Dr. Lund in "Screenless", and himself in "Mother and Child Reunion". |
| | Pete Holmes | Voiced Flobb and Fleez in Star Wars Resistance. | Voiced Matthew in "Bart's Not Dead" and Bode Wright in "Warrin' Priests: Part One" and "Warrin' Priests: Part Two". |
| | Jamie Hyneman | Special effects technician on Episodes I and II | Voiced himself in "The Daughter Also Rises". |
| | James Earl Jones | Voice of Darth Vader | Voice of removalist, The Raven Narrator, Serak the Preparer in "Treehouse of Horror", Maggie in "Treehouse of Horror V" and the narrator of "Das Bus". |
| | Taran Killam | Voiced a stormtrooper in Star Wars Resistance, and Raspar Six, a Gotal, and a Landspeeder Driver in Star Wars: The Bad Batch. | Voiced Glen Tangier in "Bart the Bad Guy". |
| | Richard Kind | Voice of General Durpin in Lego Star Wars: The Freemaker Adventures. | Voiced A Christmas Ornament for Christmas director in "A Springfield Summer Christmas for Christmas". |
| | Jane Leeves | Voiced Lt. Estoc in Lego Star Wars: The Freemaker Adventures. | Voiced Edwina in "The Regina Monologues". |
| | Lizzo | Played The Duchess in The Mandalorian episode "Chapter 22: Guns for Hire". | Will voice a singing Happy Little Elf doll in the season 34 episode "Homer's Adventures Through the Windshield Glass". |
| | Christopher Lloyd | Played Commissioner Helgait in The Mandalorian episode "Chapter 22: Guns for Hire". | Reprised the role of Doc Brown from Back to the Future in the special episode The Simpsons Ride and voiced Jim Ignatowski in the season 26 episode "My Fare Lady". |
| | Kumail Nanjiani | Played Haja Estree in Obi-Wan Kenobi. | Voiced Theo in the season 33 episode "You Won't Believe What This Episode Is About – Act Three Will Shock You!". |
| | Liam Neeson | Portrayed Qui-Gon Jinn | Voiced Father Sean in "The Father, the Son and the Holy Guest Star". |
| | Timothy Olyphant | Played Cobb Vanth in The Mandalorian. | Will voice a character in the upcoming two-part episode "A Serious Flanders". |
| | Natalie Portman | Played Padmé Amidala | Voiced Darcy in "Little Big Girl" and "Moonshine River". |
| | John Ratzenberger | Portrayed Major Drelin | Voiced Cliff Clavin, his character from Cheers, in "Fear of Flying". |
| | Kevin Michael Richardson | Voiced Jabba the Hutt and others on The Clone Wars. | Voiced various characters |
| | Adam Savage | Model maker for Episodes I and II | Voiced himself in "The Daughter Also Rises". |
| | Peter Serafinowicz | Voiced Darth Maul in The Phantom Menace. | Voiced the Google-Disney CEO in "Krusty the Clown". |
| | Harry Shearer | Dubbed lines for an Imperial Trooper (ADR loop group) | Main cast member, voicing characters including Mr. Burns, Ned Flanders and Principal Skinner. |
| | Tiya Sircar | Voiced Sabine Wren in Star Wars Rebels. | Voiced Erin in "Uncut Femmes". |
| | George Takei | Voiced Lok Durd in the "Defenders of Peace" episode of the Clone Wars | Voiced Akira Kurosawa in "One Fish, Two Fish, Blowfish, Blue Fish", Wink in "Thirty Minutes Over Tokyo" and a Waiter in "A Hunka Hunka Burns in Love". |
| | Paul F. Tompkins | Voiced Flanx in Star Wars Resistance. | Voiced Colby in "Meat Is Murder". |
| | Max von Sydow | Played Lor San Tekka in The Force Awakens. | Voiced Klaus Ziegler in "The War of Art". |
| | Treat Williams | Portrayed a rebel trooper | Voiced himself in "A Totally Fun Thing Bart Will Never Do Again". |
| | Michael York | Voiced Dr. Nuvo Vindi in two Clone Wars episodes | Voiced Mason Fairbanks in "Homer's Paternity Coot". |
External links
[
edit
]