The Simpsons: Tapped Out All This Jazz content update
Wikisimpsons - The Simpsons Wiki
"The Van Houten curse turned out to be real and Milhouse can never be cool again. Darn his newly developed leather jacket allergy! So what's next for Springfield? Who knows! Maybe new characters or new storylines or a new copywriter who'll stop microwaving fish at the office. That's right, Gary, you're fired."
―Event description on app store.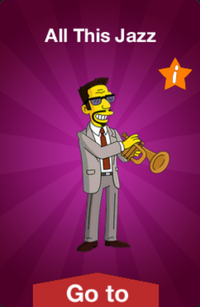 The Simpsons: Tapped Out All This Jazz is the two hundred and third content update. It was released on September 23, 2020 and ended on October 7, 2020. It's a sequel to the Homerpalooza event. It added 1 character, 1 building-character combo, 1 character skin, 3 buildings and 2 decorations.
Note
| | |
| --- | --- |
| | All items with this icon on the last column of the table are also available for just 30 in the Yearbook Mystery Box! |
Characters
Returning
Character Skins
| Image | Name | Unlock image | Notes |
| --- | --- | --- | --- |
| | Tic Tock Simpson | | Unlocks after completing Song and Dance Pt. 4. |
Returning
Buildings
Image
Name
Cost
Build time
Task
Notes
Groovetone Records
4h
Experimenting With Jazzy Auto-tuning
Unlocks after completing Song and Dance Pt. 1.
The Spotted Cat
Hosting a Painful Open Mic Night
Unlocks after completing Song and Dance Pt. 3.
KJAZZ
150
6s
Begging for Listener Donations
Unlocks Skinny Palmer.
Blues Vomitorium
Mopping Up
Unlocks with Blues Vomitorium + Bourbon Street Band bundle.
Returning
Decorations
Returning
Bundle
| Image | Name | Cost | Content |
| --- | --- | --- | --- |
| | Blues Vomitorium + Bourbon Street Band | 150 | Blues Vomitorium and Bourbon Street Band |
Permanent item sales
Gameplay
Prizes
Image
Name
Unlock
Groovetone Records
Song and Dance Pt. 1
Marbles Le Marquez
Song and Dance Pt. 2
The Spotted Cat
Song and Dance Pt. 3
Tic Tock Simpson
Song and Dance Pt. 4
Springfield Memorial Bridge
Song and Dance Pt. 5
Lisa and Bleeding Gums Murphy's Play the Sax on Springfield Memorial Bridge animated job
Conform-o-meter impact
Name
Rating
Points
Groovetone Records, Gold Records on Walls Studio, Guitar Central, Woodstock Casino
Consumerism
10
Underground Piano
Obedience
5
Springfield Hyperstadium
20
Jazzy Goodtime's, The Jazz Hole
Gluttony
10
Blue Vomitorium
20
The Spotted Cat
Righteousness
10
Sungazer Studio
Indolence
KJAZZ
Socialism
20
White Spotlight
Vanity
25
Multi-colored Spotlight
75
Cycling Spotlight
80
Hip-Hop Stage, Pop Stage, Rock Stage, All Sales Vinyl, Classified Records, Floor Speaker, Cheering Crowd, Skylight,
Rude Crowd, Laser Light, Smoke Machine, Concert Light, Speaker Stack, Pop Star Plane, Music Automaton, Sungazer Tour Bus
100
Concert Hall
200
Springfield Memorial Bridge
Tree-hugging
100
Sungazer Tour Bus
Vanity
Bonus $ and XP
100
1%
Yellow Submersible
100
2.5%
Bourbon Street Band
Righteousness
Bonus $ and XP
20
4%
Outdoor Opera Stage
NONE
Other changes made
September 22nd Update (4.45.5; "4_45_AllThisJazz")
The app icon and the splash screen were changed back to normal.
Quimby's clothes were changed from blue to purple.
Van Houten House was changed from purple to pink and its design was changed.
Kang was changed from Premium Female to Premium Male character group.
Howard K. Duff was added to the Regular Male character group.
Pop Star Plane can now be placed on Squidport too.
Rasputin the Friendly Russians' Play with Puppies job now correctly displays the name.
Grab Sunglasses From 3-D Movie Bins can no longer be done at Springfield Elementary or Brown House. Its location was restored to Heights Theater or Brown House.
Buying Outdoor Opera Stage now unlocks Sideshow Bob automatically.
Bart, Lisa and Ralph's Play With Puppies job name was fixed.
Sources
Overview at Tapped Out - Update Information