E.A.R.L.
Wikisimpsons - The Simpsons Wiki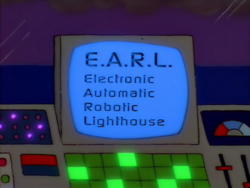 E.A.R.L., short for Electronic Automatic Robotic Lighthouse, is a system that controls an automated lighthouse in Springfield.
History
[
edit
]
Homer had had a fight with Marge and was wandering through Springfield in search of his soulmate when he happened to look at the lighthouse. It occurred to him that the lighthouse keeper had to be the loneliest guy in the world, so he ran to the lighthouse. When he got there, he saw the sign on the door reading "This lighthouse operated by EARL". Taking that to mean the name of the lighthouse keeper, Homer eagerly rushed in and shouted, "Here I come, buddy! No more loneliness for Homer and Earl!"
Homer was bewildered, however, to find that there was no human being inside, but an electronic control panel with a display reading "E.A.R.L. Electronic Automatic Robotic Lighthouse". When he realized that "Earl" was actually a machine, he got angry. Just after that, Homer heard a ship's horn in the distance and smashed the lighthouse's bulb so that the ship, rather than being warned away from the shore, would run aground so he could find friends among the people on the ship.
Homer's plan was interrupted by the timely arrival of Marge. They quickly resolved their differences and Homer realized that Marge had been his soulmate all along. Marge then replaced the broken lighthouse bulb with a spare she found in a utility closet. The new bulb lit up, warning the ship that it was near the shore, but the warning came too late and the ship ran aground anyway, spilling its cargo of hot pants. The people of Springfield turned up and helped themselves to the ship's cargo, while Marge and Homer kissed and made up in the lighthouse with the new bulb projecting their silhouettes out onto the water.
Non-canon
[
edit
]
| | |
| --- | --- |
| | The contents of this article or section are considered to be non-canon and therefore may not have actually happened or existed. |
The Simpsons: Tapped Out
[
edit
]
This section is transcluded from The Simpsons: Tapped Out decorations/Sea decorations. To edit it, please edit the transcluded page.

E.A.R.L.
Image
Cost
Reward
Sell price
Conformity increase
Availability
Unique?
Dimensions -

D

x

W

5,000
1
Vanity +100
Friend Points
Friendship Level 6
5 x 5 (ocean only)
Appearances
[
edit
]