Rake
Wikisimpsons - The Simpsons Wiki
"Rakes! My old archenemy"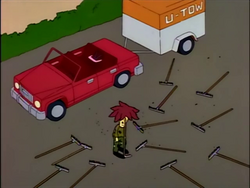 Rakes are a gardening tool, used to rake leaves. They are also Sideshow Bob's greatest nemesis, except for Bart. Bob has a propensity for stepping on the tines of rakes, thus making the handles swing up and hit him in the forehead, which typically elicits an enraged grumble from him.[1]
History
[
edit
]
Rakes have often been seen used by people of Springfield to rake leaves, particularly Willie in the course of his groundskeeping duties at Springfield Elementary School. Willie once accidentally killed a student by impaling him with a rake. The student's ghost has haunted the playground ever since, and can be seen floating in the air at night with a rake stuck all the way through him.[2]
Homer was raking when he fell over a bin and made his back better. This helped him make an invention he called Dr. Homer's Miracle Spine-O-Cylinder.[3]
Sideshow Bob
[
edit
]
After holding onto the bottom of the Simpsons car and going through a cactus field, Sideshow Bob crawled out, only to be hit by a rake. He walked around, hitting more and more rakes with every step he took, quickly coming to loathe them and think of them as his enemy. Later, when sneaking onto the Simpsons' house boat, Bob hit another rake.[1]
When Bob called for Bart to come to the tool shed at Springfield Elementary School, he was hit by another rake and explained to Bart that he had more than one archenemy.[4]
A large number of Springfieldians were hypnotized to act like Sideshow Bob and started chasing after Bart, intending to kill him. Bart delayed them by going into a rake store and scattering a bunch of rakes in their path. He then ran away while they were distracted by stepping on the rakes and getting hit by the handles.[5]
Bart made Bob jump over each corner of Five Corners until he hit a rake.[6]
Non-canon
[
edit
]
| | |
| --- | --- |
| | The contents of this article or section are considered to be non-canon and therefore may not have actually happened or existed. |
Sideshow Bob is revealed to be helping Kang and Kodos. As he attacks Bart and Homer, he stands on and gets knocked out by a space rake (belonging to Kodos).[7]
In the future, Sideshow Bob is shown to have died in Moe's Tavern after stepping on a rake. The scene showed a chalk outline of Bob on the floor next to an outline of a rake.[8]
Sideshow Bob stepped on a rake in Springfield University after killing Bart.[9]
The Simpsons: Tapped Out
[
edit
]
This section is transcluded from The Simpsons: Tapped Out decorations/Garden decorations. To edit it, please edit the transcluded page.

Rake
Image
Cost
Reward
Sell price
Bonus
Conformity increase
Availability
Unique?
Dimensions -

D

x

W

7
5
0.1%
Vanity +100
Premium
4 x 1
18
Premium (x3)
75
Premium (x15)
Behind the Laughter
[
edit
]
The Sideshow Bob Prison World of Springfield figure comes with a rake.
Appearances
[
edit
]
References
[
edit
]