Love Tester
Wikisimpsons - The Simpsons Wiki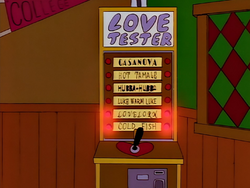 The Love Tester is a coin operated machine that sits next to the bar in Moe's Tavern. It can be seen being used by many characters including Aerosmith's Steven Tyler. Apparently, the story behind it is that Moe had the money for either cable for the bar or the machine and obviously he chose the machine.[1]
Non-canon
[
edit
]
| | |
| --- | --- |
| | The contents of this article or section are considered to be non-canon and therefore may not have actually happened or existed. |
Abraham Simpson, who has died and got lost on his way to Heaven, found his way into the Love Tester where he helped Moe get a date. Moe took the Love Tester with him on the date.[2]
During the time that The Planet Express crew were transported into The Simpsons comic, Bender was given free beer at Moe's Tavern due to the impression he was a mascot Duff Beer.[3] He was later kicked out when Moe caught him getting intimate with the Lover Tester. Bender claimed that the "little flirt started it".[4]
The Simpsons: Tapped Out
[
edit
]
This section is transcluded from The Simpsons: Tapped Out decorations/Miscellaneous decorations. To edit it, please edit the transcluded page.

Appearances
[
edit
]
This article or section is incomplete.


Please improve the article, or discuss the issue on the talk page.

References
[
edit
]