Olmec head
Wikisimpsons - The Simpsons Wiki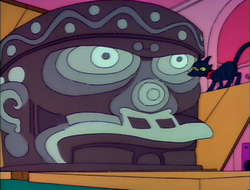 The Olmec head is a large Olmec statue of a head.
History
[
edit
]
It was a gift from Mr. Burns to Bart after the latter had donated his blood to him.[1] Burns tells them it is a representation of Xtapolapocetl (Pronounced 'Ex-tapo-lapo-kettle'), the God of War. The head has no function and is totally useless; the Simpsons thus move it into the basement.
Since its introduction, the head is seen outside the basement for the first time as an item for sale in the Simpsons' yard sale.[2] The head is later seen outdoors again, this time as part of the wall between the two parts of Springfield.[3] It then remains part of the attic in the Simpson house. How it ever got in the basement, out of the house, or up the attic remains unknown.[4]
Its head has also been said to actually be the home of an old Olmecian man whose sacred duty was to wait in the head until his god appeared to judge the world. The head apparently has exceptional longenative powers as the man was in his 120's at the time yet was able to move about without even a stick and technically live without support.[5]
Non-canon
[
edit
]
| | |
| --- | --- |
| | The contents of this article or section are considered to be non-canon and therefore may not have actually happened or existed. |
The Simpsons: Tapped Out
[
edit
]
This section is transcluded from The Simpsons: Tapped Out decorations/Statues. To edit it, please edit the transcluded page.

Olmec Head
Image
Cost
Reward
Sell price
Conformity increase
Availability
Unique?
Dimensions -

D

x

W

1,000
N/A
Vanity +100
Friend Points
Friendship Level 1
2 x 2
1
Springfield's Got Talent?
Shattered Dreams Mystery Box (after event completion)
Appearances
[
edit
]
References
[
edit
]