Sumatran Century Flower
Wikisimpsons - The Simpsons Wiki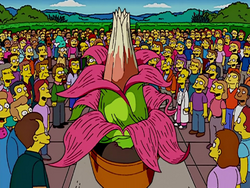 The Sumatran Century Flower is a flower that blooms every 100 years. It is one of the attractions at Springfield Botanical Gardens.
History
[
edit
]
The Sumatran Century Flower was about to bloom, and the Simpson family along with many other residents of Springfield were at the Botanical Gardens to witness the event. When the flower bloomed, the assembled townspeople were at first awed by the sight. Immediately after it bloomed, however, the flower emitted a noxious gas that had an extremely foul smell and killed every other plant that was nearby. The gathering turned into mass chaos (and caused a traffic jam) as everyone ran to their vehicles and drove away to flee the stench. Krusty the Clown dove into a manure pile to escape the flower's odor and found that the manure smelled "mildly better".
Non-canon
[
edit
]
| | |
| --- | --- |
| | The contents of this article or section are considered to be non-canon and therefore may not have actually happened or existed. |
The Simpsons: Tapped Out
[
edit
]
This section is transcluded from The Simpsons: Tapped Out decorations/Flowers. To edit it, please edit the transcluded page.

Sumatran Century Flower
Image
Cost
Reward
Sell price
Bonus
Conformity increase
Availability
Unique?
Dimensions -

D

x

W

Yearbook
75
40
2%
Vanity +400
Easter 2014
Level 14
Premium
1 x 1

30
40
Season Premiere 2016
Premium
1
Treehouse of Horror XXXIV
Shattered Dreams Mystery Box (after event completion)
Internal Name
Tiles
ID
SumatranCenturyFlower
Grass, Dirt, Pavement, Boardwalk Section, Ornate Pier Section, Beach
22505
Behind the Laughter
[
edit
]
The Sumatran Century Flower bears a strong resemblance to the real-life Sumatran flower Amorphophallus titanum, which is better known as the "corpse flower" due to the rotting-flesh smell it gives off when it blooms. The corpse flower, however, blooms on an annual cycle.
Appearances
[
edit
]