Sideshow You
Wikisimpsons - The Simpsons Wiki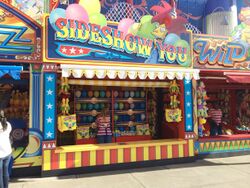 Sideshow You is a balloon pop game at the Universal Orlando Resort. A game costs $5 and gives the player two beanbags to toss to pop balloons. Kids under 48 inches are guaranteed a win every time. The prizes for winning the game are Simpsons toys.
The Simpsons: Tapped Out
[
edit
]
This section is transcluded from The Simpsons: Tapped Out decorations/Krustyland decorations. To edit it, please edit the transcluded page.

Sideshow You
Image
Cost
Reward
Sell price
Conformity increase
Availability
Unique?
Dimensions -

D

x

W

1,000
200
125
Merch +10
Krustyland
Level 22
The Krusty-est Place On Earth Pt. 15
3 x 4
Sideshow You Balloon Pop Minigame
---