Truckasaurus
Wikisimpsons - The Simpsons Wiki
Truckasaurus is a giant mechanical truck/dinosaur. It was created by Leo G. Clark. It is described as "20 tons and four stories of car-crunching, fire-breathing, prehistoric insanity".
History
[
edit
]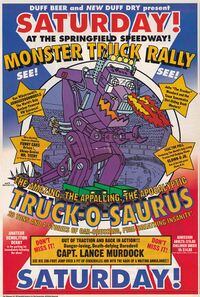 The Simpson family went to see Truckasaurus but accidentally drove into the stadium where was it destroying cars. It grabbed the Simpsons' car and tried to crush it in its jaws, almost killing the family. The owner of the robot paid for the damage .[1]
In Truckasaurus: The Movie he is called "John Truckasaurus" and is voiced by Marlon Brando.[2]
A new version of the Truckasaurus, Truckasaurus II, was built for the Springfield Demolition Derby, but was destroyed immediately.[3]
A Truckasaurus Model was sold in Cockamamie's.[4]
Non-canon
[
edit
]
| | |
| --- | --- |
| | The contents of this article or section are considered to be non-canon and therefore may not have actually happened or existed. |
Truckasaurus ended up in The Auto Graveyard, where it fell into the hands of Bart Simpson, who accidentally turned it on, causing it to run amok in Springfield. It walked into Springfield Harbor and was never seen again.[5]
The Simpsons Road Rage
[
edit
]
The Truckasaurus is found in a stadium repeatedly smashing the same car while surrounded by mascots for the Springfield Isotopes.
The Simpsons: Hit & Run
[
edit
]
Truckasaurus was created by Professor Frink. It is powered by copies of Bonestorm II, a WWII radio, a satellite dish and a blender. It cannot function properly with too many people in cars using cell phones. Bart helps Frink build the Truckasaurus and tests its destructive ability in his car.
The Simpsons: Tapped Out
[
edit
]
This section is transcluded from The Simpsons: Tapped Out decorations/Robots. To edit it, please edit the transcluded page.

Truckasaurus
Image
Cost
Reward
Sell price
Bonus
Conformity increase
Availability
Unique?
Dimensions -

D

x

W

Yearbook
225
225
4.75%
Vanity +400
Cyber Monday 2014, 2015 and The Most Dangerous Game
Premium
12 x 6

30
65
This Thanksgiving's Gone to the Birds!
Premium (Cyber Monday Box)
75
Thanksgiving 2018, All American Auction, Blargsgiving, Northward Bound and The Atom Smasher
Premium (Cyber Mystery Box)
175
Rise of the Robots
Premium
160
Treehouse of Horror XXXII and Hell on Wheels
Premium
Behind the Laughter
[
edit
]
Truckasaurus was inspired by the real life robotic dinosaur, Robosaurus.
Appearances
[
edit
]
References
[
edit
]