The Murderhorn
Wikisimpsons - The Simpsons Wiki
The Murderhorn
Location Information

The Murderhorn is the highest mountain in Springfield that Homer climbed to promote the Powersauce bar.
Geographical formation
[
edit
]
According to Bart, The Murderhorn is 20,000 feet (6144m) high. There are two smaller Mountains next to it meaning that there is/was possibly underground volcanic activity pushing the Mountains up. Both smaller mountains, which remain unnamed, look miniscule compared to the mountain that is larger than it. If the Murderhorn is 20,000 feet high, then the mountain that precedes it would be around 11,000 feet.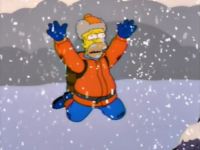 Grampa - Apparently fell off the top of the Mountain.
C.W. McAllister - Grampa tried to eat him after he ran out of food. Froze to death.
Two Sherpas - They were guiding Homer to the top but he fired them.
Accomplished
[
edit
]
Homer Simpson - destroyed the last peak making the second last peak the top.
Non-canon
[
edit
]
| | |
| --- | --- |
| | The contents of this article or section are considered to be non-canon and therefore may not have actually happened or existed. |
The Simpsons: Tapped Out
[
edit
]
This section is transcluded from The Simpsons: Tapped Out decorations/Hills and mountains. To edit it, please edit the transcluded page.

Murderhorn
Image
Cost
Reward
Sell price
Bonus
Conformity increase
Availability
Unique?
Dimensions -

D

x

W

Yearbook
250
250
5%
Tree-hugging +2,500
Tap Ball and Soccer Cup 2015, Winter 2015, 2016, The Most Dangerous Game and Time Traveling Toaster
Premium
14 x 14

30
80
This Thanksgiving's Gone to the Birds!, Thanksgiving 2018, All American Auction, Blargsgiving, Northward Bound and The Atom Smasher
Premium (Great Outdoors Mystery Box)
50
A Rigellian Christmas Promo and The Invasion Before Christmas
Premium (Winter Wonderland Mystery Box)
60
A Simpsons Christmas Special and Abe's in Toyland
Premium (Winter Wonderland Mystery Box)
1
Holiday Whodunnit
Holiday Whodunnit Mystery Box
1
Dog Days
Shattered Dreams Mystery Box (after event completion)
Behind the Laughter
[
edit
]
Appearances
[
edit
]