Mayan calendar
Wikisimpsons - The Simpsons Wiki
| | |
| --- | --- |
| | The contents of this article or section are considered to be non-canon and therefore may not have actually happened or existed. |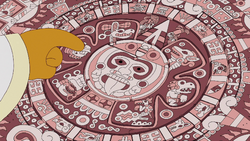 The Mayan calendar is a calender believed by the Mayans.
History
[
edit
]
It used by a Mayan scientist to predict the world will be destroyed on the 13th Baktoon (2012).
The Simpsons: Tapped Out
[
edit
]
This section is transcluded from The Simpsons: Tapped Out decorations/Halloween decorations. To edit it, please edit the transcluded page.

Mayan Calendar
Image
Cost
Reward
Sell price
Conformity increase
Availability
Unique?
Dimensions -

D

x

W

Yearbook
FREE
250
Vanity +100
Treehouse of Horror XXIII
Place all artifacts together
4 x 4

30
300
Yard Sale 2014
Premium (Mayan Bundle)
70
Time Traveling Toaster
Premium (with Mayan God)
40
Bart Royale
Premium (Doomsday Mystery Box; Mayan Bundle)
1
Springfield's Got Talent?
Shattered Dreams Mystery Box (after event completion)
Behind the Laughter
[
edit
]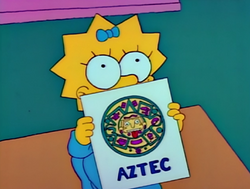 The calendar used is actually the Aztec calendar. In "Blood Feud", Maggie raises a flashcard that reads "Aztec" with the calendar.
Appearances
[
edit
]