The Wailing Wall
Wikisimpsons - The Simpsons Wiki
| | |
| --- | --- |
| | The contents of this article or section are considered to be non-canon and therefore may not have actually happened or existed. |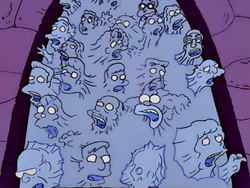 The Wailing Wall is a wall where Lord Montymort puts his victims. It is full of wailing heads of the dead.
History
[
edit
]
Montymort is evidently able to trap the souls of living people in the wall, as he threatened Bart with the wall to get him to go along with his plan to capture Lisa. When Bart asked what would happen if he didn't help, Montymort gestured at the wall and let Bart take in the sight and moans of the trapped souls in the wall. Krusty the Clown said, "I've heard of a Wailing Wall, but this is ridiculous!", which elicited even louder moans from the other souls as they complained about the joke.
After Montymort showed Bart the wall, Bart quickly agreed to go along with his plan.
Trapped Souls
[
edit
]
The souls trapped in the wall include Krusty the Clown, Maude Flanders, Comic Book Guy, Snake Jailbird, Bleeding Gums Murphy, Rainier Wolfcastle, Kent Brockman, Dewey Largo, Herman Hermann, Johnny Tightlips, Don Vittorio DiMaggio, Patty Bouvier, the Blue-haired lawyer, Adil Hoxha, the Old Jewish man, Mayor Quimby, Selma Bouvier, Lunchlady Dora, Moe Szyslak, Snowball II, the Squeaky-voiced teen and Frank Grimes.
The Simpsons: Tapped Out
[
edit
]
This section is transcluded from The Simpsons: Tapped Out decorations/Payout decorations. To edit it, please edit the transcluded page.

Behind the Laughter
[
edit
]
Montymort's wall is a reference to the Wailing Wall (also called the Western Wall), a remnant of the Jewish Temple in Jerusalem.
Appearances
[
edit
]