Elaine Wolff
Wikisimpsons - The Simpsons Wiki
Dr. Elaine Wolff is a dog psychologist.
History
[
edit
]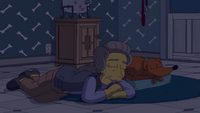 After Santa's Little Helper started acting strangely, getting sad and destroying furniture, the Simpson family took him to see Elaine Wolff at a lecture. During the lecture, Elaine got a call from Clayton, who told her that he had left his wife so they could get married now, as he had loved her since primary school. Elaine hung up the phone as she was in a lecture. After the lecture, the Simpsons approached her in the car park about Santa's Little Helper. Elaine helped Santa's Little Helper to feel better before she drove off, with Santa's Little Helper chasing after her at first before stopping.
After Dr. Callas, a vet, phoned the police and animal control because Santa's Little Helper bit Marge, Elaine showed up at the Simpsons' house because she thought Santa's Little Helper would do something bad. She found out that she was right and the Simpsons asked her to take Santa's Little Helper before animal control arrived to take him away. Elaine took him to the Dognitive Behavioral Therapy Institute, which she ran. Here, she slept next to Santa's Little Helper and comforted him after he had a nightmare.
The next day, Elaine tried to figure out what was wrong with Santa's Little Helper. She found out that Marge was comfort to him. Just then, Clayton went into Dr. Wolff's office and asked Elaine to marry him. Elaine refused because she needed to care for Santa's Little Helper.
After this, Elaine took Santa's Little Helper to meet the other dogs. As a small dog approached his bed, Santa's Little Helper growled aggressively. Elaine then found that he had a Santa hat buried in his bed. She asked the Simpsons where the hat was from and Bart told her it was the hat he was wearing when they adopted Santa's Little Helper from the Springfield Downs. Elaine then realized that Santa's Little Helper had PTSD because of his upbringing as a race dog and took him back to his original owner, Les Moore.
At the No Kill Kennel, Elaine and the Simpsons confront Les, when Elaine slaps him. They then go in to speak to him and Les tells them about Santa's Little Helper's mother, She Biscuit, who he tore Santa's Little Helper away from when he realized how fast he was. Santa's Little Helper then reunited with She Biscuit. Elaine told the Simpsons that he would be alright now and told the Simpsons that she was going home to walk twenty dogs and asked them for help, although the Simpsons refused.
Personality
[
edit
]
Elaine claims to despise humans, saying that she prefers dogs over them. However, she also seemed to be in love with Clayton, showing that she didn't hate all humans. Elaine puts her work with dogs first, turning down Clayton because she had to help Santa's Little Helper and the other dogs. She takes great care of the dogs under her care and will sleep on the floor with them if she feels it will help them. Elaine also takes great pride in being correct, as seen when she found out that Santa's Little Helper had bitten Marge.
Non-canon
[
edit
]
| | |
| --- | --- |
| | The contents of this article or section are considered to be non-canon and therefore may not have actually happened or existed. |
The Simpsons: Tapped Out
[
edit
]
This section is transcluded from The Simpsons: Tapped Out characters/Dog Days. To edit it, please edit the transcluded page.

Permanent Tasks
| Task | Time | Reward | Requires | Quest with the task | Animated? |
| --- | --- | --- | --- | --- | --- |
| Go Skating | 10m | 26, 7 | Simpsons' Skating Rink | | |
| Refill the Snausage Water | 60m | 105, 26 | Dognitive Behavioral Therapy Institute | | |
| Overpay for Sex on the Beach | 4h | 260, 70 | Smooches on the Beach | | |
| Stay at the Swelldorado | 4h | 260, 70 | Swelldorado | | |
| Try to Win at Blackjack | 4h | 260, 70 | $ Casino | | |
| Drink and Babysit | 4h | 260, 70 | The Boiled Potato | | |
| Attend Coffee Meetup | 4h | 260, 70 | Jittery Joe's Coffee | | |
| Analyze Dognitive Behavior | 4h | 260, 70 | Dognitive Behavioral Therapy Institute | | |
| Dance the Señor Burns | 8h | 420, 105 | Chez Guevara | | |
| Run From Dog Nightmares | 8h | 420, 105 | | | |
| Read a Dog Therapy Book | 12h | 600, 150 | Dognitive Behavioral Therapy Institute | | |
| Research Dogs Around Town | 24h | 1,000, 225 | Trees | | |
Appearances
[
edit
]