Dr. Crab
Wikisimpsons - The Simpsons Wiki

Dr. Vladmir Krabokov, better known as Dr. Crab, is the arch enemy of Radioactive Man.
History
[
edit
]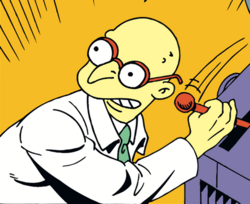 Dr. Vladmir Krabokov tasked two thugs with setting off a mega-bomb and stealing the test data from Blather Labs. This was the event that turned Claude Kane III into Radioactive Man.[1]
Radioactive Man kept going from location to location trying to locate Dr. Crab. When Radioactive Man was trying to find the cause of juvenile delinquency in Zenith City, he was issued a challenge by Dr. Crab, who planned to pull the biggest heist Zenith had ever seen. Radioactive Man figured out the challenge and went to Finger's House of Giant Props, where Dr. Crab planned to melt a giant gold record down. He stunned Radioactive Man with his ray gun and escaped. Radioactive Man later tracked him down with a tip from Dr. Hedrick Hertzmann, who told Radioactive Man that Dr. Crab had an insatiable appetite for seafood cocktail. After a fight, Dr. Crab's ray gun is destroyed and he escapes.[2]
Behind the Laughter
[
edit
]
He looks slightly similar to Zoidberg in Futurama.
Non-canon
[
edit
]
| | |
| --- | --- |
| | The contents of this article or section are considered to be non-canon and therefore may not have actually happened or existed. |
The Simpsons: Tapped Out
[
edit
]
He was the main villain in the Superheroes event. He encased Radioactive Man inside of the Radioactive Man Statue, but he broke out. He returns in the sequel, Superheroes 2 event, trying to transform all Springfielders into crabs. After failing he unleashes Pinchy in town to seek revenge for the previous year's defeat. However he is defeated again, with Pinchy dead once again, he joins the town as a permanent resident.
This section is transcluded from The Simpsons: Tapped Out characters/Super Villains. To edit it, please edit the transcluded page.

Permanent Tasks
| Task | Time | Reward | Requires | Quest with the task | Animated? |
| --- | --- | --- | --- | --- | --- |
| Burrow in the Sand | 60m | 70, 17 | Brown House | | |
| Crab Dance | 4h | 175, 45 | | Fishing For Compliments Pt. 4 | |
| Overpay for Sex on the Beach | 4h | 260, 70 | Smooches on the Beach | | |
| Stay at the Swelldorado | 4h | 260, 70 | Swelldorado | | |
| Try to Win at Blackjack | 4h | 175, 45 | $ Casino | | |
| Drink and Babysit | 4h | 175, 45 | The Boiled Potato | | |
| Attend Parenting Seminars | 4h | 260, 70 | Universal Panacea | | |
| Steal Uranium | 8h | 275, 70 | Control Building | Fishing For Compliments Pt. 2 | |
| Dance the Señor Burns | 8h | 420, 105 | Chez Guevara | | |
| Devise an Evil Plan and Reconsider | 12h | 420, 100 | Brown House | | |
| Build a Death Ray | 24h | 600, 150 | | Fishing For Compliments Pt. 5 | |
Appearances
[
edit
]
References
[
edit
]
---