Claude Kane III
Wikisimpsons - The Simpsons Wiki
Claude Kane III
Character Information

Claude Kane III is the man behind the mask of Radioactive Man. He is very wealthy layabout playboy who lives in stately Kane Manor in Zenith City. His girlfriend is Gloria Grand. The electrical bolt-shaped piece of shrapnel embedded in his head (visible as Radioactive Man) requires that he wear a hat at all times to maintain his secret identity.
History
[
edit
]
Claude Kane III was seen in an issue of Radioactive Man 1, detailing his origin. Bart, Martin and Milhouse bought the comic book.[1]
Comic history
[
edit
]
When he was on his way to Blather Labs to get his allowance for the week from his father, Claude took a wrong turn and got lost. His car then got stuck so he walked into the nuclear test site, not realizing it was that, to try and find help. He got caught in an explosion from a mega-bomb which Blather Labs had been working on and got superpowers. He continued to Blather Labs where he beat some thugs who had taken Claude's father and Gloria Grand hostage. From this day, he became Radioactive Man.[2]
After Radioactive Man took out several thugs, Claude decided that he needed to set up a secret lair of his own. He found a model lying on the ground and decided to use it as a design for The Containment Dome, which he built on Mount Zenith.[3]
When asking Gloria out on a date one day, Gloria asks Claude to take care of a person who had been pestering her with a potential story. Claude then realized that the man, Giorgio Bishop, had a photograph of him with the electrical bolt-shaped piece of shrapnel embedded in his head on display. He remembered this as the day he lost his hat and was trying to get it again. Eventually, he managed to get this story played off as a joke by paying the man to publish a newspaper full of conspiracy theories.[4]
When Bug Boy was trying to remove the shrapnel from Radioactive Man's head, it resulted in Claude Kane III and Radioactive Man getting split apart. Radioactive Man then tossed Claude aside, saying that he didn't need Claude any more. Claude then started seeing Gretchen Grille and decided to get his own life. Whilst Claude and Gretchen were on a date out of the city, Radioactive Man grabbed Claude and asked him why Claude wasn't trying to merge themselves back together. Claude told Radioactive Man that he was living his own life, like Radioactive Man told him to do. The two of them then spoke about their silly excuses to Gloria about why then had to leave her constantly, which bonded the two of them back together.[5]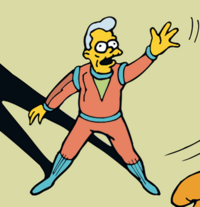 In 1995, Claude Kane III had retired from being Radioactive Man as Rod Runtledge had taken up the mantle. He also had his lightning bolt removed from his head. After Rod got knocked out by a space alien's robot, an elderly Claude woke him up and told him to save Gloria.[6]
In other media
[
edit
]
Radioactive Man: The Movie
[
edit
]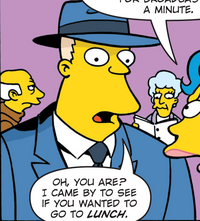 In Radioactive Man: The Movie, Claude Kane III/Radioactive Man was played by Rainier Wolfcastle. Claude Kane III was a layabout playboy who got stuck at a nuclear testing site. The atomic blast turned him into Radioactive Man. After this, Radioactive Man was considered a myth in Zenith City, with even people who saw him not believing he was real.
Claude Kane III had a crush on reporter Gloria Grand and kept asking her out, only to be rejected. His father also considered his son a disappointment who didn't do anything of note.[7]
Personality
[
edit
]
Claude can come across as very gullible. He believed the rantings of J.J. Bellwether and Hedrick Hertzmann who were saying that William G. Maimes was a soviet spy, and even backed them up with "evidence".[3] He is also not very smart at times, not knowing a thing about radiation, despite it being the source of his powers.[8]
Claude can be stubborn, as seen from him asking Gloria Grand out on a date multiple times, and being rejected every time. Despite this, he still cares about her and tries to ask her out.
Appearances
[
edit
]
This article or section is incomplete.


Please improve the article, or discuss the issue on the talk page.

References
[
edit
]
---