Cap'n Bolt
Wikisimpsons - The Simpsons Wiki
Cap'n Bolt
(Curt Davis)
Supervillain Information

Cap'n Bolt, real name Curt Davis, is a supervillain and the station manager of WZEN News.
History
[
edit
]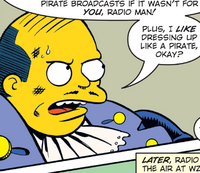 Curt Davis thought that radio was bad and wanted to broadcast images of people rather than just their voices. So, he decided to dress up as a pirate and kidnap radio personalities in order to get them on television.
Cap'n Bolt first attacked when Josie Simone was about to sing on radio, and kidnapped her. He later kidnapped Floyd Kelly, using Floyd's puppet, Socko, as a decoy for Radio Man to save whilst he got away with Floyd. Cap'n Bolt then went on to kidnap several other performers. Radio Man and Glenda Grand then worked together to put on a radio interview to lure Cap'n Bolt in. Bolt managed to kidnap the pair of them and take them to his ship, where he intended on broadcasting the performers shows to the people. Radio Man then broke free of his chains and defeated Cap'n Bolt, revealing him to be Curt Davis.
Appearances
[
edit
]