Claude Kane II
Wikisimpsons - The Simpsons Wiki
Dr. Claude Kane II
Character Information

Dr. Claude Kane II is a nuclear physicist and father of Claude Kane III.
History
[
edit
]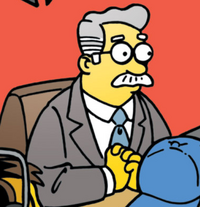 Claude Kane II believed that his son should do something more with his life. Later, he was held hostage at Blather Labs, along with Gloria Grand, whilst the thugs set off his mega-bomb and tried to steal the test data. He was saved when his son stopped the thugs with his new superpowers.[1]
Dr. Kane II made a formula to bring extinct creatures back to life called the Foreverlution Formula. This formula was stolen from Dr. Kane by his new assistant, Nick, who worked for Dr. Crab. Nickolai knocked Dr. Kane out then set fire to Blather Labs. Radioactive Man saved him from the burning building.[2]
When The Undergrounders kidnapped Rod Runtledge, they demanded that Zenith City feed all the hungry and house all the homeless, which they couldn't do as the city was broke. Claude Kane II then offered to pay for it all himself, since Rod Runtledge was the charge of his son, Claude Kane III. Radioactive Man saved Rod before Claude Kane II had to pay any money.[3]
Claude Kane II spent a very long time searching for the plane his wife, Camellia Kane, went missing in. The search took him to the South Pacific where he finally found a lead on her disappearance. This lead led him to Dr. Crab, who he found out had taken Camellia Kane and implanted her brain into a robot, Pneumatica. He then went back to Zenity City and stopped Radioactive Man from harming Pneumatica.[4]
Radioactive Man: The Movie
[
edit
]
Claude Kane II was interviewed on WZEN News by Gloria Grand when the interview was interrupted by breaking news of a hostage situation on the U.S.S. Serendipity. He later told Gloria that he loved his son, but considered him a disappointment as he expected great things from him.[5]
Appearances
[
edit
]
References
[
edit
]
---