The Undergrounders
Wikisimpsons - The Simpsons Wiki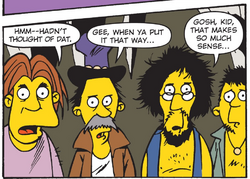 The Undergrounders are a group of hippies who long for the 1960s.
History
[
edit
]
The Undergrounders stormed Friedrich University and kidnapped Rod Runtledge whilst they were there, taking him to the sewers. Later, they demanded that Zenith City feed all the hungry and shelter all the homeless.
Radioactive Man eventually found his way to the sewers where he rescued Rod Runteledge, but The Undergrounders got away.
Appearances
[
edit
]