Bobby Bonds
Wikisimpsons - The Simpsons Wiki
Bobby Bonds
Character Information

Robert "Bobby" Bonds is an assistant to Gloria Grand. Forty years in the future, he becomes the news anchor for WZEN News.
History
[
edit
]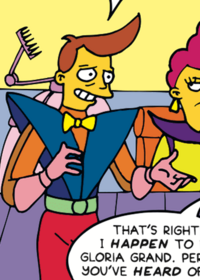 In the present day, Bobby Bonds brought Gloria her lunch. However, it had sesame seeds on, which she hated. Gloria then made Bobby pick off all the sesame seeds, which angered him.
Forty years in the future, when Gloria had bee transported to that time, Gloria went to WZEN News to find that it had become a television station. There, she encountered Bobby again, who was now going by Robert Bonds. Robert Bonds told Gloria that he was the news anchor for WZEN before he realized that it was Gloria he was speaking to. Robert then threw Gloria out of WZEN News, finally getting the revenge he swore against Gloria forty years ago.
Appearances
[
edit
]