Rod Runtledge
Wikisimpsons - The Simpsons Wiki
Rod Runtledge
Character Information

Rod Runtledge is the kid behind the mask of Fallout Boy
History
[
edit
]
Runtledge lived next door to Gloria Grand with his Aunt June. His parents and his twin brother Dodd died in a plane crash over the remote South American jungle. He first met Radioactive Man when he was robbing a store of a TV. Radioactive Man took Rod back home and told him that the violent comics were why he was acting like a delinquent. Rod later got rid of the comic books, throwing them into a lake.[1]
Becoming Fallout Boy
[
edit
]
After school one day, Rod went to Experiments in Radio-Activity. Claude was also there that day and they watch the experiments together. At the top floor of the exhibit, a gyrostabilizer had burned out and the Xeno-Ray fell over. Rod and Claude end up dangling from it and it emits radioactive energy to the two of them. Rod could now see without his glasses and was stronger than before. At home, he noticed Radioactive Man heading towards the roof of his apartment building, then noticed Claude coming down from the roof. He realized that they were the same person.
Claude invited Rod to become his sidekick. When Rod's Aunt June had another brain fever, she was moved into a nursing home and Rod moved in with Claude and became Fallout Boy.[2]
Loss of powers
[
edit
]
At some point, Rod lost his powers and became an ordinary high school student again. He went on a school trip to Friedrich University where he was kidnapped by The Undergrounders. Eventually, Radioactive Man saved him, although Rod ended up in hospital in the process.[3]
Eventually, Rod gained his powers back.[4]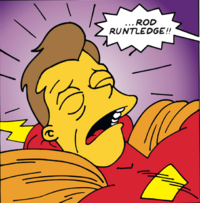 In the future, Rod Runtledge takes up the mantle of Radioactive Man. After Radioactive Man got knocked out by the space alien's robot, Gloria unmasked him to find he was Rod. When Gloria got back to her own time, she dismissed what happened as a dream because if Rod was Radioactive Man in the future, that would make Claude Radioactive Man in the present.[5]
When Fallout Boy of the past calls him to ask if Radioactive Man from his time is there, the future Radioactive Man panics about speaking to his younger self.[6]
Rod has an aunt called Aunt June.[1] He also has a twin brother called Dodd Runtledge.[7]
In other media
[
edit
]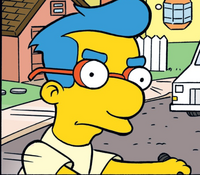 Radioactive Man: The Movie
[
edit
]
In the Radioactive Man film, Rod Runtledge/Fallout Boy was played by Milhouse Van Houten. Rod was on the U.S.S. Serendipity with his mother, when his mother was held hostage by thugs looking to steal the payroll. Radioactive Man then came to the rescue and saved her, although Rod's mother later claimed that Radioactive Man didn't really exist. Later, as Rod was cycling, he got crushed by an X-Ray truck, driven by Otto Mann. The truck gave him powers and turned him into Fallout Boy.
As Rod Runteledge had gone out to help Radioactive Man, his mother was worried and called the police, eventually finding him and taking him home. It was hours later when Rod was able to get out and go and rescue Radioactive Man.[8]
Appearances
[
edit
]
References
[
edit
]