Gloria Grand
Wikisimpsons - The Simpsons Wiki
Gloria Grand
Character Information

Gloria Grand is a journalist for WZEN News.
History
[
edit
]
Gloria Grand was asked out by Claude Kane III repeatedly, but she kept shooting him down, thinking of him as a frivolous socialite. One day, she decided to take a news assignment at Blather Labs to get out of a date with Claude. At Blather Labs, she, Claude Kane II and another person were taken hostage by two thugs who worked for Dr. Crab. These thugs set off the mega-bomb, which the lab had been working on, and tried to steal the test data. However, Claude, having gotten superpowers, stopped them and saved Gloria. He then denied any knowledge of who stopped the thugs, leaving Gloria to continue to think of Claude as a socialite.[1]
Gloria Grand interviewed people on the radio about violent comic books. These people said they were the cause of juvenile delinquency. She later asked Claude to be an influence in Rod Runtledge's life, as he was becoming a delinquent. Later, Rod was caught robbing a store, and Radioactive Man brought him back home. Gloria was there when he arrived and was happy to see Radioactive Man, asking him for an interview, but he declined. Gloria wished that Claude would be a better person, like Radioactive Man.[2]
When Gloria was being pestered by Giorgio Bishop, she asked Claude to deal with him. She later told another employee off for bringing a copy of the Weekly Global Gazette and told Claude about the article about him in it.[3]
Gloria was tasked with reporting on a rigged beauty pageant in Hornsby. After finding out that no young women had been going to restaurants, she was visited by Kate Stone, who revealed that since Desiree Del Monica had entered, women were starving themselves to get thin. Gloria broke into Desiree's room and found out Desiree was from the future. She told Radioactive Man who took Desiree back to the 21st century.[4]
Radioactive Girl
[
edit
]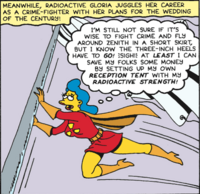 One day, a giant robot was attacking Zenith City, so Gloria went to report on the story. Whilst at the scene, she checked her makeup in a mirror. However, the robot found her and fired an isotropic ray at her. Gloria used her pocket mirror to deflect the ray. However, it deflected back onto the other mirror and into Gloria's back. This coated her particles with clean radiation, giving her powers similar to Radioactive Man. When Radioactive Man arrived on the scene, he was about to be defeated by the robot until Gloria stopped it and saved Radioactive Man. Radioactive Man and Gloria both realized that Gloria now had Radioactive Man's powers and Gloria became Radioactive Girl.
Gloria started helping people out around the city with her new powers. After saving a cat from a tree, the kid who owned the cat called Gloria "Mrs. Radioactive Man". Gloria and Radioactive Man then decided to get married since Gloria was no longer vulnerable to Radioactive Man's enemies. Whilst preparing for the wedding, Gloria's mother brings her in a wedding gift, which was a strange statue. Gloria then dozed off in bed and woke up later, realizing she was going to be late to her own wedding. Gloria flew off towards the wedding but realized her powers were weaker, which she just thought was nerves. Gloria then made it to the wedding.
At the wedding, Dr. Crab appeared from the flowers, with a double-dyothermal ray, intending to destroy both Radioactive Man and Gloria. Dr. Crab revealed that he made the giant robot to kill Radioactive Man and that he sent Gloria the gift, which was a disguised iso-fissional reflector, in order to siphon off her powers. When Dr. Crab shot at Radioactive Man and Gloria, Gloria used a large silver tray to reflect the ray back at Dr. Crab, defeating him. Since Gloria no longer had powers, she and Radioactive Man decided they couldn't get married.[5]
A reporter again
[
edit
]
Shortly after Gloria lost her powers, photographer Sheldon Phillips found that Gloria was the normal woman to gain superpowers and save Radioactive Man, so he went to speak to her at WZEN Tower. As Gloria was telling him about the superheroes in Zenith City, Gloria saw Radioactive Man fly past the window and fell out, causing Radioactive Man to save her. Almost two years later, Sheldon Phillips opened up an exhibit at the Mann Gallery and Gloria interviewed him there, until the interview was cut short by Radioactive Man fighting against Dr. Crab outside the gallery.[6]
Gloria Grand reported on Radioactive Man's death and the fact that his identity was revealed to be Claude Kane III. Gloria was then shocked to find Claude also attending the event.[7] Gloria then interviewed Claude about his whereabouts. Later, Gloria followed the Superior Squad to Crystal Belle's Crystal Balls.[8] When the Superior Squad were knocked out with gas at the seance, Gloria got captured as well.[9] Gloria was then rescued with the rest of the Superior Squad by Radioactive Man. Gloria knocked out Madame Eczema when she was trying to escape when Claude Kane III walked into the building. What Gloria didn't know was that Claude was Plasmo in disguise, and Plasmo accidentally used a love incantation which made Gloria fall for him.[10]
After Radioactive Man died, Gloria Grand attended his funeral. Fallout Boy removed the lightning bolt from Radioactive Man's head and gave it to Gloria to remember him. Later, Fallout Boy had to go and get the lightning bolt from Gloria after Radioactive Man came back from the dead and turned evil. Gloria was sad that Radioactive Man had come back to her but might be dying again so soon after.[11]
When Radioactive Man and Claude Kane III split from each other, Radioactive Man changed and became a dictator over the city. This led to Gloria no longer being enamored with him. After they merged together again and Radioactive Man stopped a comet from destroying the city, Gloria Grand fell for him once again.[12]
In other media
[
edit
]
Radioactive Man: The Movie
[
edit
]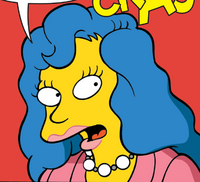 Gloria Grand is a news reporter for WZEN News. Claude Kane III has a crush on her and asks her out frequently, with Gloria always rejecting his advances. Once Radioactive Man started fighting crime, Gloria developed a crush on him. Gloria interviewed Dr. Swartzwelder on WZEN News where they spoke about Radioactive Man, with Dr. Swartzwelder saying he was nothing but a myth. After the interview, Gloria invited Dr. Swartzwelder back on the show at a later time.
After Claude Kane III asked Gloria out again, Gloria went to interview Claude Kane II, Claude's father and a scientist. Gloria was interviewing him when news of a robbery aboard the U.S.S. Serendipity was brought to her. When Gloria found out that Radioactive Man was on the scene and saved the day, she went back to her office where she was thrown over the balcony. Radioactive Man saved her and the two of them flew around the city before Radioactive Man brought her back to her office where she fell asleep. Her co-workers and Dr. Swartzwelder thought she just dreamed the incident.
Gloria Grand got flowers from Dr. Swartzwelder, who left a note saying that he wanted to discuss on her show why Radioactive Man is a menace. Gloria was then kidnapped by Silly Sailor, trapping her inside a balloon. Radioactive Man and Fallout Boy went to save Gloria Grand, but got captured too. Eventually, Radioactive Man escaped and saved Gloria Grand and took her back to WZEN News.[13]
Personality
[
edit
]
Gloria is very professional with her job. She likes to have big cases to uncover. She has also been pressing Radioactive Man for interviews with the cases he solves. Her time chasing after Radioactive Man has caused her to develop feelings towards the superhero, which she struggles to hide in his presence.
Appearances
[
edit
]
This article or section is incomplete.


Please improve the article, or discuss the issue on the talk page.

References
[
edit
]
| | |
| --- | --- |
| | Wikisimpsons has a collection of images related to Gloria Grand. |