Bang Gang
Wikisimpsons - The Simpsons Wiki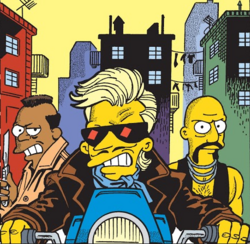 Bang Gang are a motorcycle gang in Zenith City, operating out of the district of Nadir.
Description
[
edit
]
The gang is led by Isotope Rodriguez. They are a gang of rude, crude dudes who fear nothing except artists, who they think will move into Nadir and drive rent prices up.[1]
History
[
edit
]
When Fallout Boy wanted a new image, he joined the Bang Gang. Fallout Boy was then taken to Zenith Mall by the Bang Gang where they wanted to pillage it. However, Radioactive Man was there, using Zenith Mall as his new headquarters after he split with his alter-ego Claude Kane III. Radioactive Man got the Bang Gang to be his personal bodyguards as he took over the city as a dictator.
After Radioactive Man and Claude Kane III merged back together, Fallout Boy managed to turn the Bang Gang good. They then signed on with Libby Biaz to have their image changed.[2]
Appearances
[
edit
]
References
[
edit
]