The Blob
Wikisimpsons - The Simpsons Wiki
<!–-INFOLINKS_ON-–>
| | |
| --- | --- |
| | The contents of this article or section are considered to be non-canon and therefore may not have actually happened or existed. |

The Blob, also called Space Marshmallow, is an intergalactic alien that came to Springfield in a meteor.
History
[
edit
]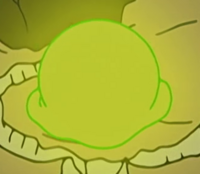 It was inside a meteor that crashed in the Simpson's backyard. Homer started poking it with a stick and, thinking it was an "space marshmallow", tried to eat it. Although the Blob attempted to get out of Homer's mouth, he ended up swallowing it. During the night Homer then started to become a blob himself and began devouring everything and everyone in sight.
The Simpsons: Tapped Out
[
edit
]
This section is transcluded from The Simpsons: Tapped Out characters/Treehouse of Horror XXVII. To edit it, please edit the transcluded page.

Space Marshmallow
Image
Cost
Unlock method
Unlock message
44,300

---

65

Treehouse of Horror XXVII
Meteor Egg, Act 1 Prize

---

Treehouse of Horror XXVIII
Meteor Egg, Premium (Halloween Mystery Box)
Behind the Laughter
[
edit
]
The Blob was a monster in the film of the same name.
Appearances
[
edit
]
<!–-INFOLINKS_OFF-–>
---