Clancy Wiggum
Wikisimpsons - The Simpsons Wiki
"If anything goes wrong, just dial 911. Unless it's an emergency."
―Wiggum
Clancy Wiggum
Character Information
Clancy Wiggum is the chief of police of the Springfield Police Department. He is an extreme stereotype: morbidly obese, extremely stupid, ignorant, incompetent, and really lazy, with a fondness for doughnuts and Chintzy-Pop. While he pretentiously feigns authority, he has little regard for individual rights or even public safety. He is disturbingly uninformed and flaunts his power, albeit with good intentions most of the time. He is part Irish.[3]
He, along with the rest of Springfield's government and Springfield police force, is also corrupt, having asked for or taken bribes several times. An example of this is he can skip any crime if he is bribed, like being notably solicited Troy McClure and Homer Simpson for bribes in exchange for "looking the other way" to their criminal activities. When Bart bribed him with stolen wedding presents, he told him to read his badge and, at the bottom of the badge, was the caption "Cash Bribes only".[4] He has a strained friendship with Mayor Quimby, as the two men vie to have control over the city, which once lead to a serious argument in regards of who takes over during an emergency on the Monorail crisis. Wiggum claims to have compromising photographs of the mayor (the mayor once told Wiggum "You don't scare me; that could be anyone's ass!"), which may help to explain why he has retained his job despite his inability to do anything his duties requires of him.
He is often assisted by his more intelligent (but still quite lazy and often rather cocky) "top cops" Eddie and Lou. He is completely ignorant of Springfield's laws and often quotes sayings from the police handbook which cannot actually be found in the book ("like the book says, if you can't beat them, join them"). According to The Bart Book, Clancy is also in the SPD Bomb Sqaud, which is in fact just HIM in a hockey mask.
Biography
[
edit
]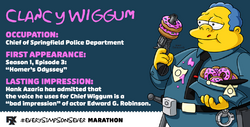 Clancy Wiggum was possibly born in Ireland.[3] However, he also seemed to spend at least some part of his early childhood in Maryland, as he mentioned he used to sell ribbons there with his father, Iggy Wiggum. Iggy was a war veteran who died in a parade float accident in 1979, along with Arnie Gumble, Sheldon Skinner, Etch Westgrin, and Griff McDonald, all members of Abe Simpson's Flying Hellfish.[5] He did, however, grow up in Springfield and was among the same class and age group as Homer Simpson, Lenny Leonard, Carl Carlson, Barney Gumble, and possibly Marge Simpson. At an early age, Wiggum played cops and robbers with Homer and other kids his age and he showed a clear ambition to become a police officer. At the age of 16, he was a hall monitor at high school, where he developed a joy for giving orders, and receiving chocolate bribes.[6] He possibly had a part-time security guard job at Springfield State University. Wiggum was present at the University's germ research labs (Prof. C. Montgomery Burns was chairman at the time) when Mona Simpson and the hippie activist group she was part of sabotaged the germ experiments. Wiggum, who had suffered from asthma prior to that, was cured by antibiotics that the group released to kill the germs, and helped Mona Simpson escape the police when she was on the run twenty-five years later.
In 1985 Wiggum was involved in the barbershop quartet called the "Be Sharps". Wiggum was a member with Homer Simpson, Seymour Skinner, and Apu. However, a talent scout showed interest in the Be Sharps but didn't like Wiggum as a performer, so he was thrown out of the group. When auditions were held to find a replacement for Wiggum, he attempted to be reselected for the quartet. He wore a disguise, but was found out.[7]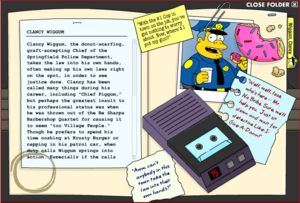 In 1989, Wiggum jumped between an assassin's bullet and Mayor Quimby when he was on duty confiscating illegal wieners from an unlicensed hot dog vendor.[6]
Early attempts to get into the Police Force when he was a teenager were unsuccessful on account of his asthma, so when it had been cured he could then pursue his ambition to become a professional police officer. Having entered the Police Academy by age 24, Wiggum managed to work around his many shortcomings and finally become a full fledged officer and by 32, he had managed to work his way up to the position of Police Chief of Springfield. It is implied that Wiggum managed to overcome his shortcomings with coaxing methods such as great skills with back massages and charm to get the position of Chief. But he actually received the job when the frustrated former Chief resolved to give it to the next person he met, which was Wiggum. Another explanation is when mayor Quimby said that he made Wiggum the police chief so that the law would not be enforced to the letter (Which may also explain why Chief Wiggum has somewhat of a feud with Mayor Quimby, such as getting into a serious argument about Mayor Quimby in regards to Marge's arrest,[8] blackmailing Mayor Quimby with incriminating photos,[9] and even trying to arrest Mayor Quimby for corruption charges[10]"). Regardless, Wiggum had accomplished his childhood ambition.
Personality
[
edit
]
Chief Wiggum was often portrayed as a stupid, dimwitted oaf, with a lazy attitude and a love of eating. However Wiggum does have redeeming qualities as well. Despite his dubious escapades, he appears to have quite a loving relationship with his family, especially his son, whom Wiggum often supports and shows great patience towards, although he can be unfortunately somewhat clueless to Ralph's needs at times. It is once implied that Clancy does use the money he earns as well as "acquires" for his family as much as himself.[11] Wiggum doesn't appear to be a particularly judgemental person either, and generally gets along with others. He does on occasion even help various other people, such as helping Homer find Marge escaping with Ruth Powers from the law,[12] helping Mona Simpson, Homer's mother, escape from Mr. Burns[13] as well as helping backing Lisa up in a school protest on one occasion[14] and arriving just in time during a crucial moment such as the various times Sideshow Bob has attempted to kill Bart Simpson. Perhaps the best example of this is when it is implied that he leads the FBI astray in their search for Mona Simpson, allowing her to escape in gratitude for curing his asthma. Although Wiggum can often antagonize others as well, it's heavily implied that it's not out of malice but merely because he's doing his job or because he's ignorant of the situation. It is often implied as well that Wiggum genuinely wants to do good with his job, but a mix of complacency, various difficulties with being a cop, and his own limitations have made him weary of his duties. As well as the above, some interesting quirks of the character include rather unusual ingenuity in his job such as: using police hang gliders, riding an Ostrich, speaking hippie tongue, and using loud music to flush Seymour Skinner and Edna Krabappel out of Springfield Elementary to which they locked down to name a few. He also has a tendency to rant about things during situations, a bit of a kinky side and a fondness for acting and the performing arts. Wiggum often orchestrates or appreciates plays and other shows in prison with the inmates and played a major role in a production of A Streetcar Named Desire.[15] Some may find this an interesting parallel to his son, who is hinted to potentially have a very high degree of hidden performing talent. At one point, Chief Wiggum explains to a confused Lou about his saying "switchfaces of the east" by stating that he doesn't like censoring himself as it stifles creativity, implying that he has some desire to be creative.
Wiggum's incompetence is showcased in a TV show called Cops in Springfield, in which he investigates a cattle rustler and uses a battering ram to knock down the suspect's door, only to find he has the wrong house. The occupant, Reverend Lovejoy, is very angry, especially since the cattle are clearly visible in the neighbor's yard. Snake, the suspect that Wiggum is after, is able to make a clean getaway. Wiggum describes Snake's vehicle as "a red... car of some sort" and "heading in the direction of that place that sells chilli" and the suspect as "hatless! Repeat, hatless!".[16] He has been known to use Agatha Christie novels as crime-solving reference guide. Wiggum once misuses police terminology, phoning Marge to inform her Homer had been found "DOA", then Marge answers as "Homer's DEAD?, then Wiggum says "Ops, heh heh, I meant DWI- I always get those two mixed up!" After hanging up the phone he is approached by a woman whom he had told that her husband was DWI. He then hastily suggested that she talked to another officer and then told her he was going out to lunch (implying that her husband was actually DOA, and he made a similar mix-up).[17] When chasing a car on a highway, he was asked to describe his location, and replied "I'm on a road, looks to be asphalt--aw jeez, trees, shrubs--uh, I'm directly under the earth's Sun... now." Marge and Ruth elude Wiggum during the same car chase at night by turning off the lights on their car, leading Wiggum to exclaim, "It's a ghost car!"
Wiggum also often fails to comply with his police duties in a real emergency. He once refused to believe calls from people saying that an elephant (Bart's pet elephant Stampy) destroyed their property. After two calls, he thought a call reporting a "liquor store robbery in progress, officer down" was also a fake call.[18] He mocks people who come in to report crimes to him by telling them he will "write on his invisible typewriter". This includes a man with a lighter saying "I just torched a building down town and I'm afraid I'll do it again". On several instances, he has switched off his police radio in the middle of an important call because he did not want to be bothered. Such instances included a "riot in progress"[19] He also leaves the station completely unmanned during night hours, save for an answering machine, once causing 75 emergencies to go unanswered (and were quickly erased). He has also expressed annoyance at the citizens he's supposed to be protecting ("Can't you people solve these problems yourselves? I mean we can't be 'policing' the whole city"). He has also refused to come to the aid of citizens, claiming that they were just too busy to help, when all he was doing was playing checkers with one of the police dogs. In order to get off the phone during a state lottery drawing, Wiggum informed the caller that she had the wrong number and that "this is... 912".
He once rejected Marge's claim that it was illegal to mail threatening letters, until the police handbook proved her right. At that moment, he also learned from the handbook that it was illegal to "put squirrels down your pants for the purposes of gambling", and immediately shouted to the rest of his officers to stop doing exactly that.[20]
Despite his questionable competency at being an officer, Wiggum seems to be very attached to both the police force and his fellow officers. On the few occasions where Wiggum loses his commission, he breaks down shockingly fast,[21] even degrading to the level of a common mugger,[11] although he isn't particularly good at this either as he had to sell the trigger and handle of his gun to feed his family. This pathetic sight prompts Homer to help him get his job back. Once in a while Wiggum will have an argument with his fellow officers, which often end in dramatic, tearful moments of reconciliation. On one occasion, Lou had thought about leaving the force to pursue a career in home security, which leaves Wiggum nearly a tearful mess.
Despite all this, there are occasional hints that Chief Wiggum has the potential to actually be a very good policeman if only he'd be less lazy and complacent. When investigating Mr. Burns' attempted murder, Wiggum displays an astonishingly skilled eye for ballistics and fingerprinting, enough to make positive identifications without any specialized equipment. In fact, Wiggum's entire investigation of the shooting is uncharacteristically dogged, showing the police talking to everyone from Seymour Skinner to Moe Szyslak, to Tito Puente, and even to his own son Ralph Wiggum. He also had a bit of a talent for tasting substances for foreign agents, which he notably used with Homer's tainted Groovy Grove juice to identify it as being laced with Peyote after noticing Lou acting odd at work.[22]
He is also shown to have legitimate frustrations when people waste the Police Force's precious time and resources for extremely trivial reasons, such as when Carmen Electra had Marge and Homer Simpson placed in Jail for murder and nearly executed just to give her reality show, Frame Up, more ratings.[23]
Another good example is where Wiggum is charged with finding a supposedly missing Bart Simpson. It is shown in this occasion as well that Wiggum is one of the few people that seems quite aware of his or her own incompetence, much to his dismay and an inevitable gorging on pancake to lessen the blow. In the end, however, much to the shock of almost everyone in Springfield, including his own men, Wiggum finds Bart by using a rather clever tactical method and actually performs his job admirably. He is promoted to Police commissioner, and it seems things may be finally looking up for him. It is discovered eventually, however, that Bart's abduction was merely a hoax, distressing Wiggum greatly as he finally had done some great good but at merely the wrong time. Curiously, however, it doesn't seem that his position of Commissioner is taken away, although he is never seen in this position of power again. Judging from his usual boredom with most cases and situations in his work, it would seem that perhaps when he is actually motivated he shows far greater skill and zeal. It has been shown several times that the level of resources that the Springfield police have is shockingly low. It has been stated by Lou that Wiggum, Lou and Eddie are the only police officers in the city (however, there are more).[24] Wiggum also mentioned to Lisa that the police force only have the resources to enforce the last law passed in Springfield, which even Wiggum admitted is the worst system possible. It's also implied that Chief Wiggum sometimes has to dress in drag when it comes to Stakeout missions.[25]
Beside his late father, Clancy is the husband of Sarah Wiggum, whom he met when he was arresting her for possession of drugs that he planted on her to "make her notice him", and is the father of Ralph Wiggum. He has a cousin called Mark, who went to Pennsylvania State University, he was a "fat kid... played a lot of Tetris". He has a deceased brother-in-law named Fred Kanickee, an uncle who (according to Wiggum) died of "crotch dot", and an unnamed brother who, after attending military school, presumably went crazy and now "owns and operates a famous cave". He also says he has a sister which is completely bald like Sphynx cats.
Non-canon
[
edit
]
| | |
| --- | --- |
| | The contents of this article or section are considered to be non-canon and therefore may not have actually happened or existed. |
It is shown in Professor Frink's future machine that Wiggum will, along with Lou and Eddie, become a Robo-Cop like machine-officer with a rotisserie in his stomach.
Video games
[
edit
]
The Simpsons: Hit and Run
[
edit
]
Wiggum appears several times in The Simpsons Hit and Run video game. The first time was during Level 2, where he attempts to arrest Bart for buying illegal fireworks (he used his son Ralph Wiggum as bait to arrest people buying illegal fireworks as part of a sting operation), intending to place him under five life sentences of community service, but he fails to catch his quarry, although he later seems to forget this as he tells Bart that Herman's Military Antiques was robbed of a radio recently, and suggests, although not completely sure, that the skid marks from tires would probably lead to the culprit. He later appears in Level 3 when he is trying to bust Snake Jailbird under the Three Strikes Law, but hasn't gotten any evidence yet due to his being a "very, very bad cop." in his own words. Lisa manages to help him collect evidence to put Snake away in exchange for information in regards to her brother's whereabouts. However, he makes a bigger role in Level 4, where he first asks Marge to collect some donuts which are falling out of a Lard Lad Donuts truck due to suffering a severe case of sugar withdrawal in exchange for giving her information about cropcircles, and secondly when he races Marge to 742 Evergreen Terrace after she destroyed several trucks of Buzz Cola (he was deeply upset at Marge for doing so due to Buzz Cola being the only thing that allowed him to "gain the courage to take his shirt off in the station locker room").
The Simpsons Game
[
edit
]
Wiggum appears at the end of Bartman Begins to take Principal Skinner away for having the three teenagers rob the museum. He also appears as one of the contestants in the Duff Ultimate Eating Challenge in Around the World in 80 Bites.
The Simpsons: Tapped Out
[
edit
]
This section is transcluded from The Simpsons: Tapped Out characters/Civil Servants. To edit it, please edit the transcluded page.

Wiggum
Image
Cost
Unlock method
Unlocks with
Unlock message
9,150
Level 17
Miranda Rights Pt. 1
Police Station
Technical Information
ID
Groups
Internal Name
16
Regular Characters, Regular Male, Civil Servant, Glutton, Dimwit, Parents, Bowler, Adult, Krustyland Goers, Police, Wiggum Family, Normal Springfielders
Wiggum
Permanent Tasks
Task
Time
Reward
Requires
Quest with the task
Animated?
Trip to Lard Lad
5m
15, 5
Lard Lad Donuts
Go Skating
10m
17, 5
Simpsons' Skating Rink
Eat at Krusty Burger
30m
40, 10
Krusty Burger
Miranda Rights Pt. 3
The Only Sport America Still Dominates
The Flavormax
Bad Cops Pt. 4
Lay a Memorial Wreath
60m
70, 17
Ruined Lard Lad
Trip to New Lard Lads
60m
70, 17
New Lard Lad
Eat at Gulp 'N' Blow
60m
70, 17
Gulp 'N' Blow
Apply to be Sheriff
2h
110, 27
Frontier Town
Grab a Slice of Pizza
2h
175, 40
Vesuvius Pizza
Drink at the Black Box
2h
110, 27
Little Black Box
Look for Brenda and Free Food
3h
135, 35
Thai Food Factory
Eat Between Heart Attacks
4h
260, 70
Deuce's Caboose Chili Dogs
Overpay for Sex on the Beach
4h
260, 70
Smooches on the Beach
Stay at the Swelldorado
4h
260, 70
Swelldorado
Try to Win at Blackjack
4h
175, 45
$ Casino
Enjoy a Night Without Kids
4h
175, 45
Resort Hotel
Drink and Babysit
4h
175, 45
The Boiled Potato
Spy on Kids
4h
260, 70
Giant Ferris Wheel
Fall Into Spooky Gorge
4h
260, 70
Spooky Gorge
Feed the Fish
4h
260, 70
Springfield Aquarium
Take the Sir-Loin-A-Lot Challenge
4h
175, 45
Slaughterhouse Restaurant
Clean Esquilax Cage
4h
175, 45
Fantastical Beastarium
Fire the Tank
4h
260, 70
Police Tank
Eat a Dozen Bagels
4h
175, 45
The Doughy Dozen Bagels
Attend Parenting Seminars
4h
260, 70
Universal Panacea
Collect Bribes
4h
175, 45
Springfield Downs
Re-Elect Mayor Quimby Pt. 1
Shop for a Toy for Ralph
4h
175, 45
The Jogging Stroller-y
Get an Old School Donut
4h
175, 45
Sir Duncan's Doughed Naughts
Check if the Permits Were Paid
4h
175, 45
Circus Cotton Candy Stand
Admire the Donut Selection
4h
175, 45
Mirrored G Mart
Tell Everyone What a Hero He Is
6h
225, 55
Five O'Clock Somewhere's
Nap in the S.W.A.T. Van
6h
225, 55
Police Station
S.W.A.T. Van not owned
Nap in the S.W.A.T. Van
6h
225, 55
S.W.A.T. Van
Code Brown
Unusual Suspects Pt. 3
Visit the Vast Waistband
7h
250, 60
The Vast Waistband
Patrol Springfield
8h
275, 70
Miranda Rights Pt. 2
Miranda Rights Pt. 4
Up In Smoke Pt. 5
Dance the Señor Burns
8h
420, 105
Chez Guevara
Check Out Latest in Police Vehicles
10h
350, 90
Springfield Auto Show
Attend Church
12h
420, 100
First Church of Springfield
Enjoy a Night at the Theater
12h
420, 100
Springfield Playhouse
Order Bigger Chairs
12h
420, 100
Police Headquarters
Try to Sting a Dealership
16h
500, 125
Crazy Vaclav's Place of Automobiles
Nap in the Confessional Booth
16h
500, 125
Springfield Cathedral
Go on a Stake Out
24h
600, 150
Bring a Box of Donuts
Crackdown Pt. 1
Up In Smoke Pt. 7
Costumes
[
edit
]
Chief Wiggum has his own spin-off show in "The Simpsons Spin-Off Showcase", "Wiggum P.I." He he is fired from the Springfield force for corruption and moves to New Orleans to start working as a private investigator, with Skinner as his partner. Wiggum and Ralph live in a boat house, and Ralph is kidnapped by a villain called Big Daddy. He later finds his son, and Big Daddy escapes.
Behind the Laughter
[
edit
]
Wiggum is voiced by Hank Azaria and is based on a stereotypical police chief, shown as lazy, incompetent and to have a fondness for donuts. Hank Azaria first based his voice for Wiggum on David Brinkley but it was too slow and he switched it to an Edward G. Robinson impression.
His surname "Wiggum" is Matt Groening's mother's maiden name. As "a conscious pun", Wiggum was designed to look like a pig, and in the episode "Marge Gamer", his Earthland Realms alter-ego looked much like his real-life self, only with a pig nose, tail, etc. Wiggum was also designed to be dumber and fatter than Homer Simpson.[26]
Foreign dubs
[
edit
]
Appearances
[
edit
]
This article or section is incomplete.


Please improve the article, or discuss the issue on the talk page.

References
[
edit
]
| | |
| --- | --- |
| | Wikisimpsons has a collection of images related to Clancy Wiggum. |
This article is covered by multiple navigation templates. Click "show" to view.
Factfiles from Simpsons World the Ultimate Episode Guide: Seasons 1-20
Season 14
Rock Stars • Audrey McConnell, Third Grade Teacher • Dr. Velimirovic, Plastic Surgeon • Mitch Hartwell, the Reality Channel Producer • Junior (AKA Frank Grimes, Jr.) • Teacher of the Year Award Nominating Committee • Dexter Colt, Private Eye • The Mugger • Larry H. Lawyer, Jr. • Baby Stink-Breath • Booberella • Sara Sloane, Hollywood Movie Star • Cookie Kwan, Red Coat Realtor • Stark Richdale • Declan Desmond • Julio and Grady • Luke Stetson, Junior Wrangler • Suds McDuff, Spokesdog/Mascot for Duff Beer • Marriage Counselor • Jim Proudfoot • Don Castellaneta