Springfield Police Department
Wikisimpsons - The Simpsons Wiki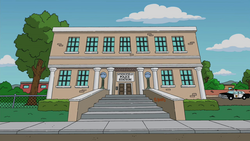 The Springfield Police Department is Springfield's police force. They are headed by the largely incompetent Police Chief Wiggum. There are at least three officers at the Station although in some cases large groups of officers and cars are shown but none are named. The facilities are quite small for a town the size of Springfield with only a few Cruisers and Officers.
The police force is extremely corrupt, known for taking bribes from criminals, misusing equipment and mishandling evidence. The police are also known to have been bribed by Diamond Mayor Joe Quimby, covering up scandals, and working to keep the public out of the political business. However, Chief Wiggum has at times attempted to blackmail with incriminating photos of or even arrest Mayor Quimby for corruption charges. The Police Department also suffered at least one prisoner uprising where the prisoners stole their guns, tazers, and uniforms leaving the police at the prisoners mercy and attempted to call for help.[1]
The police station at one time competed with the vigilante crime force SpringShield, run by Homer Simpson, partnered with Lenny Leonard and Carl Carlson.
After a huge economic crisis, the police force was forced to allow low-level crime spread like wildfire as a result of massive cutbacks preventing them from having the resources to effectively enforce the law (to the extent that they actually had to use an extremely ineffective substitute for a radar gun by mixing a thermos with a hose head, and Chief Wiggum having to draw a gun to make it seem as though he actually had one).
The police cars in Springfield are Dodge Diplomats or/and Chevrolet Caprices of the 1980s.
Members
[
edit
]
References
[
edit
]