C.H.U.M.
Wikisimpsons - The Simpsons Wiki
"Mercy!"
―C.H.U.M., after the incident, and when Bart turns its right foot around.
C.H.U.M., short for Childlike Humanoid Urban Muchacho, is a robot that Martin Prince built.
C.H.U.M. is most probably Martin's best friend, and presumably was installed with a voice chip so it would provide speaking company for him. Martin's reaction to the incident in which C.H.U.M. was broken suggests this further, and so does the way Martin treats C.H.U.M..
History
[
edit
]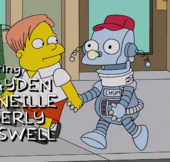 Martin originally built C.H.U.M. for a science fair at Springfield Elementary School; Martin showed off C.H.U.M. to Lisa outside of the Simpson residence, so she would become jealous of Martin becoming the probable winner of the science fair. It also told asked Martin not to hold it's hand as "It is creepy".[1]
A clip of Martin and C.H.U.M. skipping was shown at Martin's memorial in Springfield Elementary School.[2]
Martin brought C.H.U.M. into show and tell at Springfield Elementary School one day, and Bart, having recently discovered his grandfather's secret wrestling career and his controversial moves, hit C.H.U.M. over the head with a folding chair and then proceeded to climb to the blackboard ledge and jump on the robot, breaking it. This shocking turn of events caused Martin to break down in tears. This was filmed by someone in the fourth grade class, and Homer showed the video to Grampa, to show him how Bart's behavior had changed since discovering he was a former wrestler.
One day, when Lisa and Nelson were eating an ice-cream waffle outside of an ice cream shop, Martin walked by with C.H.U.M., put back together and a cast around its neck.[3]
He appears catching a Rattle Snitch on Peekimon Get on Frank "Grimey" Grimes' grave.[4]
Non-canon
[
edit
]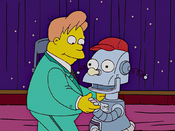 | | |
| --- | --- |
| | The contents of this section are considered to be non-canon and therefore may not have actually happened or existed. |
Martin danced with C.H.U.M. at Springfield Elementary's prom, having found no date. Martin asked C.H.U.M. if he had any plans for after graduation. C.H.U.M. suggested "Travel". When Martin asked C.H.U.M. if he needed a traveling companion, C.H.U.M. said "Travel cancelled".[5]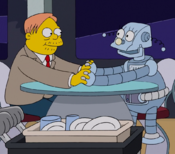 Martin is seen having dinner with C.H.U.M. and the robot appears looking similar to a female(eyelashes and lipstick) at the Gilded Truffle.[6]
At some point, C.H.U.M. ended up working at Harvard College, ordering people to row. He was later seen drunk under a tree.[7]
The Simpsons: Tapped Out
[
edit
]
This section is transcluded from The Simpsons: Tapped Out characters/Robots. To edit it, please edit the transcluded page.

C.H.U.M.
Image
Cost
Unlock method
Unlock message
175

---

65

Cyber Monday
Yard Work Simulator, Premium

---

This Thanksgiving's Gone to the Birds!
Premium, Yard Work Simulator (Cyber Monday Box)
Behind the Laughter
[
edit
]
The robot's name is a reference to the title of the movie C.H.U.D., which, in the film, stands for "Cannibalistic Humanoid Underground Dweller".
C.H.U.M. appears on an online picture of various TV and film robots entitled "Where's Wall-E?".
Appearances
[
edit
]
References
[
edit
]
---