Robot
Wikisimpsons - The Simpsons Wiki
The title of this article is a conjecture.
Though the topic is found within The Simpsons universe, a proper name is not available.
Robot
Character Information

The robot is a robot that was designed for killing, and crushing skulls.
History
[
edit
]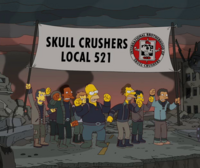 When Wayne makes mention of the fact that he has recurring flashbacks to a nightmarish past, Homer remarks that he has recurring flashforwards to a nightmarish future. A close-up view of a pile of skulls is then seen as a robotic foot stomps down and crushes two skulls. The robot is then seen, holding a large gun. Behind it stand a group of people, including Homer, Lenny and Carl.
Two members hold up a sign that reads "Skull Crushers Local 521," while the whole group chant "unfair, unfair!" Homer then angrily exclaims that the robot had taken their jobs. As the robot turns to face him, Homer quickly states that Lenny said it. As the robot blasted Lenny, disintegrating him, Homer said that "or maybe it was him," referring to Carl. As the robot blasted Carl, Homer said "man, this robot really gets me." After that, Homer's flashforward promptly ends.
Behind the Laughter
[
edit
]
Homer's flashforward and the robot's design are a reference to the Terminator film series.
The emblem on the group's sign reads "International Brotherhood of Skull Crushers".
Appearances
[
edit
]
---