iPod
Wikisimpsons - The Simpsons Wiki
This article needs an image or two.

Please upload and add an appropriate image, or discuss the issue on the talk page.
The iPod is a music player.
History
[
edit
]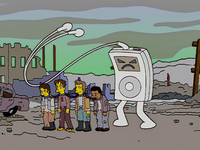 When Homer was in India, a cow took his iPod so he punched it. He then called Lisa who told him he must be friendly to the cow, due to it being a sacred animal in India.[1]
Marge owns an iPod. Homer once tried to convert a movie with her as a child onto it, but did not succeed.[2]
In the future, there will be giant iPod that uses humans as slaves.[3]
Krusty once made a joke about iPod and iTunes.[4]
Behind the Laughter
[
edit
]
iPod is a real music player. It is usually parodied as MyPod.
Appearances
[
edit
]
References
[
edit
]
---