Officer Shooty
Wikisimpsons - The Simpsons Wiki
Officer Shooty
Character Information
Gender:

Male ♂

(programmed)
Status:

Non-canon robot

Occupation:
Police officer
Relatives:
Spouse: Clancy Wiggum's jetpack
First Appearance:
Future Cop!
Officer Shooty is a rifle that can transform into a flying robot. He is Clancy Wiggum's partner in a dream he had about being a cop in the future.
History
[
edit
]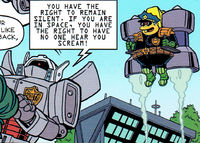 Snake Jailbird
stole
Marty McFly
's bitcoins and was about to make his getaway when Wiggum happened by, wearing a jetpack and carrying a rifle. Wiggum let go of the rifle and said, "Get him, Shooty!" Shooty then transformed into his robot form and arrested Snake. When he informed Snake of his rights, he said, "If you are in space, you have the right to have no one hear you scream!"
Later, when Wiggum went to police headquarters for his next assignment, Police Commissioner Zordon told him that his jetpack had gotten the weekend off because he and Shooty were getting married.
Behind the Laughter
[
edit
]
Shooty's line as he arrests Snake is a reference to the "In space, no one can hear you scream" tagline from Alien.
Appearances
[
edit
]
---