Benjamin Franklin
Wikisimpsons - The Simpsons Wiki
Benjamin Franklin
Character Information
Benjamin Franklin was one of the Founding Fathers of the United States and an inventor.
History
[
edit
]
Benjamin Franklin appeared in Bart's fantasy about the snow day. He rushed into Congress announcing that he had invented the sled. He and Congress then ran outside for a snow day.[1]
When Lisa tried to writes a essay she started to think what would Ben Franklin say if he were alive today.[5]
Bart gave a report on Franklin where his version of the kite experiment had Franklin deliberately getting the kite with the key stuck in a tree. When lightning struck the key, and in turn the tree, Franklin triumphantly cried, "Kite-eating tree, I'll see you in hell!!!", referencing Charlie Brown's recurring battles with the kite-eating tree in Peanuts.[6]
An animatronic Benjamin Franklin was seen in "The Alco-Hall of Fame" display at the Duff Days festival. He started to say "Early to bed, early to rise-" before he was cut off by Babe Ruth who asked Franklin "you think you're better than me?".[3]
Later Homer dreamed that Franklin and Jimi Hendrix were playing Air Hockey in Heaven. Franklin won.[2]
Stephen King once said that Franklin was said too have tortured small animals and green mountain men and that the kite he tied to a tree opened the gates of hell.[7]
Benjamin Franklin, alongside George Washington and Andrew Jackson, appears on a one hundred dollar bill and convinces Homer to spend the money that Marge had been saving as a "nest egg".[4]
Franklin is also one of the many people on "Ned's List of Laudable Lefties".[8]
Non-canon
[
edit
]
| | |
| --- | --- |
| | The contents of this article or section are considered to be non-canon and therefore may not have actually happened or existed. |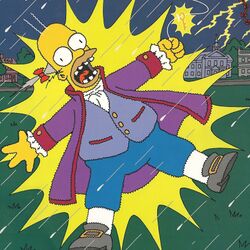 When the Simpson family goes to visit God to ask for the destruction of Springfield by aliens to stop, he is a boss that guards God's gate. He is seen walking out of a Starbucks and calls Lisa a bigger buttkisser than Thomas Jefferson. Shortly afterwards he is among the enemies sent by God.[9]
Appearances
[
edit
]
References
[
edit
]
External links
[
edit
]