Bender Rodríguez
Wikisimpsons - The Simpsons Wiki
| | |
| --- | --- |
| | The contents of this article or section are considered to be non-canon and therefore may not have actually happened or existed. |
Bender Rodríguez
Character Information
Bender Bending Rodríguez, better known as Bender, is a robot and one of the main characters from Matt Groening's television series, Futurama.
History
[
edit
]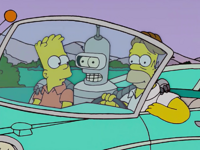 He was a phone operator of the FOX, along many other FOX characters.[1] When Bart is sleep deprived in class, he hallucinates his class mates turning into characters from television shows he had been staying up watching, one of which (Richard) is Bender.[2]
In the future, after Homer and Bart drive through a Quantum tunnel, he appears between them and says "All right! You guys are my new best friends". Homer says "You wish, loser!" and throws him out of the car.[3] On Comic Book Guy's list of greatest quotes of all time is "Bite my shiny metal ass" by Bender.[4]
In Chief Wiggum's dream of being a cop in the future, he was sent to put down a riot at the space jail. Bender and Morbo were among the rioters.[5]
A clip of Bender with Fry and Leela and the Simpson family was seen.[6]
He appears as one of the enemies of the Simpson family, along with Zoidberg, in which he is drawn by Matt Groening and will attack Homer and Bart by shooting them with a laser and throwing beer bottles at them. He also appears as an enemy sent by God in Dance Dance Revolution.[7]
Simpsorama
[
edit
]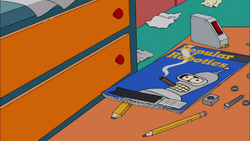 When rabbit-shaped creatures starts to appear in the future, Bender is sent back to the past to kill the person that spawned them, Homer. Having forgotten his mission he befriends Homer, drinking beer at Moe's and playing bowling at Barney's Bowlarama, but when they go to Professor Frink to search for an answer, he reboots Bender and makes him remember it.
Bender, however, doesn't want to shoot his new friend, so Leela and the others appear in an hologram, showing what's happening in the future, showing Homer's spawns invading New New York, and when Bender still refuses to kill him, Professor Farnsworth, Leela and Fry go through the portal in Bender's back in time. Leela tries to shoot Homer, but Bender proposes a collaboration to solve the mystery.
At the Simpsons House, the news from the future reveal that the creatures are not Homer's spawns, but Bart's, thanks to the time capsule they sent to the future. After arriving at Jebediah Springfield's monument, the crew and the family get sent to the future, while Bender stays behind with Maggie, taking her to Springfield Downs to bet on the races he already knows the outcome of.
Bender bets on a horse named Bender's Bounty, who died during the race, when it starts to lose, Bender kills him in anger. When the crew gets rid of the creatures and comes back to the present, Bender changes Maggie's diaper, showing it's full of money, and gives her a cut of the money. He bids them farewell and shuts himself off. Since he's a robot, he'll just rest in their basement for a thousand years. Homer fills him up with a Duff which Bender thanks him for.[8]
He's later seen moving on a water current from the basement, seemingly awake.[9]
A picture of Bender was seen on a banner for Futurama at Comicalooza.[10]
The Simpsons: Tapped Out
[
edit
]
Behind the Laughter
[
edit
]
In Futurama, he is voiced by John DiMaggio (who also voices him in The Simpsons) and plays the role of a comic anti-hero, and is described as an "alcoholic, whore-mongering, chain-smoking gambler".
Appearances
[
edit
]
References
[
edit
]
External links
[
edit
]