Ethereal Beings
Wikisimpsons - The Simpsons Wiki
| | |
| --- | --- |
| | The contents of this article or section are considered to be non-canon and therefore may not have actually happened or existed. |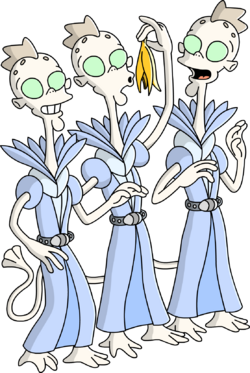 The Ethereal Beings are white and light blue aliens. They live on an unnamed rocky planet.
History
[
edit
]
Springfield residents met the aliens on the other side of a black hole, which was used as a dumping ground. However, the aliens thought of the junk as gifts.[1]
At the "Decision 2056" presidential debate, a red version of one of these aliens is seen in the audience.[2]
At least one of them was kept at the extraterrestrial Zoo on Rigel 7.[3]
The Simpsons: Tapped Out
[
edit
]
This section is transcluded from The Simpsons: Tapped Out characters/Into the Simpsonsverse. To edit it, please edit the transcluded page.

Permanent Tasks
Task
Time
Reward
Requires
Quest with the task
Animated?
Explore Sewers
60m
105, 26
Springfield Dump or
Dumpster 1 or
Dumpster 2 or
Home
Overpay for Sex on the Beach
4h
260, 70
Smooches on the Beach
Stay at the Swelldorado
4h
260, 70
Swelldorado
Try to Win at Blackjack
4h
260, 70
$ Casino
Drink and Babysit
4h
260, 70
The Boiled Potato
Attend Parenting Seminars
4h
260, 70
Universal Panacea
Scavenge for Banana Peels
4h
260, 70
Dance the Señor Burns
8h
420, 105
Chez Guevara
Get Mistaken for Blarg Aliens
8h
420, 105
Alien Utopia or
Home
Read President's Day Mattress Blowout Inserts
12h
600, 150
Run Out of Garbage to Eat
24h
1,000, 225
Alien Utopia or
Home
Appearances
[
edit
]
References
[
edit
]