William Shakespeare
Wikisimpsons - The Simpsons Wiki
<!–-INFOLINKS_ON-–>
"Is this the end of zombie Shakespeare?"
―Zombie Shakespeare
William Shakespeare
Character Information
William Shakespeare was an English poet and playwright, widely regarded as the greatest writer in the English language.
History
[
edit
]
Before Homer let Lisa use his new Mapple Void he downloaded the complete works of Shakespeare as a pdf. When it was finished he threw the file in the trash and asked who the greatest writer of all time was now.[1]
Shakespeare was also seen as a character in the film Love, Indubitably. He was seen naked, with a skull over his crotch, dancing.[2]
After discovering that a snack provides glucose to the brain, and around 4pm people are more reckless when making choices, Lisa wished she was born on "the isle that gave us Shakespeare and Stephen Merchant" because the British have tea and scones at 4pm.[3]
Shakespeare was on the cover of The New York Times Book Review.[4]
Non-canon
[
edit
]
| | |
| --- | --- |
| | The contents of this article or section are considered to be non-canon and therefore may not have actually happened or existed. |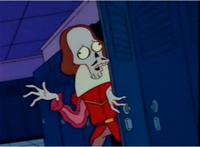 A zombie of Shakespeare was wandering around Springfield Elementary School. Homer killed him again by hitting him with a shotgun.[5]
He appeared in Heaven when Homer started killing celebrities. He guarded the gate to heaven when The Simpsons family went to confront God. His plays Hamlet[6] and Macbeth[7][8] have both been mentioned.
Appearances
[
edit
]
References
[
edit
]
External links
[
edit
]
<!–-INFOLINKS_OFF-–>
---