The Blob
Wikisimpsons - The Simpsons Wiki
| | |
| --- | --- |
| | The contents of this article or section are considered to be non-canon and therefore may not have actually happened or existed. |

The Blob, also called Space Marshmallow, is an intergalactic alien that came to Springfield in a meteor.
History
[
edit
]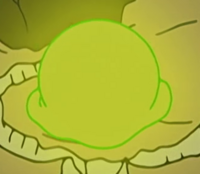 It was inside a meteor that crashed in the Simpson's backyard. Homer started poking it with a stick and, thinking it was an "space marshmallow", tried to eat it. Although the Blob attempted to get out of Homer's mouth, he ended up swallowing it. During the night Homer then started to become a blob himself and began devouring everything and everyone in sight.
The Simpsons: Tapped Out
[
edit
]
This section is transcluded from The Simpsons: Tapped Out characters/Treehouse of Horror XXVII. To edit it, please edit the transcluded page.

Permanent Tasks
Task
Time
Reward
Requires
Quest with the task
Animated?
Go Skating
10m
26, 7
Simpsons' Skating Rink
Lob Bits of Self
60m
105, 26
Emulate Homer
4h
260, 70
The Talented Mr. Dripley Pt. 2
Overpay for Sex on the Beach
4h
260, 70
Smooches on the Beach
Stay at the Swelldorado
4h
260, 70
Swelldorado
Try to Win at Blackjack
4h
260, 70
$ Casino
Drink and Babysit
4h
260, 70
The Boiled Potato
Attend Parenting Seminars
4h
260, 70
Universal Panacea
Feed on Compost
8h
420, 105
Springfield Dump or
Brown House
Dance the Señor Burns
8h
420, 105
Chez Guevara
Send Messages into Space
12h
600, 150
KBBL Radio or
Channel 6 or
Brown House
Enjoy a Night at the Theater
12h
600, 150
Springfield Playhouse
Hibernate
24h
1,000, 225
Meteor Egg
Behind the Laughter
[
edit
]
The Blob was a monster in the film of the same name.
Appearances
[
edit
]