Harry Potter
Wikisimpsons - The Simpsons Wiki
This article is about the character. For Harry Potter references, see Harry Potter.
Harry Potter
Character Information

Harry Potter is a fictional character from the Harry Potter series of books and films.
History
[
edit
]
When Lisa was the school president, Principal Skinner gave her the key to the study hall. He told her that she would be like Harry Potter "without all the magic and wonder".[1]
Lisa was once reading Harry Potter and a picture of him was on the front of the book.[2]
Harry Potter is seen in the film Harry Potter and the Necklace of Amulets that was shown at Moe's Tavern. Moe and the bar patrons compliment Harry's broom work, but Moe thinks that he shouldn't be playing Quidditch when there are still four of the seven Horcruxes yet to be found.[3]
Homer renamed Plopper the pig to "Harry Plopper", referring to Harry Potter.[4]
Mary Sue wrote a fanfiction where Harry Potter said to her that without Mary Sue, they could never have brought Dumbledore back to life.[5]
Harry Potter appeared on the cover of the book Harry Potter and the Apologizing Author.[6]
Harry Potter is element Hp in Lisa's Table of Geeky Delights.[7]
Non-canon
[
edit
]
| | |
| --- | --- |
| | The contents of this article or section are considered to be non-canon and therefore may not have actually happened or existed. |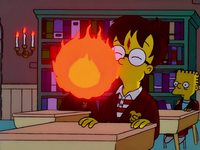 Harry was also one of
Bart
's and
Lisa
's classmates at
Springwart's School of Magicry
.
Mrs. Krabappel
accused Harry of having gum in class, but he escaped getting into trouble when he told her it was brimstone and blew a bubble to prove it.
[8]
Behind the Laughter
[
edit
]
Appearances
[
edit
]
References
[
edit
]