Zombies
Wikisimpsons - The Simpsons Wiki
For the character collection in The Simpsons: Tapped Out, see The Simpsons: Tapped Out characters/Zombies.
| | |
| --- | --- |
| | The contents of this article or section are considered to be non-canon and therefore may not have actually happened or existed. |
"Brains!"
―The zombies, hunting for brains.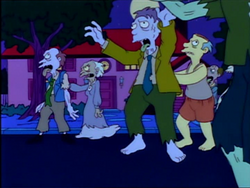 Zombies are reanimated walking corpses that can convert people by biting them.
History
[
edit
]
In a story told by Bart Simpson, Bart brings the dead back to life with a supernatural curse while trying to help Lisa resurrect Snowball I. The zombies travel across Springfield eating brains and turning many people into zombies. When the zombies break into the Simpson's house they attempt to eat Homer but consider him brainless so walk off in search for brains. When Bart and Lisa think of a plan to reverse the spell the Simpsons head down to Springfield Elementary School where Homer kills various zombies, including a zombie version of Ned Flanders, Edna Krabappel, George Washington, Albert Einstein and William Shakespeare. Eventually, Bart reads the spell and the zombies return to their graves.[1]
After a nuclear explosion in Springfield, many of the people became mutated into zombies and hunted Homer down, being the only human left in Springfield.[2]
Billy the Kid and several other wild west outlaws (and Kaiser Wilhelm) rise from the dead and terrorize Springfield, which just outlawed the ownership of all firearms. When Billy and his cronies lay waste to the town, Homer goes back in time with Frink's invention to re kill the zombies. The citizens of Springfield start shooting at the graves and the zombies come out and start to run away.[3]
As part of Kang and Kodos's plan to bring up the ratings of their show "Foolish Earthlings", tainted Buzz Cola is poured into the waterways of Springfield, which seeps into the graveyards of Springfield and wakes up the dead. They are seen walking around Springfield. Strangely, the Zombies do not attack Homer, but the radio describes them attacking Springfield Stadium. After Homer blows up the UFO, it is assumed that the zombies were killed.[4]
Muncher Zombies
[
edit
]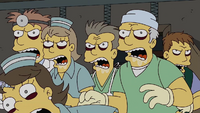 The citizens of Springfield get infected by eating burgers tainted with a virus that turns them into zombie-like creatures called "Munchers". Bart was immune to the disease and could be the key to the cure, they try to sneak out of Springfield only to attract more zombies. After the "Munchers" destroy the house, a gun wielding Rainier Wolfcastle breaks down the door only to be killed. While the inhuman horde is distracted, the Simpsons are lead out by Apu (who wasn't infected as he is a vegetarian). After a drive through the city, they get stuck and Apu gets out to push them down the hill. They reach the bottom and keep on driving and thought that Apu's sacrifice was heroic, when Apu really wanted them to wait at the bottom for him. Apu is then killed by zombies. Homer was bitten but before Bart could kill him, they locked him in a cage and took him with them. They eventually make it to the safe zone and after a moment of confusion involving eating Bart, the zombie citizens are cured because all Bart was to do was take a bath in their soup.
Future zombies
[
edit
]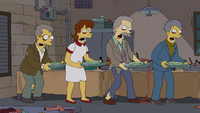 In the future, zombies had come into existence. These zombies were intelligent and didn't go around killing people to get their brains and they had self restraint, unless annoyed and angered. There were also shelters for zombies where charity workers, one being Lisa, helped out. One zombie, Clarence, bit Milhouse after he was racist towards him and his species and turned Milhouse into a zombie. Milhouse, in his zombie state, became more attractive to Lisa. In Bart's false memories, the zombie Milhouse fought off the bullies and killed them and cooked their brains. Lisa began to prefer everything about the new Milhouse, including his smell. Whilst a cure for zombieitis existed within Bart's false memories, no cure existed in real life.[5]
A comet full of zombie aliens was seen heading towards Earth. These zombies seemed intelligent and could speak. There were families, including a zombie father and child.[6]
Behind the Laughter
[
edit
]
In "Treehouse of Horror IV", the couch gag involved the Simpsons family digging out of the floor of the living room as zombies.
The zombies in "Treehouse of Horror XX" were similar to those in the movie 28 Days Later (the Halloween short even contained the subheading "28 Days Later".)
In The Simpsons: Tapped Out Treehouse of Horror update, zombies can come out of Springfield Cemetery and Springfield Pet Cemetery. These have to be crushed by tapping on them. If a zombie comes in contact with a character, they turn into a zombie, until you tap on them.
Gallery
[
edit
]
Appearances
[
edit
]
References
[
edit
]