The Simpsons: Tapped Out Level 52 content update
Wikisimpsons - The Simpsons Wiki
The Simpsons: Tapped Out Level 52 content update was released on May 6, 2015, adding two new building-character combo, one new building and one new decoration.
This update was released in the same update as the Money Mountain content update.
Level Up Message
The level-up message is said by Hans Moleman:
Level Up Message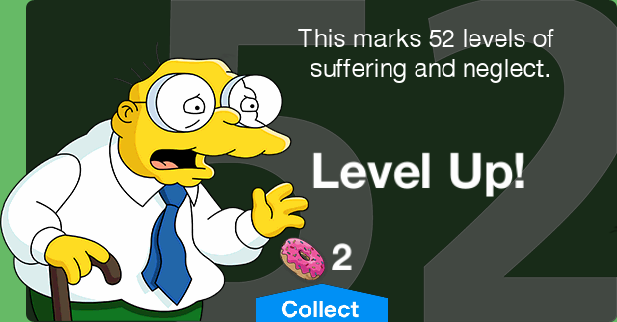 Characters
| Image | Character or Skin | Unlock Message | Notes |
| --- | --- | --- | --- |
| | Lunchlady Dora | | Unlocked with Springfield Slaughterhouse. |
| | Coach Krupt | | Unlocked with Springfield YMCA. |
Buildings
| Image | Name | Cost | Build time | Task | Notes |
| --- | --- | --- | --- | --- | --- |
| | Springfield Slaughterhouse | 1,260,000 | 24h | Turning Pigs Into Pork | Requires Level 52. Unlocks Lunchlady Dora. |
| | Springfield YMCA | 120 | 6s | Feeling no Need to be Down | Requires Level 52. Unlocks Coach Krupt. |
| | Vesuvius Pizza | 50 | 6s | Spewing Molten Hummus | Requires Level 52. |
Decorations
| Image | Name | Cost | Notes |
| --- | --- | --- | --- |
| | Meat Can | 20,000 | Requires Level 52. |
Early Access
The "Early Access" feature was first implemented in the "Clown in the Dumps" episode tie-in, to let players at a lower level, Level 6, get limited-time access to higher-level items. Krusty's Mansion, Krustylu Studios (both "Clown in the Dumps"), Springfield Clamphitheater (Level 46), the Chalk Outlines (Level 49), Shorty's and Lovejoy Residence (Level 50), Forgotten Grave and Monroe Tombstone (Level 51) have received this feature.
Image
Name
Cost
Dates
Store
Springfield YMCA
120
Available on Early Access
till May 19th 2015 at 7am GMT
Vesuvius Pizza
50
Conform-o-meter impact
Building or Item
Rating
Points
Meat Can
Vanity
870
Springfield Slaughterhouse
Gluttony
10
Vesuvius Pizza
Springfield YMCA
None
None
Gameplay
Dora the Endorser
Dora the Endorser Pt. 1
After tapping on Brockman's exclamation mark:
Kent Brockman, reporting live on the scene of my own studio with this urgent report!
Outbreaks of bird flu, swine flu, and the once thought to be impossible hybrid – flying pig flu – are sweeping the nation, shutting down the town's restaurant industry.
In the face of catastrophe, Krusty, can you tell us how your restaurant is coping?
This wouldn't have been a problem if we were allowed to switch to all B.E.E.F. patties.
Don't you mean "beef"?
No, B.E.E.F. Byproducts of Endangered Entrails of...you know what, let's leave it a mystery.
The upside is we're taking matters into our own hands and building a good old-fashioned slaughterhouse to produce our M.E.A.T. locally.
Task: Build Springfield Slaughterhouse
The slaughterhouse and Springfield Elementary have a lot in common.
For example, neither perform background checks.
Quest reward: 100 and 10
Dora the Endorser Pt. 2
After tapping on Skinner's exclamation mark:
It's great to have you back in the kitchen, Dora. The children were growing suspicious after a week straight of "Bring Your Parents' Lunches To School Day".
I'm happy to be back.
Sorry, what I meant to say was I'm back.
That's the spirit! We also need someone to fill in as school nurse. You up for the job?
Can I steal all the tongue depressors I want?
If that number is less than three, then yes!
Task: Make Dora Work a Nursing Shift (1h, Springfield Elementary)
Quest reward: 100 and 10
Dora the Endorser Pt. 3
After tapping on Lunchlady Dora's exclamation mark:
It's your lucky day kids! We've got an all meat menu provided directly from the Springfield Slaughterhouse.
But what are vegetarians supposed to eat?
I dropped a few cigarettes in the pot. Tobacco's a plant.
Why don't you put something nutritious on the menu? Like baby carrots.
How about I meet you halfway with baby cow? Veal's nutritious and delicious. And not nutritious.
That's disgusting!
Good thing I never leave home without my Malibu Stacy "Mouthy B" portable protest kit.
Task: Make Lisa Protest the School Menu (12h, Springfield Elementary)
Task: Make Lunchlady Dora Serve Lunch (4h, Springfield Elementary)
Quest reward: 100 and 10
Dora the Endorser Pt. 4
After tapping on Lisa's exclamation mark:
Principal Skinner, the national standard for school lunches demands a balanced meal. Does a diet of all meat, all the time sound balanced to you?
According to this food pyramid it does.
That's just a pile of raw meat on your desk!
Our new nurse, Dora, already branded her stamp of approval into this pyramid.
Well if you believe it's so nutritious, you won't mind me inviting all the parents in town to sample this disgusting slop?
Disgusting Slop was yesterday. Today is Disgusting Slop Surprise.
Task: Build Meat Can
Task: Make Dora Find Ingredients (8h, Meat Can)
Task: Make Parents Eat Cafeteria Food [x10] (4h, Springfield Elementary)
On Job start:
Is this the slop they've been feeding our kids? And more importantly, are there seconds?
"Salisbury steak now with 100% less Salisbury"? "Chicken nuggets now with 20% more chicken face"? I don't like the sound of any of this.
If my boy keeps gettin' steak at school, pretty soon he'll think he's too good for the rest of us.
Frankly I think the word meat should be forbidden from school entirely. It's too sexual.
I'm not joining this campaign just because I like shouting slogans... but FIX IT OR NIX IT!
Quest reward: 100 and 10
Dora the Endorser Pt. 5
After tapping on Skinner's exclamation mark:
Young lady, this is no place for independent thought and creative problem solving – this is a school!
All the parents are riled up, but where am I supposed to find fruits and vegetables? They don't grow on trees!
You could try increasing the budget.
Are you kidding? I can't even afford the red ink we need to tell us how in debt we are.
Healthy eating is an important part of children's growth. It's like art or music.
Of course – just like art or music! I'll cut lunches entirely!
Task: Make Parents Pack Lunches [x5] (2h, Kwik-E-Mart)
On Job start:
As a working mother, I never thought I would have to stoop so low as working as a mother.
Doing this day in and day out has started to take a toll on my notes to Milhouse: "I packed extra cookies. I hope you choke on them. Love, Mom."
Homer keeps eating the lunches I pack the kids. I tried decoy lunches, but he got those too. Same for the hidden lunches, backup lunches, and emergency lunches.
Won't somebody please think of the parents!
On Job end:
Ah jeez, Ralphie. The evidence closet is all out of peanut butter and jelly taken from the scene of the Sandwich Strangler murders. What else do you want?
How about sushi? It's like your body is a stream and the fish are swimming down it.
Sushi, eh? Well as long as it can stay in an unrefrigerated sack for five hours, it's fine by me.
System Message
Take a look at what's on the menu for Ralph at the Happy Sumo. Complete Akira's quests to find out!

Quest reward: 100 and 10
Dora the Endorser Pt. 6
After tapping on Lunchlady Dora's exclamation mark:
Parents! I spent all night slaving away in the school kitchen and I've come up with an affordable meat-based recipe.
Mmmm! This is both unusual and delicious! And I should know, I once ate a frozen pizza with the wrapper still on.
Mama-mia! This is good enough to serve at my restaurant. And no, I don't have a child -- I thought this was a meet-up for single Italians.
But what about me, what about my dietary needs?
Please Lisa, this isn't about you. Who even remembers how this all started.
I started it. I called you all in. This is completely about me!
Lisa, there's no me in meat. Now apologize to Dora – I'm sure whatever she made this food out of is as healthy and nutritious as it is cheap.
Task: Make Dora Grind Gym Mats (12h, Springfield Slaughterhouse)
Task: Make Dora Mash Insects (8h, Springfield Slaughterhouse)
Task: Make Lisa Spy on Dora's Operation (8h, Springfield Slaughterhouse)
Apu! No one understands my choice to be a vegetarian. Why won't they listen?
I learned long ago to accept people as they are without judgment, and to ignore all those meat-eating imbeciles.
Huh. Then maybe I won't tell them that the Lunchlady is feeding kids a mix of old gym mats and bugs.
Disgusting...and intriguingly cost efficient. Do you think she'll share her recipe?
I can't do it. I can't stand by and let my fellow students eat gym mats. I must report this to the press.
Quest reward: 100 and 10
Dora the Endorser Pt. 7
After tapping on Brockman's exclamation mark:
I'm Kent Brockman covering this hour's scandal of the century.
Dora, is it true that you've been feeding Springfield Elementary children a mix of gym mats and bugs?
No, Kent. It's also 10% pencil shavings.
What about all the free meat from the Springfield Slaughterhouse?
We had to sell it, along with that patch of fertile soil located behind the school and our robust seed collection, to afford enough gym mats and insects husks.
Well there you have it – a problem without a solution. It'll be interesting to see how Springfield parents react, but not as interesting as this next clip of me jet skiing.
Task: Make Students Eat Cafeteria Food [x5] (1h, Springfield Elementary)
Lisa, of all the mysteries you've solved, this is the one I most wished you hadn't.
The truth hurts. But I am surprised how little parents seem to care that kids are eating grasshoppers and old wrestling mats.
Lisa, raising kids is a lot like rear-ending a car in a grocery store parking lot. If no one sees it, it's a victim-less crime.
Dad, did you rear-end someone in a parking lot?
Not that anyone saw. Now pass the Malk!
Quest reward: 100 and 10
Sushi Ralph
Sushi Ralph Pt. 1
After completing Dora the Endorser Pt. 5 and Sensei You, Sensei Me Pt. 2
After tapping on Ralph's exclamation mark:
Now Ralphie, apparently you are aging out of day care and our attempts to make you a latchkey kid have failed horribly.
Keys taste delicious but I don't like what they unlock in my tummy.
Luckily for us, the Happy Sumo has opened up this unpaid sushi internship for kids.
It sounds like this program breaks any number of laws, but I'm no expert in what's legal and illegal, so I'll just focus on the positive - all the free ginger I can eat!
Task: Make Ralph Drop off a Resume (10m, The Happy Sumo)
Quest reward: 100 and 10
Sushi Ralph Pt. 2
After tapping on Akira's exclamation mark:
Let me examine you, Ralph. Such a blank stare, such tender fingers softened from years spent inside the nose. And is that a never closed fontanelle?
Oh yeah. I know it's tempting, but the doctor said try not to poke it with a chopstick. Each time you do, Ralphie loses another word.
Ralph, what are you thinking right now?
....Pass!
In Japan, sushi chefs spend years meditating to achieve an empty mind. Your son was born with it. He will be a master!
Task: Make Ralph Prepare Sushi (3h, The Happy Sumo)
On Job start:
Such fine sashimi - how did you learn how to use a knife like this, Wiggum-san?
I'm not allowed to use a knife because I forget which end to hold. I used safety scissors.
I have chosen wisely! Wiggum-san, you are a prodigy! I am proud of you, my apprentice.
Prood? Pruud? Proud? What does that mean? I've never heard it before. Or I lost it from a chopstick poke.
Quest reward: 100 and 10
Sushi Ralph Pt. 3
After tapping on Wiggum's exclamation mark:
Hear that, folks, my boy is a prodigy. He brings honor to the family name. I should've known – Wiggum's Gaelic for unisex fish genitals.
In honor of what I can only assume will be his greatest accomplishment, all the sushi you can eat! Paid for by the Springfield Police Department.
Isn't the police department funded by the taxpayers, meaning this meal will be paid for by us?
Shhh, little girl. Here's a cucumber roll.
It's so good! Finally, a vegetarian dish I don't have to lie about liking.
Task: Make Springfielders Eat Sushi [x10] (2h, The Happy Sumo)
Yar, this is the freshest sushi I've ever eaten, and once a fish committed suicide by jumping into me mouth.
Why, I'm eating fish and it isn't even Friday. It's so good I don't even care that I'm breaking the 138th secret commandment.
This fish is guilty... of being delicious. I demand to see the chef in my chambers.
Like a lotus blossom floats on the water, so will I raise my prices.
Quest reward: 100 and 10
Sushi Ralph Pt. 4
After tapping on Homer's exclamation mark:
My stomach feels t-t-terribly wrong.
Yar, me belly's heavin' like a dinghy lost at sea. Or like a man makin' a metaphor before he pukes.
I don't feel so good either.
Alright, that's it, we're going to see Dr. Hibbert.
Task: Make Springfielders Get Stomach Pumped [x10] (2h, Springfield General Hospital)
On Job start:
Why, all of these people have been poisoned. Food poisoned!
Oh no, it must be Ralph and the Happy Sumo. I knew it was too good to be true.
On Job end:
Looks like it was tainted Krusty Burgers... which apparently everyone in town ate after their sushi because pieces of raw fish on rice just don't really fill you up.
I wish you had told me that before I fell upon my sword to defend my honor. Little help, please?
Wait, I didn't eat any Krusty Burger last night. Why do I still feel sick?
Mr. Simpson, after pumping your stomach we found several Krusty Burgers, some still in their wrappers. We also found six pounds of shrimp scampi, $8.50 in loose change, and-
Alright, alright, you've made your point. Now I'll take my $8.50 and my shrimp scampi and be on my way.
Seriously, I could really use some medical attention.
Quest reward: 100 and 10
Premium gameplay
Kruption
Kruption Pt. 1
After tapping on Coach Krupt's exclamation mark:
Look at all of these butterballs waddling through the hallways!
Without some toughening up, I expect no more than half of them will ever become real men.
Half of them are girls.
Pfft. Girls are just men with female sex organs, two X chromosomes, and different hormones.
That is surprisingly accurate. Are you sure you shouldn't be teaching health?
I teach one thing and one thing only – the game of BOMBARDMENT.
And Home Brewing 101 at the Y on Tuesdays.
Task: Reach Level 9 and Build Springfield Elementary
Task: Make Coach Krupt Launch a BOMBARDMENT! (8h, Springfield Elementary)
On job start:
There's only one rule in BOMBARDMENT – there are no rules.
Except for the following rules – If you don't get hit, you have survived the BOMBARDMENT.
If you cry on my court, you will be disqualified for being a baby and face DOUBLE BOMBARDMENT!
And I don't believe in two things – daylight savings time and doctors' notes. So if you're late or try to claim a medical excuse to avoid BOMBARDMENT, tough!
Now let me choose a victim, I mean volunteer, to BOMBARD.
Quest reward: 100 and 10
Kruption Pt. 2
After tapping on Lisa's exclamation mark:
That Coach Krupt is such a jerk!
Who does he think he is? Seriously, I'm not sure who he is. That ball hit me pretty hard.
Men don't make concussions. Concussions make men. Your general confusion is your manhood setting in.
I thought that was why I have hair growing in weird places.
This is torture! Kids shouldn't be forced to participate in these archaic rites of passage. Instead we should be learning cursive and the Dewey Decimal system.
I administer the Presidential Fitness Exam around here, so that makes me the closest thing to the President. Does anyone else want to commit treason in the war on flab?
Task: Make Students Train Strength & Agility [x6] (4h, Springfield Elementary)
Quest reward: 100 and 10
Kruption Pt. 3
After tapping on Milhouse's exclamation mark:
Is that the bell or just a constant ringing in my ears?
The bell? We're not half done with class! Now I don't care if you can't stand, I want you running.
Sir, while we can all agree Springfield's children are on the rounder, softer, fatter side --
My insides were full of chocolate but now that trashcan is.
-- I think we can also agree that this seems a little barbaric.
Did you just say... BOMBARDMENT?!?
You know I didn't say bombar-
*WHACK!!*
You said it that time.
Task: Make Coach Krupt Teach Gym Class (4h, Springfield Elementary)
Task: Make Students Suffer Gym Class [x6] (4h, Springfield Elementary)
*Sob*... *sob-sob*
First step of manhood, get out a good cry. Second step of manhood, never cry again.
You knocked out my teeth! And then I'm pretty sure you sold them to that man.
You can't prove it and I'm not giving them back.
Quest reward: 100 and 10
Kruption Pt. 4
After tapping on Lisa's exclamation mark:
Coach Krupt has gone too far. I don't care if he's our coach -- a bully is still a bully.
He's not going to listen to us. But he might listen to a real man! We should go tell my dad.
Hahaha! ...Oh wait, you were serious?
Fine, we'll ask your dad then.
Yes, children. I am dressed like Carmen Miranda, but you tell me one other outfit that gives you such instant access to fruit.
Ummm... let's just talk to Principal Skinner ourselves.
Task: Make Lisa Tattle On Coach Krupt (4h, Springfield Elementary)
Task: Make Skinner Listen to Complaints (4h, Springfield Elementary)
I'm sorry Mr. Krupt, I'm a big fan of your no-nonsense aggressive teaching style, but we simply can't afford another lawsuit. Our lawyer's bail has been set too high as it is.
So it pains me to say this, but I have to fire you.
But I was so close to breaking their tender spirits!
It's no longer the job of teachers to break children's spirits. We've passed that torch to college entrance exams and social media cyber-bullying.
Quest reward: 100 and 10
Kruption Pt. 5
After tapping on Skinner's exclamation mark:
Coach Krupt has been relieved from duty as your gym teacher, but physical education is still an essential part of the curriculum.
So we're going to do what the US does best and outsource. Here's the sign up sheet for the YMCA.
The only option here is dodgeball. Is dodgeball at all like bombardment?
Of course not. Bombardment is spelled with a B.
Hmm, I don't like the sound of that.
Dodgeball could be fun. I come from a long line of dodgers, evaders, and hiders.
Task: Make Students Play Dodgeball [x6] (4h, Springfield YMCA)
Task: Make Coach Krupt Coach at the YMCA (24h, Springfield YMCA)
On Job start:
I hear the YMCA has a new physical education instructor.
BOMBARDMENT!!!
We've been tricked! It was the greatest dodge of all: the administration dodging responsibility!!
Quest reward: 100 and 10
Volcanic Pizza
After building the Vesuvius Pizza:
I want to try this so-called pizza, but I'm not sure if I can afford something with so many z's.
We have a special right now where all our slices are just a dollar!
A dollar! Well I guess I can treat mah-self. What do you have with roadkill on it?
Ummm... this one has sausage on it. That's basically ground up roadkill.
Ground up roadkill – so fancy! I guess I'll be widenin' my horizons today.
Task: Make Cletus Grab a Slice (2h, Vesuvius Pizza)
Quest reward: 100 and 10
Other changes made
May 6 update (v4_14_LunchladyDora [v4_14_LunchladyDora_Patch1_Prelaunch, v4_14_MoneyMountainTerwilligers])
Giuseppe and George Washington are now voiced.
Main Kwik-E-Mart and Krusty Burger can't be sold anymore.
Requirements for the following items aren't shown in the Info box anymore: Duff Brewery, Cool Brown House, O'Flanagan's Pub, Fort Sensible, Springfield Coliseum, Duff Stadium, Sleep-Eazy Motel, Lugash's Gym, Shrub, Bench, Homer's Pool, Parking Lot, Premium Planter, Premium Wooden Fence, Duff Racer, Tetherball, Rose Bush, Valentine's Tree, Love Planter, Rose Arch, Valentine's Pond, Cherub Topiary, Cozy Hammock, I Choo-Choo-Choose You Train, Wishing Well, Shamrock Topiary, Natural Faberge Egg, Frink-thetic Egg Generator MkI, Frink-thetic Egg Generator MkII, Easter Fence, Pastel Picket Fence, Easter GAte, Beach Towel and Umbrella, Easter Egg Pile, Easter Banner, Easter Float, Easter Pond, Easter Tree, Beach Chair, Giuseppe's Workshop, Lincoln Memorial, Ye Olde Cherry Tree, Boxingham Palace, Medieval Banner, Barbarian Statue, Hot Air Balloon, Hay Cart, Stock, Catapult, Flaming Torch, Windmill, Shadow Knight Throne, Sham Rock Cafe, Oscar's Obstacles Truck, Piggly Super Smorg, Cornucopia, Heimlich Machine, Caged Tom Turkey, Outdoor Feast Table, Peanut Cart, Guinea Pig Rescue Center, Strupo Statue, Toy Workshop, Sequel Stop, Ice Palace, Ski Lift, Elf Portal and Macaroni Shed.
School Bus is now animated when Uter is working there.
A new group, Parents, was added: Agnes, Homer, Marge, Cletus, Ned, Rev. Lovejoy, Wiggum, Hans Moleman, Kearney, Fat Tony, Dr. Hibbert, Brandine, Helen Lovejoy, Kirk, Luann, Bernice Hibbert, Mrs. Muntz, Sanjay and Maude Flanders.
Hans Moleman now has a voiced sound for jobs done.
Building the Little Black Box now yelds 100.
Sit-N-Rotate and Fortress of Choclitude were added to the Aspirational inventory group.
Beach House and Krusty's Mansion were added to the Buildings inventory group.
Krusty's Mansion was added to the Houses inventory group.
Scratchy, Itchy and Poochie Krustyland Thanksgiving Balloons were added to the Miscellany and Decorations inventory group.
Snake Egg and Boardwalk Fountain were added to the Decorations inventory group.
Duff Beer Fountain was added to the Miscellany inventory group.
Snake Egg was added to the Nature inventory group.
Boardwalk fountain was added to the Squidport inventory group.
Michael D'Amico, Hugo and Gino Underdunk Terwilligers were excluded from Drinking at the Beer-N-Brawl.
Completing the School Workers character group now yelds 1,750 and 35 instead of 1,250 and 25.
Bob Clones now spawn every 10 minutes instead of 5.
Level 51's Consumerism 5 Stars requirement lowered to 348 points (-20).
May 7 update (v4_14_LunchladyDora_Patch2_Postlaunch)
The store banner for Terwilligers has been reduced to a Raccomanded column.
Limited time items store end date was changed from June 4th, end of the event, to May 26th, end of Act 3.
May 8 update (v4_14_LunchladyDora_Patch3_Postlaunch)
When a level for the Money Mountain is ready, the game won't pan to the Money Mountain anymore, fixing the game panning to the Money Mountain in friend towns getting the game stuck on it and not allowing to visit normally.
Removed the glitch where Mr. Burns' jobs at the Money Mountain didn't show up in his job list.
The glitch that allowed quick Level up of the Money Mountain while visiting friends has been fixed.
Conform-o-Meter changes
5 Stars requirement changes
| Category | Points | Increase |
| --- | --- | --- |
| Indolence | 570 | 10 |
| Obedience | 330 | 0 |
| Consumerism | 368 | 20 |
| Gluttony | 401 | 10 |
| Tree-hugging | 42275 | 1810 |
| Vanity | 61870 | 2450 |
| Righteousness | 317 | 12 |
| Socialism | 3450 | 282 |
Building prices
Base Level Multiplier Changes
| Level | Old Multiplier | New Multiplier |
| --- | --- | --- |
| 44 | x1.3 | x1 |
| 45 | x1.3 | x1.3 |
| 46 | x1.4 | x1.3 |
| 47 | x1.6 | x1.4 |
| 48 | x2.0 | x1.6 |
| 49 | x3.0 | x2.0 |
| 50 | x4.0 | x3.0 |
| 51 | x4.0 | x4.0 |
| 52 | x4.0 | x4.0 |
Building Prices Changes
| Building | New Price | Multiplier | Base Price |
| --- | --- | --- | --- |
| Honest John's Computers | 264,500 | x1 | 264,500 |
| Bloaters at the Squidport | 162,500 | x1 | 162,500 |
| Indoor Tennis Courts | 167,700 | x1.3 | 129,000 |
| ZiffCorp Office Building | 330,200 | x1.3 | 254,000 |
| Classy Girls Strip Club | 390,000 | x1.3 | 300,000 |
| Quimby Compound | 350,000 | x1.4 | 250,000 |
| Gold Navy | 289,600 | x1.6 | 181,000 |
| D'Amico Summer Home | 546,000 | x2 | 273,000 |
| Old Abandoned Warehouse | 354,000 | x2 | 177,000 |
| Municipal House of Pancakes | 750,000 | x3 | 250,000 |
Sources
Overview at Tapped Out - Update Information