Bombardment
Wikisimpsons - The Simpsons Wiki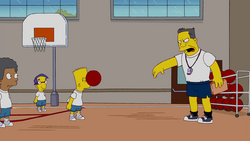 Bombardment is a sport played in gym class at Springfield Elementary School.
Description
[
edit
]
Bombardment consists of Coach Krupt throwing dodgeballs at high speeds at the children. Coach Krupt seems to enjoy the sport and throws multiple balls at anyone who argues with him about it.
History
[
edit
]
While the school was preparing for an achievement test, Krupt read test questions to his students, and if they answered incorrectly, he threw dodgeballs at them.[1]
During a line dance, Coach Krupt started throwing balls at the students.[2]
Behind the Laughter
[
edit
]
Bombardment is a well-known variant of Dodgeball. However, Coach Krupt's version of the game is completely different.
Appearances
[
edit
]
References
[
edit
]
---