Noid
Wikisimpsons - The Simpsons Wiki
Noid
Character Information

The Noid is an advertising mascot of Domino's Pizza.
History
[
edit
]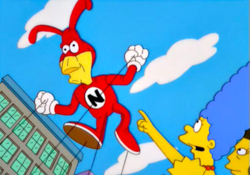 The
Simpson family
attended the
Costington's
Thanksgiving
Day parade, which included several balloons.
Bart
complained that
Springfield
always got the lamest balloons, citing
Rusty the Clown
as an example.
Marge
said that wasn't the case, as balloons of
Funky Winkerbean
and the Noid were also in the parade. She then said, "Avoid the Noid! He ruins pizzas!"
[1]
After the church was severely damaged in a model rocket accident, Reverend Lovejoy was forced to accept corporate sponsorship (along with advertisements everywhere) in order to fund the repairs. In the first Sunday service after the repairs were done, Lovejoy offered a prayer and then introduced the Noid, whom he said was going to give a special sermon on the "sanctity of deliciousness". The Noid had barely opened his mouth, however, when Lisa interrupted him to confront Lovejoy about the changes in the church.[2]
Appearances
[
edit
]
Behind the Laughter
[
edit
]
"Avoid the Noid" was the slogan in all of the Domino's adverts that featured the Noid.
External links
[
edit
]
References
[
edit
]
---