Environmental Protection Agency
Wikisimpsons - The Simpsons Wiki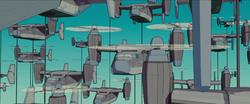 The Environmental Protection Agency, commonly abbreviated to EPA, is an agency of the United States government, charged with keeping the environment and animals safe from harm.
History
[
edit
]
The EPA caught Mr. Burns illegally dumping radioactive waste in the city park and fined him three million dollars.[1] The agency also stopped Homer from killing the Screamapillar and made him and Marge take care of it due to its being an endangered species.[2]
Later, under the command of Russ Cargill, the EPA was primarily responsible for persuading President Arnold Schwarzenegger to encase Springfield in a dome that later became known as Trappuccino. This action was taken in response to severe environmental degradation of the Springfield area in general, and Lake Springfield in particular. The EPA had also caught a mutant Multi-Eyed Squirrel in Springfield, and attributed its existence to environmental conditions in the town.[3]
EPA agents generally use helicopters to get around.[2] The agency also used a massive fleet of helicopters to put the dome into place over Springfield.[3]
Known employees
[
edit
]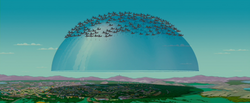 Appearances
[
edit
]
References
[
edit
]