The Complete Third Season
Wikisimpsons - The Simpsons Wiki
The Complete Third Season
DVD Information

The Complete Third Season was released on August 26, 2003 in North America, and October 6, 2003 in the United Kingdom and Ireland. The set was also released in Australia on October 22, 2003. It contains all 24 episodes from season three plus additional bonus material.
The packaging theme is based on the couch gag where the couch tips back and the family fall through the back wall. The spine features Homer and Marge on the outer casing, and Maggie and Bart on the inner casing.
This was the first box set to have a "Play All" feature, which enabled the viewer to watch all episodes on one disc sequentially, without having to browse through menus.
The main menu features the Simpsons sitting on their couch, but every other menu has all yellow letters/characters with a completely black background. Each preceding selection for each of those menus are below each other, save for the general selections ("back to main menu", "back to episode menu", "resume episode", etc.), which are in a horizontal line formation at the bottom of each menu.
Disc features
[
edit
]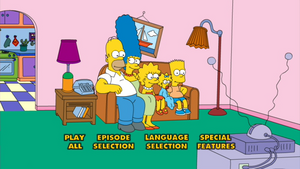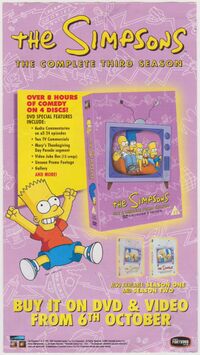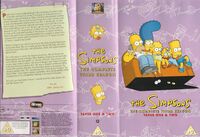 Bonus features
[
edit
]
Easter eggs
[
edit
]