The Complete First Season
Wikisimpsons - The Simpsons Wiki
The Complete First Season
DVD Information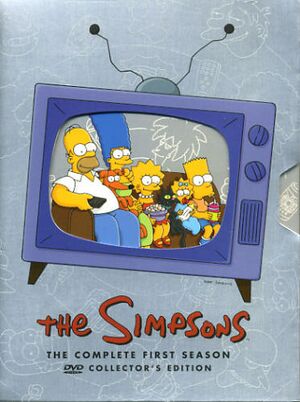 The Complete First Season was released on September 24, 2001 in the United Kingdom and Ireland, and September 25 in North America. It contains all 13 episodes from the first season, remastered in Dolby Digital 5.1. Although the video quality is generally of a high standard, it is from a broadcast tape and not an original film print, as the show was edited on video.
The outer packaging is of the family sitting on the couch with Santa's Little Helper and Snowball II sitting upright with them (used a couple of times in Season 1), whereas the inner packaging and the discs feature the family spinning in a vortex. The spine features Bart and Lisa on the outer casing, and Homer, Marge and Maggie on the inner casing.
Disc Features
[
edit
]
Bonus features
[
edit
]
French
Italian
Spanish
Japanese
Portuguese
Easter eggs
[
edit
]
Bart T-shirt controversy clip from ABC News (accessed by highlighting Bart's T-shirt in the "Extra Features" menu).
Still gallery of magazine covers printed during the 1989-1990 season (accessed by highlighting the comic book Bart is holding in the "Art of The Simpsons" menu).
Gallery
[
edit
]
Region differences
[
edit
]
In the Region 2 and Region 4 releases, the episode "Moaning Lisa" is on Disc 2 and the episodes "The Crepes of Wrath" and "Krusty Gets Busted" are on Disc 3. There is also no commentary on the "Some Enchanted Evening" deleted scenes.
The Region 2 box art has The Simpsons' logo written in yellow rather than the red of Region 1. The spine also features the whole bodies of Bart and Lisa rather than just their heads.
---