The Simpsons: Tapped Out 4th of July 2015 content update
Wikisimpsons - The Simpsons Wiki
This article is about the Tapped Out's 4th of July content update from 2015. For other year's Tapped Out 4th of July content updates, see TSTO 4th of July Content Updates.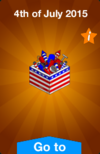 The Simpsons: Tapped Out 4th of July 2015 content update was released on June 30, 2015, and introduces 1 new building-character combo, 1 new building and 1 new decoration.
The mini-event lasted till July 9, 2015.
Characters
[
edit
]
| Image | Name | Unlock message | Notes |
| --- | --- | --- | --- |
| | Richard Nixon | | Unlocked with the Scandal-gate Hotel. |
Returning
[
edit
]
Buildings
[
edit
]
Returning
[
edit
]
Decorations
[
edit
]
Returning
[
edit
]
Gameplay
[
edit
]
Monetization Liberation
[
edit
]
Monetization Liberation Pt. 1
[
edit
]
After the user logs in on June 30th:
It's the 4th of July! Time to grab my secret stash of illegal fireworks from their hiding place!
You kept a box of fireworks hidden behind the basement furnace?
Yes, but, see, I put this this heavy can of gasoline on top of the box, so that if any ka-booms happened, the explodey parts wouldn't be able to get out. Safe!
You're a nuclear safety engineer, right?
...*Long Pause*
Yes.
You had to think about that a long time.
I did. Anyway, time to "inspect" some of these little guys in the backyard! Ka-boom!
Task: Make Homer "Safety Inspect" Fireworks (4h)
You're not really "inspecting" those fireworks so much as you are "lighting them with a match held in your teeth."
That's how the pros do it.
Anyway, the only way to properly test fireworks is to set off so many the sky shines like a beacon!
...a beacon that is easily noticeable by any Class IX Rigellian Battle Cruisers that happen to be passing through your pathetic solar system!
Quest reward: 100 and 10
Monetization Liberation Pt. 2
[
edit
]
After tapping on Lisa's exclamation mark:
Kodos!
It's Kang! Not all Rigellians look alike, you know. That's super-insulting. Super-duper-times-infinity insulting, oh tiny human intellect!
Sorry. Kind of sensitive about that, aren't you?
Silence! *Long Pause*Please.
Just because your vile species is about to be death-rayed out of existence, that's no reason for me to be rude. So, please be silent, you insignificant worm.
You're going to destroy our planet? Why?
That series of explosions you just sent up is Intergalactic Signal Light Morse Code for "please obliterate my irrelevant planet immediately."
We take it back! Dad, tell the nice alien we take it back!
Dad?
Task: Make Lisa Try to Solve the Latest Crisis (4h, Simpson Home)
Task: Make Homer Play Happy Little Elves (4h)
Quest reward: 100 and 10

Monetization Liberation Pt. 3
[
edit
]
After tapping on Kang's exclamation mark:
Dad!
Huh? Oh, sorry, sweetie. I was just playing the "Happy Little Elves" game on my phone. It's super-addictive.
I know, right? So good...
I didn't realize aliens played it too!
It just came out in the Palm O.S. app store two days ago. For some reason, we always get stuff late.
Uh, maybe because nobody still uses Palm phones.
All on Rigel use Palm! Palm is the superior form of mobile telephony! All hail Palm!
Now I must use my Palm to program in the coordinates for the death ray strike! Prepare to perish!
Task: Make Kang Activate the Death Ray (4h)
Quest reward: 100 and 10
Monetization Liberation Pt. 4
[
edit
]
After tapping on Kang's exclamation mark:
Okay, Kang. Time to program that death ray. Work, work, work.
Hmm... maybe just a few minutes with the Happy Little Elves game first. Just a quick visit to my town. Then, I'll get some serious work done.
Look at Kang's town! He's been playing just two days, and it's already way cooler than mine!
He must be spending a fortune! And spending lots of money to rush builds is a form of cheating.
Er, but not when you do it, Sky Finger. Go on splashing that cash.
Task: Make Homer Trash Talk a Fellow Gamer (12h)
What's this? A message from a fellow Happy Little Elves player?
Wow. That is... a whole lot of misspelled profanity.
Quest reward: 100 and 10
Monetization Liberation Pt. 5
[
edit
]
After tapping on Kang's exclamation mark:
How dare you question my spending habits, human spendthrift! Now I will program my death ray to wipe your kind from the galaxy!
Weren't you supposed to do that hours ago?
I know! But this holiday event demands the constant attention of my vastly superior intelligence! Blast these mobile games!
Hey! If we're elf-friends we can gift each other berries to get through the event faster! I can't seem to buy them anymore.
I had to put the parental locks on. You kept maxing out the credit cards!
Task: Make Homer Friend Request Kang (2h)
Look, Lisa! Kang friended me! You remember Kang, right?
Big green guy? About to murder you and everyone you love?
Great glayvin! If Kang friended Homer, there may be a way to use the connection to hack into the Rigellian Master Computer!
You mean, like they did in "Independence Day?" Wasn't that the dumbest plot point in an already-dumb movie?
It certainly was! I hope it works as implausibly for us as it did for them!
Quest reward: 100 and 10
Monetization Liberation Pt. 6
[
edit
]
After tapping on Lisa's exclamation mark:
Good news! I have cloned Homer's account to every mobile device in Springfield! And loaded them all with elf berries.
If we all spam Kang's phone with elf berries, we can crash the alien computer network!
Quick, everyone! Execute this idiotic plan that was devised by lazy writers who have absolutely no clue how computers work!
They're unwillingness to come up with a more believable twist to this story may just save us all!
Task: Make Springfielders Send Kang Elf Berries [x10] (4h, Brown House)
On job start:
What's this? An influx of elf berries!
I'll use them to buy more gold, usurious exchange rate be damned!
Quest reward: 100 and 10
Monetization Liberation Pt. 7
[
edit
]
After tapping on Kang's exclamation mark:
Great Krandor's tentacles! The influx of elf berries has overloaded my entire system! Not that that makes any sense whatsoever!
Look, Kang's UFO is falling from the sky!
Woo-hoo! We did it!
Now to do the only thing Americans still do well: channel all our rage at illegal aliens.
Hold on, now. There's some paperwork involved in kicking aliens out of the country. Shouldn't require more than fifteen years or so.
Foolish humans! It was my plan all along to get trapped here by your painfully slow bureaucracy.
Also, I'm going to take all your jobs! We Rigellians work cheap!
And with all these elf berries, I shall dominate your Happy Little Elf leaderboards for all time!!!!
Task: Make Kang 8-Hour Evil Laugh (8h)
System Message
For saving Springfield, have a Patriotic Box of Fireworks on the house.

Quest reward: 100 and 10
Happy Indipendence Day!
[
edit
]
After the user logs in on July 4th:
System Message
Happy Independence Day! Please enjoy these 13 commemorative donuts in honor of the original colonies.
Colonies? I thought America was made of states?
Do you not care AT ALL about the history of this great country my friends and I fought so hard to create?
Yes, and that I DIED for?
There you go again. Always gotta work the assassination thing into every conversation.
Well it's true!
Okay, we get it!
Quest reward: 13
Premium gameplay
[
edit
]
Gil Deal
[
edit
]
After tapping Gil's US Flag 's mark
Ol' Gil has returned to Springfield with something both amazing and physics-defying.
With the power of my non-patented snake oiled time machine, I give you everyone's... eh... "favorite" Commander-In-Chief!
...shall resign the Presidency effective at noon tomorrow. Vice President Ford will be sworn in as President-
WHAT THE -- WHAT IS THIS PLACE? WHERE DID THE OVAL OFFICE GO? AND WHY IS EVERYONE GLARING AND HISSING AT DICK NIXON?
It must be that time of year again. Another ex-President has somehow appeared in Springfield.
President Nixon, welcome to the year 2015. It's an honor to... that is to say, it's nice to... er, it's actually not that great to meet you.
WHY DO YOU SAY THAT? TELL ME, AND BE QUICK ABOUT IT -- IS NIXON REMEMBERED AS AMERICA'S MOST ABHORRENT POLITICAL SCOUNDREL?
Well, uh... kinda.
AND ALL BLAME FOR THE SCANDAL THAT ENDED MY PRESIDENCY RESTS ON DICK NICKSON'S SHOULDERS?
Pretty much.
Then the plan worked. And America is safe. Thank God Almighty for that.
Wait... plan? What plan?
DICK NICKSON HAS SAID TOO MUCH! DICK NICKSON WILL SAY NO MORE!
What plan is former President Nixon referring to? What's the real story behind America's worst political scandal?
And what do George Washington and Abraham Lincoln think of our most reviled President? Build the Scandal-gate Hotel to find out!
If the user denies:
What kind of a patriot doesn't purchase Richard Nixon on the Fourth of July? He's America's forty-fourth most beloved President!
To be honest, I get it. I really do. I tried to get ANYONE but Nixon. Called up Jefferson, Grant, both Roosevelts....
But their royalty fees are too high. It's hard to get the prestigious ones. They're not as desperate.
I did manage to sell six Nixons, at least. I hope ol' Gil can live off that income for an entire year....
If the user accepts:
The Scandal-gate Hotel. What a groovy old crib. Make sure to order the Continental breakfast. It's far out.
Gee, I wouldn't expect you to remember this place so fondly, Mr. President.
Dick Nixon tries not to live in the past. The great karmic wheel turns ever onward, carrying us where it will. Just sit back and dig the ride, little sister.
"Dig the ride?" Are you, like, doing a character right now?
This is the real Nixon, baby. The "character" was the stuffed-shirt phony you knew as your President. That was all an act to keep "The Man" off Dick Nixon's back.
So this is how you actually talk? It's seriously not a joke?
Now that I'm out of the political game, I can finally let my freak flag fly. Right on. Right. On.
It's actually pretty annoying. If you don't mind my saying so.
Hey, you gotta speak your truth. Now let's go get some beers.
I'm an eight-year-old girl!
Nixon got a Presidential pardon. That means Nixon and all his good buddies can do whatever they want.
That's not how that works.
Whatever. Politics are dumb. I'm Audi 5000.
Scandal-gate
[
edit
]
Scandal-gate Pt. 1
[
edit
]
After tapping on Richard Nixon's exclamation mark:
This just in! Last night, a break-in occurred at the historic Scandal-gate Hotel.
The thieves raided the headquarters of the Springfield Botanical Society, making off with $9.78 in petty cash and some packets of seeds.
Several of the seed packets were for petunias. I don't know why that detail is considered relevant by the half-wits who wrote this copy for me to read off the teleprompter.
A break-in at the Scandal-gate? It's happening again...
I'll get my best man on it. My best man is not very good, unfortunately. He's terrible. But he's a slightly better man than my other men, who are all shockingly bad men.
If the user has the Police Station: Task: Make Richard Nixon Turn Himself In (4h, Police Station)
If the user doesn't have the Police Station: Task: Make Richard Nixon Turn Himself In (4h, Scandal-gate Hotel)
On job start:
Look no further, copper! Nixon is your man. Nixon is behind this heinous crime.
Isn't that impossible? You just beamed into town like five minutes ago.
Nixon did it, and now he's orchestrating a vast cover-up to hide his involvement. This thing goes all the way to the top.
Mr. President, why are you trying to take the blame for something you obviously didn't do?
Nixon obviously did so do it. Nixon's behind this despicable political attack. Arrest Nixon.
On job end:
What political reason could there be for you to target a group of elderly gardening enthusiasts?
Follow the money.
Nine dollars and seventy-eight cents? THAT money?
I know! Nixon must be a lunatic. But he definitely did it. Just like in 1972.
Quest reward: 100 and 10
Scandal-gate Pt. 2
[
edit
]
After tapping on Richard Nixon's exclamation mark:
Mr. President, now that we're alone, please tell me why you're taking the fall for the break-in at the Scandal-gate?
I have to. Just like I had to in 1972. To protect the American people.
But you WERE behind that break-in! Everybody knows that. There were YEARS of investigations, THOUSANDS of articles...
All lies, planted by the jive turkeys who were really behind it. They were running scared. Because Nixon and his friends had cracked the case.
Dick Nixon, you see, is a master detective. Nixon makes Sherlock Holmes look like a blithering idiot. And Nixon filled his White House with fellow super-sleuths.
Ehrlichman, John Dean, Haldeman and Nixon called ourselves "The Mystery Solvers Club." We had closed hundreds of cases the fuzz deemed "unsolvable."
At night, we prowled the streets of D.C., magnifying glasses in hand, collecting clues.
But when, in 1972, we realized the truth behind the break-in, we decided it was too big, too terrible to ever get out.
The American people need to believe in their government. But they also need the bad guys to get caught. So we let ourselves BECOME the bad guys.
It's like in "The Dark Knight" when Batman lets himself be framed for the murder of Harvey Dent. Nixon is pretty sure that's based on Nixon, by the way.
I've never seen it.
Never seen "The Dark Knight?" How is that even possible? It's like my seventh-favorite movie EVER. Come on. We're watching it right now.
Task: Make Richard Nixon Watch "The Dark Knight" (6h, Simpson Home)
Task: Make Lisa Watch "The Dark Knight" (6h, Simpson Home)
Quest reward: 100 and 10
Scandal-gate Pt. 3
[
edit
]
After tapping on Richard Nixon's exclamation mark:
NOW do you see, Lisa? NOW do you dig how Dick Nixon is maybe an even better Batman than Christian Bale?
Not really. What WAS this horrible truth you were trying to keep from the American people?
In Washington, nothing is as it seems. What you think you know, you don't. And what you definitely don't know, you do.
Tell me -- who are the LAST two people you would ever expect to be the masterminds of the break-in?
Geez, I don't know... Probably Woodward and Bernstein?
BINGO.
Task: Make Richard Nixon Blow Everyone's Minds
Task: Make Lisa Get her Mind Blown (1h, Scandal-gate Hotel)
Quest reward: 100 and 10
Scandal-gate Pt. 4
[
edit
]
After tapping on Lisa's exclamation mark:
Woodward and Bernstein were crusading, intrepid reporters who re-established the rule of law in Washington!
They were conservative operatives posing as reporters, at a hardline neo-Fascist think tank posing as The Washington Post.
It says so on the masthead: "The Washington Post is a front for a hardline neo-Fascist think tank." Why doesn't anyone ever read the masthead?
Well, it's kind of small print. I assumed it wasn't that important...
Anyway, those reactionaries had to do SOMETHING to stop me. They knew about my second-term agenda.
Which was?
Please understand that Nixon's biography is a lie. Nixon grew up on an anarchist Marxist Buddhist hippie commune on the upper slopes of Mount Everest.
Where the air is far too thin to breathe...
Shut up.
You're insane.
NIXON WAS LEADER OF THE FREE WORLD, AND NIXON SAYS SHUT UP.
Task: Make Lisa Sulk (45s, Simpson Home)
Quest reward: 100 and 10
Scandal-gate Pt. 5
[
edit
]
After tapping on Richard Nixon's exclamation mark:
Anyway, Nixon spent decades deep undercover as a Republican. All to set up my glorious second term. I called it: "The Love Agenda."
We were gonna press the "reset" button on America. No more military, no more money. No more "rich" and "poor."
No more "police." No more "fire department" or "hospitals." Just people, you know? Hanging out, digging on good music and positive vibes.
That's a great system. Very well thought out.
Then Woodward and Bernstein caught wind of it, and eighty-sixed the whole beautiful vision.
But we'll get there. People are too damn groovy not to get there.
I really hope you're wrong about that.
In fact, I'm gonna go soak up some love right now. Later, square.
So long, Another Intensely Disappointing Ex-President.
Task: Make Richard Nixon Wave to the People (12h)
System Message
Unlock Washington and Lincoln to see what our greatest Presidents think of our least-great President!
Quest reward: 100 and 10
Narcissism 101
[
edit
]
After tapping on Quimby's exclamation mark:
Mr. Nixon, sir? As a career politician with a deep commitment to serving the needs of myself, I am honored to meet you.
The pleasure is all Nixon's, Nixon's main man.
I was wondering -- as a relative novice in the ways of political wrongdoing, might I pick your brain for a bit? With all humility, of course...
Nixon apologizes if this seems indiscreet, but, what is this "I" word you use to indicate you are discussing yourself?
Er ah... the first person singular. Indicating the speaker is referring to him- or herself.
Dick Nixon is not familiar with this particular turn of phrase. Dick Nixon feels that it connotes weakness in the speaker.
But isn't it -- forgive me, oh Vile Sachem -- kind of mandatory? An inescapable convention of -- by your pardon, oh Satanic Sage -- the English language?
Well, Dick Nixon doesn't claim that Richard M. Nixon has a scholar's grasp of grammatical rules.
But it seems to Richard Milhouse Nixon that--
Hey! My name is Milhouse!
Go away, blue child.
--anyway, it seems to Nixon that a great leader should always separate himself from the rules of grammar, or, it seems, all reasonable behavior.
I will learn... er, that is, Quimby will learn this moronic lesson well.
Task: Make Quimby Practice Speaking in the Third Person (6h, Town Hall)
Quest reward: 100 and 10
Who Led Them Better
[
edit
]
After tapping on Richard Nixon's exclamation mark:
What it is, Abe?
Richard Nixon! What in the blazes are you doing here?
Got sucked into a time vortex or something. Same as you.
Is that Dick Nixon?
Indeed.
I hate that dude.
He's not the best.
Whoa, daddy-os! We're all ex-Presidents here. Why the cold shoulder?
Gee, I don't know... maybe because you very nearly destroyed the government I worked so hard to build?
Yeah, the same government I gave my LIFE for.
...
What?
It's just... we know, okay? We know you got assassinated.
Well, I did.
You just don't have to mention it in like every conversation, is all.
Oh, I'm sorry if my taking a bullet to the head is so unpleasant for you. I can assure you, it was far worse from where I was sitting.
Look. It's not a competition: "Who was a better President, Abe or George?" You've got nothing to prove. So relax.
I didn't realize that my sacrifice -- THE GREATEST SACRIFICE A MAN CAN MAKE, BY THE WAY -- was something I should be ashamed of. So sorry.
Whatever. Drop it.
Whoa! Getting a little icy in here, boys. Whaddya say we take it down a notch, and all kick back with our favorite pastimes?
Task: Make George Washington Try to Cut Down a Cherry Tree (12h, Ye Olde Cherry Tree)
Task: Make Abraham Lincoln Split Rails (8h, Lincoln's Cabin)
Task: Make Richard Nixon Bowl Around Town (4h)
George, we can argue for eternity about which of us was the greatest, but at least we agree on one thing.
Nixon was the worst.
Come on, it wasn't all bad! I opened up China to the West. That was HUGE.
That's your thing, isn't it? Like how Lincoln always mentions he got shot. You're all: "sure, I disgraced the office, but remember China! What about China?"
He does bring it up a lot.
So pathetic.
But seriously, George, for the record -- I DID get shot.
Just stop.
Quest reward: 100 and 10
One Last Presidential Prank
[
edit
]
After tapping on Homer's exclamation mark:
Be back in five minutes, Marge. Bart and I are gonna egg the Presidential Estate.
That doesn't seem very patriotic of you. I thought you admired the President?
I did! For his first six months in office. Then, like all Americans, I realized that he's the problem with everything.
And on and on the cycle goes.
Anyway, it's free speech or something. You do want our son to learn about free speech, don't you?
I guess. Just don't use the organic eggs. They're expensive.
Task: Make Homer Egg the Presidential Estate (3h, Presidential Estate)
If the user has Bart: Task: Make Bart Egg the Presidential Estate (3h, Presidential Estate)
Quest reward: 100 and 10
Conform-o-meter impact
[
edit
]
Building or Item
Rating
Points
Scandal-gate Hotel
Indolence
10
Presidential Estate
Lincoln's Cabin
Giuseppe's Workshop
None
None
Nighthawk Diner
Gluttony
10
Patriotic Box of Fireworks
Vanity
600
Lincoln Memorial
870
American Flag
450
Holo-Flag
250
Ye Olde Cherry Tree
Indolence
Bonus $ and XP
10
2.75%
Firework Barge
Vanity
Bonus $ and XP
800
2.75%
Pinwheel Firework
Vanity
Bonus $ and XP
400
2%
Box of Fireworks
Vanity
Bonus $ and XP
600
2.25%
Liberty Bell
Obedience
10
Hover-Copter
Lisa Statue of Liberty
Obedience
Bonus $ and XP
10
2.75%
Other changes made
[
edit
]
June 30 update ("4_15_4thofJuly2015")
[
edit
]
All Youngsters are excluding from Beat Homer With Unused Instruments, Beat Homer in the Church, Drink at Beer-N-Brawl, Drink Craft Beer and Invest in Ziffcorp instead of individual exclusions.
Museum of Natural History now gives 10 points to Obedience instead of Indolence.
Teach Homer About Easter, Pretend to Listen, Play the Blues, Shop for Good Friday Sales, Watch Easter Films, Think About Converting to Judaism and Prepare for Passover won't show up anymore, now requiring Easter 2015 to be active.
Beach Chair now will appear in the shop locked at Level 5 instead of Level 4, and will be buyable at Level 15 instead of Level 11.
Holo-Flag was removed from the Civic inventory category.
Building Giuseppe's Workshop now yelds 95 instead of 300.
Failure To Launch quest now starts with Pt. 1's text and skips to Pt. 2. All quests names were moved back by 1.
The Dungeon Keeper Pt. 1 now doesn't require Death by Squishee to be completed.
Completing July 4th character set now yelds 1,250 and 25 instead of 1,000 and 20.
The Rainbow Tree changed appearance.
July 1 update ("4_15_4thofJuly2015_Patch1_PostLaunch")
[
edit
]
The Store Raccomandation for 4th of July 2015 items now requires Monetization Liberation Pt. 1 to be started.
July 3 and 7 update ("4_15_June2015" Patch 3 + Patch 4)
[
edit
]
(4_15_June2015_Patch2_PostLaunch)
(4_15_June2015_Patch3_PostLaunch)
Sources
[
edit
]
Overview at Tapped Out - Update Information