Giuseppe Granfinali
Wikisimpsons - The Simpsons Wiki
Giuseppe Granfinali is an Italian retired fireworks pyrotechnic.
History
[
edit
]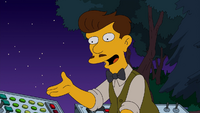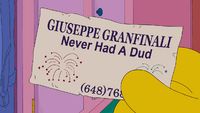 After Mona Simpson left, Homer used to look up to Giuseppe Granfinali and his fireworks displays.
When Springfield's fireworks display was cancelled due to lack of funding, Homer hired him to put on a fireworks show, which ultimately went wrong.
Non-canon
[
edit
]
| | |
| --- | --- |
| | The contents of this article or section are considered to be non-canon and therefore may not have actually happened or existed. |
The Simpsons: Tapped Out
[
edit
]
This section is transcluded from The Simpsons: Tapped Out characters/4th of July. To edit it, please edit the transcluded page.

Permanent Tasks
| Task | Time | Reward | Requires | Quest with the task | Animated? |
| --- | --- | --- | --- | --- | --- |
| Show-off a New Invention | 60m | 105, 26 | Giuseppe's Workshop | Failure to Launch Pt. 8 | |
| Stock up on 'Fertilizer' | 4h | 260, 70 | Cletus's Farm | Failure to Launch Pt. 2 | |
| Overpay for Sex on the Beach | 4h | 260, 70 | Smooches on the Beach | | |
| Stay at the Swelldorado | 4h | 260, 70 | Swelldorado | | |
| Party at the First Class Lounge | 4h | 260, 70 | The First Class Lounge | | |
| Try to Win at Blackjack | 4h | 260, 70 | $ Casino | | |
| Drink and Babysit | 4h | 260, 70 | The Boiled Potato | | |
| Attend Parenting Seminars | 4h | 260, 70 | Universal Panacea | | |
| Fail to Renew his Fireworks License | 8h | 420, 105 | Town Hall | | |
| Dance the Señor Burns | 8h | 420, 105 | Chez Guevara | | |
| Invent a New Firework | 12h | 600, 150 | Giuseppe's Workshop | Failure to Launch Pt. 3 | |
| Narrowly Avoid Losing Fingers | 24h | 1,000, 225 | | | |
| Search for Stolen Fireworks | 24h | 1,000, 225 | | | |
Appearances
[
edit
]
References
[
edit
]
---