Wolfgang Amadeus Mozart
Wikisimpsons - The Simpsons Wiki
Wolfgang Amadeus Mozart was an Austrian composer in the 18th century.
History
[
edit
]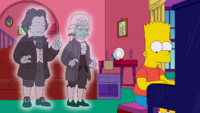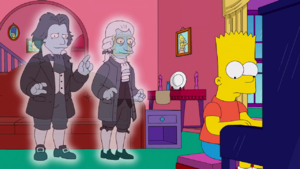 Mozart appeared in a story told by Marge. Mozart was announced onto the stage by his father. Mozart then proceeded to play the piano in a showman way. After the show, his sister, Sally Salieri, was jealous because she wanted to headline a show too. Mozart pulled pranks on Salieri and teased her whilst writing music himself. At the Vienna Concert Hall, Mozart won an award for outstanding composer. Later, Mozart played an opera at the Vienna Opera House. During the show, Sally Salieri gave Emperor Joseph II wine spiked with a sleeping potion. When the Emperor started to fall asleep, the audience all acted bored of the opera too.
After this disaster, Mozart became depressed and then sick. In bed, Sally Salieri brought Mozart a doctor, who then covered him in leeches. Mozart was dying and Salieri told Mozart she didn't want him to die, just wanted to destroy his career. Mozart then told her that he thought Salieri's music would be judged better in history, however, since he was dying young, he would be cool forever. As Mozart died, he told Salieri to "eat my pantaloons".[1]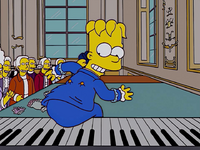 When Homer met a look-alike of James Madison he at first mixed him up with Mozart.[2]
Clancy Wiggum mentioned to Marge that all Sarah listened to whilst she was pregnant with Ralph was Mozart and Churchill speeches.[3]
Mozart was featured on "Ned's List of Laudable Lefties".[4]
When Bart Simpson is playing piano, the ghosts of Mozart and Beethoven appear.[5]
Homer did not want take down Everscream Terror after Lisa was afraid because he call himself Mozart of Halloween decorations, and tonight is the Super Bowl.[6]
Victor Kleskow asked Lisa if she thought Mozart ever apologized. He then said that he wasn't there, and if he was he'd be pushing a plow because not everyone got to hang with Mozart.[7]
Non-canon
[
edit
]
| | |
| --- | --- |
| | The contents of this article or section are considered to be non-canon and therefore may not have actually happened or existed. |
The Simpsons: Tapped Out
[
edit
]
This section is transcluded from The Simpsons: Tapped Out characters/More Kids. To edit it, please edit the transcluded page.

Permanent Jobs
Task
Time
Reward
Requires
Quest with the task
Animated?
Go Skating
10m
26, 7
Simpsons' Skating Rink
Set a High Score at Whack a Real Mole
10m
26, 7
Whack A Real Mole
Sneak an Ice Cream
30m
60, 15
Ice Cream Truck
Overload on Sugar
30m
60, 15
The Candy Shoppe
Go on a Field Trip
60m
105, 26
Cypress Creek Elementary
Write Music by Foot
60m
105, 26
Requiem in D-Ception Pt. 1
Catch a Movie
2h
175, 40
Big T Theatre
Ride the Carousel
2h
175, 40
Boardwalk Carousel
Teach Music
4h
260, 70
Springfield Elementary
Learn by Fun
4h
260, 70
Childrarium
Put Coins on the Rails
4h
260, 70
Springfield Union Station
Get Fit and Educated
4h
260, 70
Springfield Gymdandee
Split a Fancy Mac and Cheese
4h
260, 70
Le Petite Appétit
Play With Interactive Exhibits
4h
260, 70
KidZone Elite
Attend Parenting Seminars
4h
260, 70
Universal Panacea
Play the Piano
8h
420, 105
Requiem in D-Ception Pt. 4
Attend Wizarding School
8h
420, 105
Magic Academy
Get Brainfreeze
8h
420, 105
Pinkbeardy Yogurt
Get Caught in Webs
8h
420, 105
Big Bug House
Compose Circles Around Salieri
12h
600, 150
Concert Hall
Trade Places With Bart
24h
1,600, 375
Simpson House
Bart
Show Off Mad Musical Skills
24h
1,000, 225
King Toot's or
All Sales Vinyl or
Groovetone Records or
Home
Appearances
[
edit
]
References
[
edit
]
External links
[
edit
]
This article is covered by multiple navigation templates. Click "show" to view.