Wolfgang Amadeus Mozart
Wikisimpsons - The Simpsons Wiki
Wolfgang Amadeus Mozart was an Austrian composer in the 18th century.
History
[
edit
]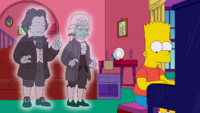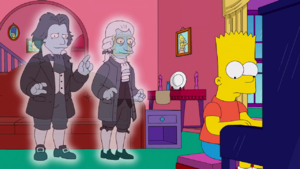 When
Homer
met a look-alike of
James Madison
he at first mixed him up with Mozart.
[1]
Clancy Wiggum mentioned to Marge that all Sarah listened to whilst she was pregnant with Ralph was Mozart and Churchill speeches.[2]
Mozart was featured on "Ned's List of Laudable Lefties".[3]
When Bart Simpson is playing piano, the ghosts of Mozart and Beethoven appear.[4]
Homer did not want take down Everscream Terror after Lisa was afraid because he call himself Mozart of Halloween decorations, and tonight is the Super Bowl.[5]
Non-canon
[
edit
]
| | |
| --- | --- |
| | The contents of this article or section are considered to be non-canon and therefore may not have actually happened or existed. |
Marge told a story about him, with Bart in the role of Mozart and Lisa as Salieri.[6]
The Simpsons: Tapped Out
[
edit
]
This section is transcluded from The Simpsons: Tapped Out characters/More Kids. To edit it, please edit the transcluded page.

Permanent Jobs
Task
Time
Reward
Requires
Quest with the task
Animated?
Sneak an Ice Cream
30m
60, 15
Ice Cream Truck
Go on a Field Trip
60m
105, 26
Cypress Creek Elementary
Write Music by Foot
60m
105, 26
Requiem in D-Ception Pt. 1
Catch a Movie
2h
175, 40
Big T Theatre
Teach Music
4h
260, 70
Springfield Elementary
Play the Piano
8h
420, 105
Requiem in D-Ception Pt. 4
Attend Wizarding School
8h
420, 105
Magic Academy
Compose Circles Around Salieri
12h
600, 150
Concert Hall
Trade Places With Bart
24h
1,600, 375
Simpson House
Bart
Appearances
[
edit
]
References
[
edit
]
External links
[
edit
]
| | |
| --- | --- |
| | This article about a Simpsons character is a stub. You can help Wikisimpsons by embiggening it. |
This article is covered by multiple navigation templates. Click "show" to view.
---