Super Bowl
Wikisimpsons - The Simpsons Wiki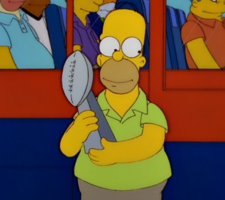 The Super Bowl is the championship game of the National Football League.
History
[
edit
]
Once at the game, and after enjoying the pre-game fun, the gang went to the entrance of the stadium only to find that their tickets were phoney (and were printed on some type of cracker). Bart then spotted the Super Bowl Halftime costumes and they seized the opportunity to use them to knock the guards down and run inside. They were soon caught and put in the stadium jail. The crew started to kick Homer in the rear when Dolly Parton wandered by. Having been a friend of Wally's, she offered to help them out by busting the lock with her own brand of makeup remover. Now free, the boys set out to find seats. After running around screaming for an hour, they wandered upon a skybox and decided to eat the food rather than watch the game. Soon after, Rupert Murdoch flew in via helicoper and forced them out of his skybox. They saw an entrance to the field and headed for it, but were pushed backwards by the winning team into their locker room and got to celebrate with them. After a day of excitement, the boys got on their bus and headed home, with Homer having stolen the Super Bowl trophy. The game was watched at home in Springfield by Marge and Lisa.[1]
The national football committee loved Homer's advice for football players, as it had raised ratings. They asked him to choreograph the Super Bowl Halftime show. Homer struggled with ideas and ran into Ned at church. Homer then got an idea for the halftime show, which ended up being about Noah. This was hated by the crowd who thought they were trying to de-secularize the country.[2]
When Homer asked Lisa if the Super Bowl Bunny existed, she said yes to make him happy.[3] After Apu sold the flowers Lenny brought into his store, he offered him a standee from last year's Super Bowl to put on his grandmother's grave, which Lenny accepted.[4] When Bart and Homer were searching for evidence on the Internet that could release Krusty from the International Court of Justice, they found a clip on MyTube where Krusty was showing his nipple at the Super Bowl.[5] In a dream Bart had when he was wishing he had a brother, Eli Manning said, "Winning a Super Bowl just doesn't compare to chucking the ball around with my brother."[6]
When Homer saved Mr. Burns, Burns said to Homer that he can have anything he wanted. Homer wanted all Burns' money and stuff, but when he didn't gave it to Homer, he asked him if he could have Super Bowl tickets instead.[7]
Homer did not want take down Everscream Terror after Lisa was afraid because he call himself Mozart of Halloween decorations, and tonight is the Super Bowl.[8]
Non-canon
[
edit
]
| | |
| --- | --- |
| | The contents of this article or section are considered to be non-canon and therefore may not have actually happened or existed. |
Bart once dreamed that he and Krusty won the Super Bowl.[9]
When Hank Scorpio asked Homer how the Denver Broncos were, he said they won the Super Bowl, which was not true, as Homer actually lost the team when he used them to pay his debt at Moe's Tavern.[10]
When Lisa asked Homer what he was watching on TV, he told her that it was the football event of the season. Lisa was surprised as she thought the Super Bowl was in January. Bart explained to her that it was the All-Pro Fan's Pick Sportwriters's Most-Envied Players Bowl.[11]
A Super Bowl-inspired content update released on January 29, 2014 added a limited-time small questline revolved around Homer getting ready for Super Bowl Sunday and Lisa investigating the Super Bowl's financials. The player received a free decoration on Super Bowl Sunday itself.
Behind the Laughter
[
edit
]
The commercial "Hard Times" advertising Coca-Cola and featured the characters of The Simpsons aired during Super Bowl XLIV. The Simpsons has lead out of the Super Bowl once, in 2005 with "Homer and Ned's Hail Mary Pass" after Super Bowl XXXIX.
Appearances
[
edit
]
References
[
edit
]
External links
[
edit
]
---