The Simpsons: Tapped Out Winter 2014 content update
Wikisimpsons - The Simpsons Wiki
This article is about the Tapped Out's Winter content update from 2014. For other year's Tapped Out Winter content updates, see TSTO Winter Content Updates.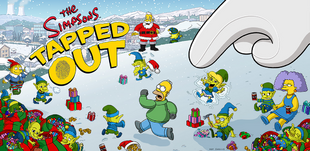 "Santa's in trouble and the holidays are in danger! Help save the season in Springfield with our latest update.
Gather presents and meet the elvish challenges to discover the true meaning of the holidays...prizes!
Enjoy new characters, buildings, decorations and more in our Holiday update!!!"
―Event description on the App Store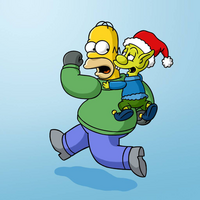 The Simpsons: Tapped Out Winter 2014 content update was released on December 3, 2014. It was released under app version 4.12.0, and is the game's third Christmas event.
The event is split into two parts, akin to how Treehouse of Horror XXV was split into three.
The premise of the first part was to send Elves and other characters on tasks at the Toy Workshop to earn
Presents, the currency of this event, which went towards completing Personal Prizes; the storyline focusing on the residents of Springfield helping to produce enough presents in time for Christmas. There was also Santa's Daily Tasks, where each day a new Tunnel will open up (of the Elf Cave), and you have to complete the tasks within that tunnel to earn a prize, which is different depending on which items you have obtained. This phase ended on December 24, 2014 (Christmas Eve) at 5pm (GMT).
The premise of the second part is to, after Santa warns the residents of Springfield that the partying elves will likely destroy their town with their Spring Break-like behaviour, bottle the Elves and shoot them out of a cannon. Upon collecting elves, they can drop Cogwheels which are used to upgrade the Elf Cannon. After shooting the Elves out of the Elf Cannon or from visiting friends you also earn

Elf Bells which go towards unlocking Personal Prizes.
Gallery
[
edit
]