New York Yankees
Wikisimpsons - The Simpsons Wiki
The New York Yankees are a current Major League Baseball (MLB) team in the Bronx, New York.
History
[
edit
]
The Devil was off in his calculation of the next time the Yankees would have won the American League pennant: not "a century from now", but 1996, one of their twenty-seven World Series championship teams.[1]
Don Mattingly was once forced by Charles Montgomery Burns to cut is sideburns, when Mattingly was playing for the Springfield Nuclear Power Plant's company softball team. Once Burns walked away, Mattingly mutters "I still like him better than Steinbrenner".[2]
After taking, Burns' address book, Homer called the New York Yankees and told them how to bunt.[3]
Joe Torre and Joe DiMaggio in their New York Yankees uniforms were seen in a Jock Center commercial.[4]
Jock Squawk once called Lou Gehrig a crybaby.[5]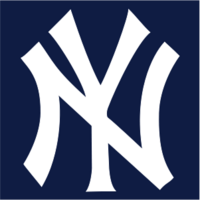 King Kong once wore a New York Yankees hat, posing for photos on top of the Empire State Building.[6]
In the 1943 World Series Tommy Henrich hit a ball to Joe LaBoot but LaBoot missed the catch.[7]
Bart once used Denis Leary's cell phone to order a New York Yankees hat and Derek Jeter jersey, much to Leary's annoyance, as he is a big Boston Red Sox fan.[8]
Homer once admitted "America is the New York Yankees of countries. Powerful and respected until the year 2000".[9]
Marge once said "Do the Yankees hoard pennants?" to Lisa, after Lisa questioned her recent hoarding.[10]
Lisa also said "You know, symbols can often rile people up - the swastika, the New York Yankees logo".[11]
Notable players
[
edit
]
Notable staff
[
edit
]
Behind the Laughter
[
edit
]
The New York Yankees are a baseball team that has been in the American League since their creation in 1903. The Yankees were originally the Baltimore Orioles and later the New York Highlanders. Since their change to the current name, the New York Yankees, they have won twenty-seven World Series championships and forty American League pennants, which is the most in Major League Baseball history. The next team, the St. Louis Cardinals, only have eleven World Series championships.
Dancin' Homer's farewell speech to the fans, "I consider myself the luckiest mascot on the face of the earth", is a reference to Lou Gehrig's farewell speech to the fans on July 4, 1939.[12]
Mr. Burns forcing Mattingly to cut his sideburns is a reference to former aggressive Yankees owner, George Steinbrenner's "no facial hair or hair longer than your neck" rule. Coincidentally, a year before, Mattingly was forced in real life to cut his long hair.[13]
At the time Homer at the Bat was recorded, only Steve Sax and Don Mattingly had played for the New York Yankees. However, four of the other players would later play for the Yankees (Boggs, Clemens, Canseco, and Strawberry).
Denis Leary is a big Boston Red Sox fan, both in The Simpsons and in real life. This represents the rivalry between the Boston Red Sox and the New York Yankees.
Appearances
[
edit
]
References
[
edit
]
External links
[
edit
]
---