Rancho Relaxo
Wikisimpsons - The Simpsons Wiki
Rancho Relaxo
Location Information

Rancho Relaxo is a spa located in the Springfield Mountains and currently the only two-star health spa in Springfield. The land for the spa was allegedly found by Spanish explorers.
The spa contains a tennis court, jacuzzis, mudbaths among other things. Activities include bungie jumping, kayaking, calligraphy, cigar making and hula dancing.
The radios are set to W-KOMA, an easy listening music radio channel. The TVs show various Hollywood hits and after-midnight European R-rated movies. Troy McClure is featured in a video guide to guests.
Rancho Relaxo has its own train station, and can be accessed by train from
Springfield
.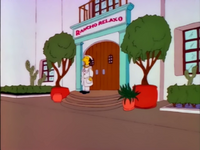 Non-canon
[
edit
]
| | |
| --- | --- |
| | The contents of this article or section are considered to be non-canon and therefore may not have actually happened or existed. |
The Simpsons: Tapped Out
[
edit
]
This section is transcluded from The Simpsons: Tapped Out buildings/Hotels. To edit it, please edit the transcluded page.

Rancho Relaxo
Image
Cost
Build time
Reward
Sell price
Conformity increase
Availability
Unique?
Dimensions -

D

x

W

Yearbook
130
6s
130
Don Vittorio (25)
N/A
Level 49
Premium
6 x 12

30
Task
Time
Reward
/h
/h
Wetting Dirt for Mud Baths
6h
175, 18
29.17
3
Appearances
[
edit
]